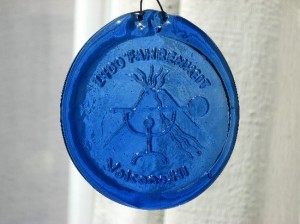 After breakfast at Ken's we drove through the Puna District toward the volcano.  There is a glass-blowing gallery on the way to the Volcano Park called 2400 Fahrenheit.  Because of the Big Island's strict rules about access to highways (and signs), the place is a tease; you can see it from the highway but you can't get to it from the highway. Instead you drive past it about half a mile, take a right on Old Volcano Road and double back a half a mile, and there you are.
Worth it?  Yes.  Unfortunately, none of the glass-blowers were working with glass the day we were there but the small gallery was open, filled with light and color; glowing oranges and reds, misty translucent grays, rich, opaque cobalts and cool greens. They made some stunning vases and small pieces in tropical-water greens and blues to go on lightboxes, and some similar shapes in black and red that looked like pools of lava.  As is always the case with art glass, pieces were expensive, but they also had sun-catchers and chopstick holders for souvenir prices.  The chopstick holders looked like palm fronds or feathers, with the top curled over to form a loop.  You could conceivably wear one as a necklace.  Misato Mortara, co-owner, who helped us, had made a sculpture piece from them, scores of them, entwined with drift wood.  They looked like drifting kelp fronds.
Check out their very hot website at www.2400f.com.
We asked Misato why they didn't have a second sign up at Old Volcano Road.  She explained that Hawai'i has some very strict rules about signs along public thoroughfares.  L had explained earlier that this was why you only saw political signs in people's yards, or held by volunteers by the side of the road.  I have to admit I find that part refreshing.
This is the only state I know about that has a minimum speed limit, so that the sight-seers do not impede the kamaiaina (locals) on their way to work.