We're riding along in an older residential section of Quincey, Massachussetts, on our way to the Marriott. Ed, our Uber driver, is diligently following the directions from his GPS. We drive along a narrow street lined with various ethnics diners and cafes. Looks interesting. We can see the waterfront. I reflect how odd it is that the Marriott didn't mention they were close to the waterfront. "Continue on Water Street. Make a slight right on Water Street."

Ed makes a sound, the kind of sound people make when they think something's not quite right.

"In 200 yards, turn right. Turn Right." Turning right takes us onto the shipyard, where a large A-fame sign advertises tours of the USS Salem.

"No," says Ed. "This is not right. Where is it taking me?"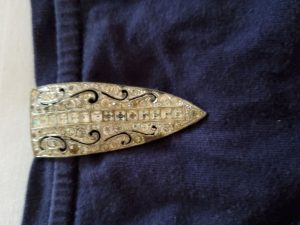 Terry, a friend, writer and fellow Fantasy Literature reviewer, and I flew out of SFO on Alaska Airlines that morning. We had to walk a gauntlet with a chemical-sniffing dog, a handsome black lab wearing a vest with the words Do Not Pet on each side. I made it through that just fine, as I expected. No, it was my carry on that made the TSA go, "Hmmm…" and pull it off the line for a hand search. The professional and patient TSA lady with the cornrowed hair said, in an only slightly weary voice, "Do you have a letter opener in here?"

"No, I don't." I mean, geez, I'm not that stupid.

"Well, what you have looks like a knife." She turned the screen so I could see the X-ray. Sure enough, there was a pointy-ended thing that looked filagreed, right there, somewhere, in the luggage. I had no idea what it was. "Is it the Kind bars?" I said, thinking that the cellophane might be creating the filagree effect. (Okay, so maybe I am that stupid.)

It wasn't the Kind bars, it wasn't the six sets of electrical cords and connectors, it wasn't the trio of pens banded together. I finally told her, "Open anything you have to," and when she reached for my little fuchsia-colored jewelry roll she found my mother's clasp, which I had forgotten was in there since I had worn it once in the last year, on New Year's Eve.

My mother's beautiful clip will ride in my checked luggage on the trip home.



"I'm not listening to you anymore," Ed says the GPS. He calls the hotel, and askes if they were near the T station. When the desk person tells him yes, he drives us to the hotel in five minutes.

Ed came here from Haiti. He has two children, and a full-time other job. He picks up a few Uber drives in a week to supplement his income. At about 6:40 pm Boston time, we were his last drive of the day. And we were his only drive of the day.


We flew first class in a plane that was a former Virgin Airlines plane. (An airbus, not a Boeing Max, of course.) First class had fuchsia-pink mood lighting and the shades were down the entire trip. This created a surreal sensation for me, but Terry pointed out that every single person in first class (except me, pointy-ended-fine-jewelry-wielding dinosaur that I am) was watching/reading from a screen. It was kind of like being in a high-end, super-quiet cocktail lounge at 35,000 feet.


The Boston Marriott, in Quincey, is on a hill on a street named Marriott Drive. The hill may have been artificially constructed for the hotel, I don' t know.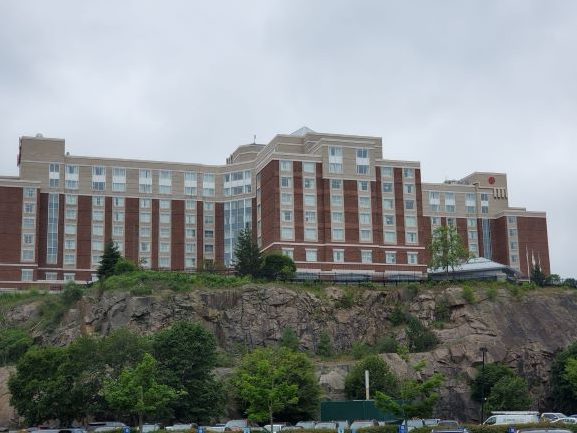 My room is a Marriott room. It's comfortable and nicely laid out. I worry sometimes that I'm becoming an accidental tourist; all airports look much the same, all hotel interiors look similar, at least. On the other hand, I'm here for a convention. So that's all right then.