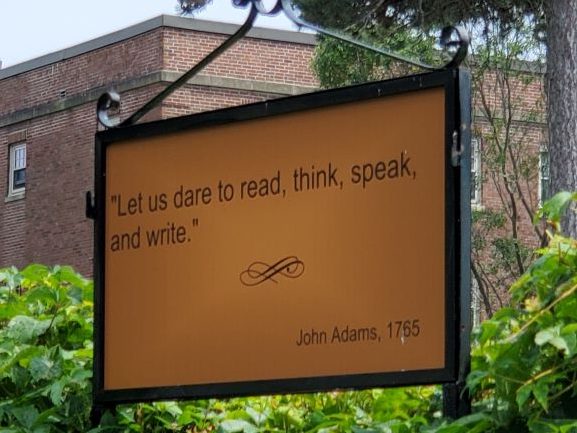 Everything that was good about ReaderCon30 would be a long, long list. The convention is held at the Boston Marriott in Quincy, (which might be why I was confused for a while and thought I was going to Boston). It's larger than the Walnut Creek convention, FogCon, that I love, but it's not overwhelming. The layout, in the hotel's concourse and convention space, is well suited to this kind of event, and well-utilized.

I came to ReaderCon with Terry Weyna, who had been to one a few years ago. It was nice to travel with a friend!

Rather than labor through a critique, I'll share a few personal bests (and worsts. There were some; they weren't at the convention).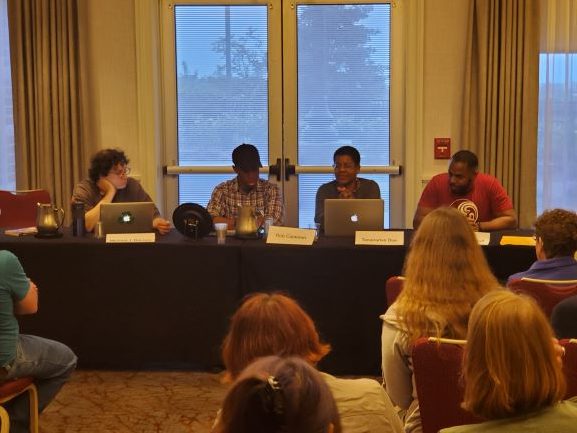 The convention started at 7:00 pm Thursday night, and Thursday's events were free and open to the public. The Afro-futurism and solarpunk panel was enlightening, and the high point came when Cameron talked about the Green Wall Project in West Africa. It's a reforestation project, and it is wonderful.

Since we'd arrived on Wednesday, Thursday morning I took a rideshare down to the center of town, the John Adams Commons area. The commons is lovely. About five blocks away is the John Adams house, which is a national park. I got to go inside the Adams library but I didn't have a ticket for the entire tour. The garden, though, is open to everyone.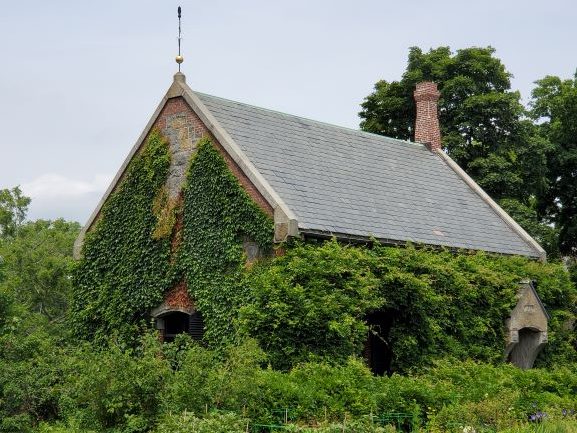 Personal Best Moments:
Hearing John Crowley Read.
Having John Crowley sign a book.
Talking with John Crowley about his shirt with the woodpecker figures on it.
Yes, there is a theme emerging.
Getting to visit with Ezzy Languzzi, with whom I share space in Strange California, with whom I tweet and who I had never met.
Austin Grossman's hilarious and educational slide presentation about how we ended up with Science Fiction and Fantasy.
Anything Tananarive Due said.
All of the readings I attended I enjoyed. I loved getting a chance to talk to Dr. Malka Older about the statistics of book selling (no, really, it's interesting) and her work. I liked the kaffeeklatche with Vylar Kaftan. The majority of panels I attended had good information and a few laughs.

In "The Etiquette of Criticism," the don of SF criticism, John Clute, took exception to something writer and reviewer John Langan said, and there was… a spat. Moments later the moderator asked each panelist to name a critic they admired, and Langan said, "Well, I was going to say John Clute!" I was there, people, when that happened!

Elizabeth Hand's forthcoming book is about "outsider" artist Henry Darger. I am really looking forward to that.

I thought the mobile app for the program was elegant and easy to use. One commenter pointed out that you could not get to the bios of the panelists from the app, and that was true, but I hadn't noticed that until I read the comment. There was also a paper pocket-program which had the biographies.
The rest:

Some things weren't as good. Here are some:

My Verizon mini-router (Jetpack) that I brought specifically in case the Marriott charged for interet access, which they do, decided on Thursday that it wasn't going to function. I powered it down and paid for one day's worth of hotel internet. The next day it worked fine. I hate that. Not the working fine part, the intermittent not-going-to-work part.

The Con committee said, "Regardless of the weather outside, the Marriott has one temperature: cold." That statement was completely accurate.

And to continue the weather theme… can we discuss humidity, people? Who thought this was a good idea? It was never as hot here as it was at home, but the humidity was more than 50%. I had a bad few moments on Saturday when I went for a walk. I got into a mixed residential/commercial neighborhood and it was interesting so I walked farther than I realized. Then I was in a hurry to get back. Halfway up the hill to the hotel, I had to stop and drink some water, and I was pretty shaky when I got back to my room in the arctic zone.

Today was the final day. I am still in a state of euphoria. When I get home and settled, I'll look over my notes and post something with more actual content. But for now, Terry and I are off to dinner in Braintree. In the humidity.