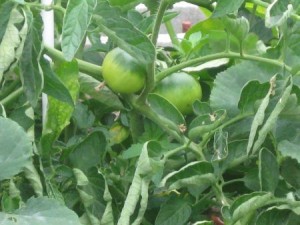 They have tomatoes!  From the faint green striping on the top of these, I'm wondering if this is an heirloom variety.  And the squash plants look happy indeed, crawling out of the raised bed and across the yard.  I'm not seeing a lot of vegetables, but perhaps the gardeners are harvesting them routinely. 
(Disclaimer:  This is not my garden.)
The squash plants are about the same height as the tomatoes, so it does seem like the risk of them shading out the other plants is a serious one. 
Some news about my tomato plants, for contrast.  I bought three Buy-Before-They-Die plants, as you may remember.  I wasn't going to, because I am not successful with tomatoes.  Still, all three plants together cost me less than five dollars, so it didn't seem like a huge investment.  I had also bought a tall, cobalt-blue ceramic planter pot for the front yard, and gave it pride of place.  I put the healthiest-looking of the three plants in that planter.  I put another one in the ground, next to the potato plants, in an area that gets a strip of morning sun as well as sun in the early afternoon.  The third one I put in a smaller pot on the deck near the peppers and the flower pots. 
The one in front, that got all the time and attention, is doing nothing.  It's not dying, but most of the le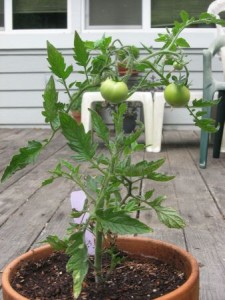 aves are still yellowish. It hasn't grown, it hasn't flowered, it hasn't withered. Today I moved it about two feet to the east, where it might get more consistent sun. 
The one in the ground, in the backyard, has almost no leaves and one marble-sized tomato on it. 
The afterthought plant, in the small pot on the desk, has dark green leaves and has grown about eight inches.  It flowered a while ago and now has two tomatoes on it.  It seems to have the best chance for success.  Go figure.