Another Mendocino Coast Writers Conference is in the rearview. This was the first in-person conference since 2019, and I would have loved it for that alone. I did love it for that reason, but there were many other reasons to love it as well this year.

Like any multi-person event, there were also things that didn't go perfectly. I didn't take advantage of the one-on-one consultations this year (I don't most years) so I can't comment on those. In retrospect, I wish I had signed up for one with our workshop leader. Anyway, now I know. I also skipped pitch sessions and the anonymous read of your "first lines," so I can't comment on them.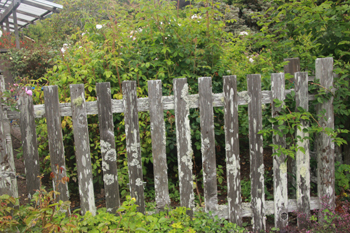 The things I loved included:

The morning workshop:

The morning workshops are the wellspring of the conference and everything else, bad or good, flows from them. The workshop leader is critical for this. The group is important too, but as a participant, you know something about the leader and can choose based on your category and interest. Since they've offered Speculative Fiction, I've signed up for it practically every year, mainly because it fits my work.

This year Ayize Jama-Everett was our leader. Workshop leaders have ranged from acceptable to great in my experience with this category, and Ayize was great. This year brought some twists; we had to be masked while indoors, which meant functionally during the workshop. For most (all?) of us, it's difficult to project through a mask, and often challenging to understand something through a mask. (And we had a participant with a hearing loss as well.) The solution many workshop leaders took, including ours, was to meet outside. The weather cooperated, and it worked well. The first day we had some irritations with ambient noise, but otherwise, this was the solution.

It helped that everyone in the group was a strong writer and a smart, generous person.

I don't know for sure, but I think the conference has embraced the new model of workshopping across the board. At least I know two workshops used it. 

Instead of a trial by ordeal, where the writer sits silently while people either flail around, trying to offer useful comments, or focus dagger-sharp criticisms in order to eviscerate the story, in the new model, the writer speaks first, and throughout the workshop process if necessary. They start off by saying what they want or need for the story.

This is just so… logical.

I've been in workshop after workshop where I've wasted brain energy and time explaining why the opening chapter didn't really work for me, only to find out, when the writer is finally allowed to speak, this this is Chapter Six and they wanted to know if the narrative voice worked. I've been in groups where the participants have thrown out stuff like, "You shouldn't use first person here. Write it in third!" or "Nothing works here except your fantastical city. Throw out everything and write a new story about the city." (That last one is a quote.)  I also know of people who were deeply wounded, to the point of considering quitting writing, by workshop experiences.

All of this is to say that I'm a fan of the new model. It worked well for us, not only because of our leader.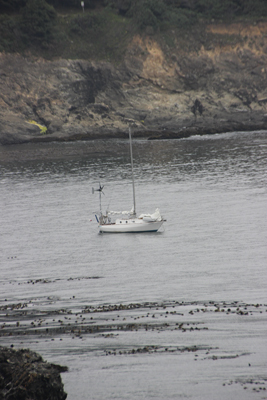 The weather:

The conference really can't claim credit for the weather, but it didn't hurt that it was in the high 60's, with fog most mornings and sun the rest of the day, all three days. The one drawback to the weather was a cold, capricious wind that would spring up with no warning, creating a wind chill and slicing through wraps, coats and sweaters like a magic knife of ice. Otherwise, it was perfect walking weather, and perfect sitting outside weather.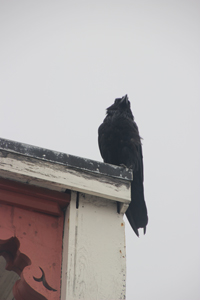 The food:

The food is conference food, with a focus on things that appeal to a broad number of people. Nothing is cooked to order. Chef Oscar makes a commitment to offer palatable choices to people with food allergies, who eat vegetarian, vegan, and/or gluten free. They offer entrees in all these categories. She introduced "alphabet safe" main courses, which, she said, met all three of the options above. There was always a fresh green salad at lunch, and nice desserts.

Cooking for a crowd on a budget is challenging and there are things you learn to expect, like varieties of pasta. The selections are not going to be perfect for everyone. Fortunately, the school is about one mile from downtown Mendocino Village, where there are plenty of restaurants. At least two, The Good Life Café and Frankie's, are less expensive, offering fast service and good value for your money. Fort Bragg is six miles north and a haven for fast food if you've got a hankering.

I like the food, but I like it making the allowance that it is conference food, and I'm the person who considers tortilla chips and salsa a light meal, so be guided by those facts.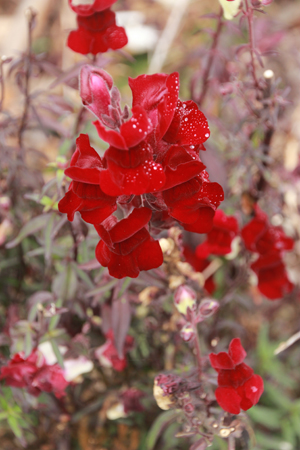 The Afternoon Sessions:

I attended two afternoon sessions. Faith Adiele discussed and demonstrated the "hermit crab" story; a story that fits into the "container" of another form, like a letter, a review, a set of instructions, or an advertisement. The mid-afternoon sessions ran an hour and a half and included both talk or lecture and a writing exercise. Faith is an electric presenter, with a delightful slide show, and I found the seminar inspiring. The next afternoon I found Ayize's presentation equally so, and my friend Terry got a story idea out of that one.

The Staff:

Conference staff is always wonderful, and they were this year too. Plus, it was so great to see them in person! They all stay cheerful and friendly all the way through and frankly, I don't know how they manage it!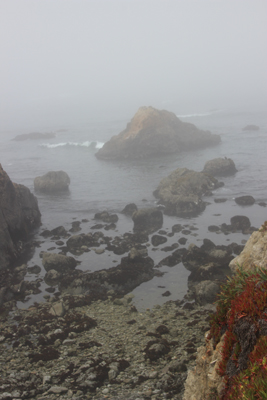 The Bookstore. Gallery Bookshop always manages the conference bookstore. They know their stuff and they know their audience. In addition to books by faculty and books by participants, they bring writing books and inspirational books, reference books (Mendocino history for example) and lots of tchotchkes or "sidelines"—pens, journals, small notepads, bookmarks, etc. They had a location that was both good and bad, right in the main hallway from the lobby out to the classrooms where the workshops were held. Good for exposure, and, pun intended, bad for exposure and general congestion. Rob staffed it every day. I loved it.

There were things I liked less.

The classrooms.

The school is K-8. K stands for Kindergarten, and I wouldn't have minded the kindergarten room if I only had to deal with the alphabet and the numbers running along the wall. Sadly, I also had to deal with a kindergarten-high table and chair. I doubt I could have hauled my carcass out of that teensy chair unaided if we'd had to sit there three hours. Going outside solved that problem mostly.


The restrooms.

Saturday, the final day, mostly of the restrooms were locked. There were four functional ones in the main building two were marked Out of Order. This was not okay.

The Contest Winners.

The contest winners were announced on the conference website, which makes sense and allows for an excerpt to be posted. That's efficient and cool, but I wished there had been a general in-person announcement somewhere. At the final Open Mike, when some of the readers signed up, the host read off their names and shared some of the judges' comments, but it wasn't comprehensive.

Overall, though, it was great to be back in person. For the first in-person workshop since 2019, I am grateful it was wonderful.