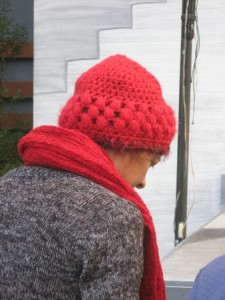 It's August in sunny California, so of course we dressed for the summer; the Sig-O had his shearling vest and I had a jacket and gloves.  People had down parkas, sleeping bags, hats, gloves and scarves.  This is how you dress to watch Shakespeare in the Park in my town. 
The Summer Social, the Rep's fundraiser, provided dinner and a play for $40/person. You got all the fine wine you could drink and a picnic basket that held a Caesar salad with chicken, a roll and Cowgirl Creamery (Redwood Hill Farms) goat cheese, an Asian pear and some grapes, breadsticks and a package of three specialty cookies.  The baskets were donated by a local realtor. 
Dinner, with wine and dessert, and a play, for $40 a person is a pretty good deal! 
The odds are good, in a town this size, that we will run into someone we know.  I saw Lonna and John Necker almost immediately.  Lonna and I shared an office when we were staff trainers together about a decade ago.  John ran his own electrical contracting business.  They are both retired and I have run into them at other Rep shows.  We ended up sitting with them at dinner.  A little later the Sig-O ran into Bruce Nachtigall and his wife Pam.  Bruce and the Sig-O had a Boy Scout connection.  Bruce's Kiwanis group sponsored the Sig-O's troop and every year at the Apple Blossom Fair, the troop (and the Sig-O) would help out at the Kiwanis booth.  For the Sig-O, this meant barbecuing chicken, nine hours a day for two days.  Then he would come home and run his glasses through the dishwasher to get the grease off.  No joke. 
One Disaster
No beer!  Last year Lagunitas provided free beer for those patrons who aren't wine lovers.  And yes, there are some.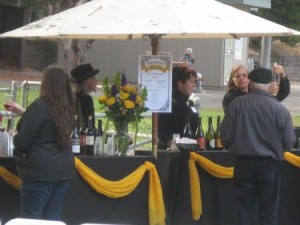 This year, none! This is a serious oversight that must be corrected.
Going Once. . .
Lee Farris, rodeo bull-rider and golf course owner in town acted as the auctioneer.  Because of his rodeo background, he had real auctioneer experience.  The auction seemed a bit sluggish compared to last year, but Lee's auctioneer patter added authenticity.  Someone spontaneously put up a $500 matching donation, and that spurred a flurry of waving hands.  I think they made $1200 on that transaction alone.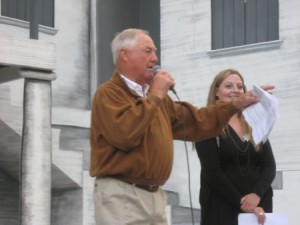 At the end, an audience member asked Lee to auction off a round of golf, with him, at his golf course, and Lee agreed.  John Necker nearly leaped out of his chair, he was so excited.  And he won!  
The Play's the Thing
 And then the play started.  It's A Comedy of Errors.  Shakespeare serves up the dish that has become a staple for prime time one-hourdramas and daytime serial television—twins, separated at birth.  This is Shakespeare, so he isn't going to be a piker and give us one measley pair of twins. Oh, no.  Two sets of identical twins are separated shortly after birth, one twin of each set being raised together as slave and master, unaware of their other halves.  One set ends up in the commercial city of Ephesus while the other is raised in Syracusa.  When the Syracusa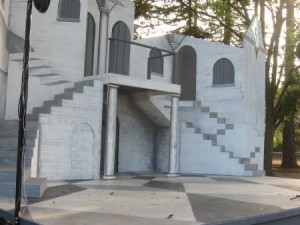 master and man go to Ephesus on business, the fun starts. 
I snuggled into my fleece jacket, rested my head on the Sig-O's shoulder, sipped my Pinot Gris, and let the games begin.