"And then comes the final test, the infallible touchstone of the seventh-rate: Ichor. It oozes out of severed tentacles, it beslimes tessellated pavements, bespatters bejeweled courtiers, and bores the bejesus out of everybody."
Ursula K. Le Guin, "From Elfland to Poughkeepsie"
"You keep using that word.  I do not think it means what you think it means."
Inigo Montoya, The Princess Bride
Clockwork Angel, Cassandra Clare; McElderry Books, 2010 
Cassandra Clare stumbles straight out of the gate in Clockwork.  In the opening sentence. . . "ichor;" one of Ursula K. Le Guin's perfect tests for bad fantasy.
Can Clare recover?  Basically, yes.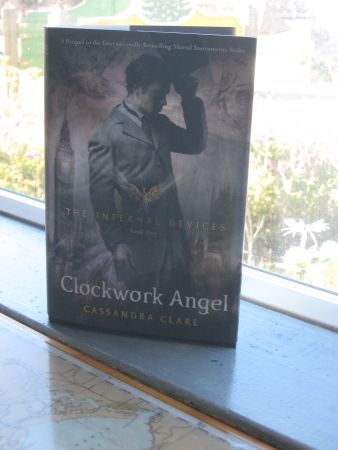 This is Clare's second series about the Shadowhunters, human-angel hybrids who hunt down demons and other evil creatures, protecting mundane humanity.  The Mortal Instruments series was set in contemporary New York.  Clockwork Angel is sent in London in the late 1870s, and is the first book of the Infernal Devices trilogy.  Clare's young adult audience will feel right at home here.  The book is advertized as a "prequel," and many of the last names, such as Herondale, will be familiar. A couple of characters from the Mortal Instruments turn up, reminding us  that they are magical and thus long-lived.
Tess Gray, the young American who comes to London to find her brother and is immediately kidnapped by evildoers, is a smart and physically courageous heroine.  She has magical powers of her own, but there is some confusion as to whether she is demon, part demon or something else entirely.  Tess is an educated young woman who has read Dante's Inferno and Shakespeare. In a nice homage, Clare names another character Charlotte Branwell, a nod to Charlotte Bronte, a best-selling author of the Victorian times. (Bronte's brother was named Branwell.) Surprisingly, Tess never comments to herself on this strange coincidence.
The configuration of young Shadowhunters mirrors the first three books; two young men and a woman.  The love interest is another tortured bad-boy, which is a shame, since the sidekick character Jem is far more interesting.  Clare always makes the girl Shadowhunter adversarial with her human main character, and Jessamine is no exception. The most interesting characters in the book are Henry and Sophie.  Several of the human attendants are lightly sketched in, as if they don't really matter, and it soon becomes clear why.
Clare's action sequences are vividly drawn.  She renders London with a good blend of sensuous detail. Tess and Will often quote poetry to each other, and Tess compares situations around her to classic Victorian novels, like Jane Eyre, which encourages the curious reader to seek these books out for pleasure, not merely for classroom assignments.  The plot is predictable, and things that are revealed as if they are surprises are not surprising at all, but the book maintains tension, and the jeopardy, faced first by Tess and later by her brother Nate, is convincing and dramatic.
The hardback edition benefits from an exquisite cover, and the clockwork angel itself—yes, there is one—is a delightful mystery that still has not been solved by the book's end.  Fans of the Mortal Instruments series will be pleased, and the almost-steampunk setting may draw in an even bigger audience. Perhaps some of them will look up the word ichor and realize that it probably isn't the slime, goop or gunk that shoots out of the exploding demon in the book's first sentence.