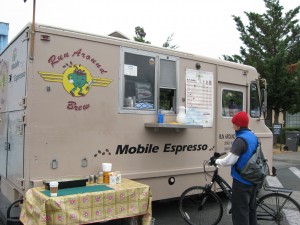 The easiest place to find Neil and Lorraine's Run Around Brew is at the Sebastopol Farmers Market, although you'll find them at the Human Race every May, sometimes at the Gravenstein Apple Fair, and on local at TV and movie shoots. In fact, Neil told me, they just did a one-day gig at a shoot on Treasure Island, for the new TV show Trauma.
There's a high-school connection with Neil and the Sig-O, and he trained Lorraine in the Firefighter I class when they were both volunteers at Gold Ridge Fire District, so to me they're almost family. Lorraine spent several weeks this summer in the Chico and Susanville area providing support to firefighters on a wildland fire.
They're both interesting people who'll be happy to talk about Sebastopol, fire-fighting, waterdog trials, Hawaii, or almost any other topic; they mix a nice coffee drink and make great smoothies as well. One of their best summer drinks is a pomegranate and blueberry smoothie. Highly recommended!
Look for the beige truck and Neil's smile.