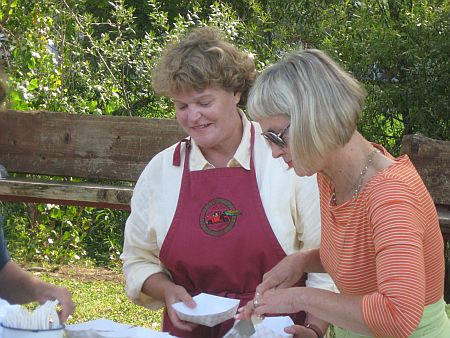 They served carrot cake at the Healdsburg Farmers' Market.  It wasn't just because I was there—the market was celebrating its 33rd birthday.  
This market is a fair trek from my house, about half an hour whether I take the freeway or back roads.  I chose the back roads, which took me past Riverside Park, a broad swathe of gleaming green vineyards, and several Russian RiverValley wineries.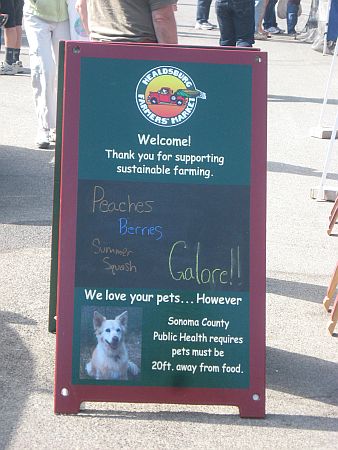 The market is not in the downtown plaza.  The directions say North and Vine streets (correct) and give the old Purity Chemical building as a landmark, which works well for locals.  The market uses the Purity Chemical parking lot for market parking, and the market itself is also in a parking lot, between a small creek that runs behind Bear Republic Brewing Company, and the unused railroad tracks.  It seems like it should be easy to find, but I had a little trouble, because Vine cuts off from Healdsburg Avenue at a 45-degree angle and I missed that turn.  I ended up going to Matheson, turning left, turning right on Vine and driving one block.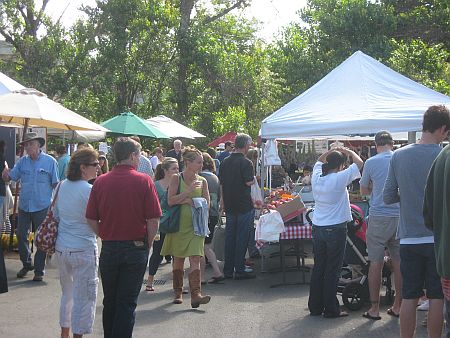 Every farmers' market seems to have a unique style.  The UC Davis market, which I visited a couple of times, felt more commercial somehow, and that might have just been because the farmers there were selling in much more bulk—lug boxes of oranges, etc.  Of the local markets I've visited, the Santa Rosa market is the largest and most diverse.  It sprawls across the Veterans' Building parking lot with more than 100 vendors.  The Healdsburg market is more compact, and it's pretty.  Mary (in the red apron, serving cake, above) the market manager, makes good use of her A-frame signs, advertizing what's in season and plentiful at the market.  They use their logo really well, too.  For a small space with a lot of vendors, the market was nicely organized. 
This market had the best flowers I have seen.  They win on color, size and freshness.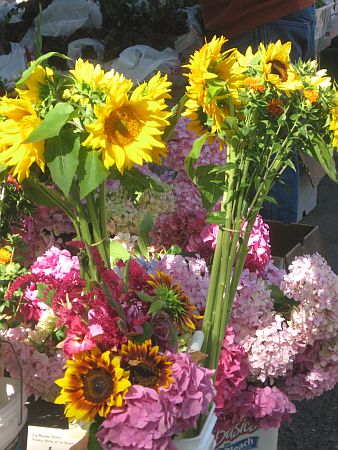 It seemed to me that there were more vendors with prepared foods and specialty goods than fruits and vegetables, but I can't really quantify that. Nancy from Middleton Farms was there, selling peaches—perfectly ripe and delicious—and I bought my first vine-ripened tomatoes of the season.  I ate one in the car before I left.  What a treat! 
There was no coffee truck, but the Jimtown Store has a booth with fresh-brewed coffee, pastries and cookies from their deli.  Along with the cake, the market was offering free coffee too.  The most unusual prepared food booth was the roasted red pepper booth.  I'd never seen peppers roasted in bulk before—the scent of these wafted through the market.  I've also never seen a roaster quite like this one, either.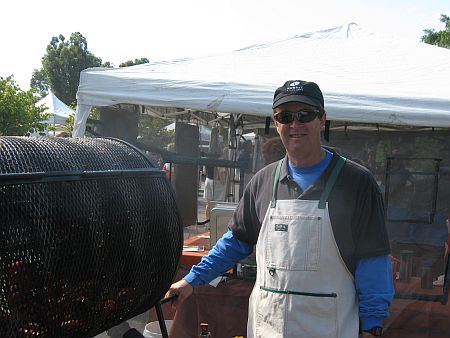 I got Portobello mushrooms for grilling, some round summer squash for stuffing, and tomatoes.  I didn't get strawberries from the booth that had huge ripe ones, and later I regretted it!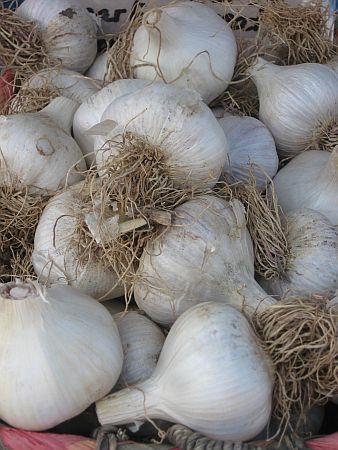 I won't be able to go here regularly, because of the distance, but it is certainly a market to consider for a special event or as part of a day-trip to Healdsburg and points north. In fact, next Saturday might be a good day to hit the market and pick up some snacks, then head to theMemorial Beach Russian River festival, which is going to have a water float parade, booths and an old-time bathing suit contest.  (Yeah, I know.)  I won't be able to go, but I'm sure it would be fun.