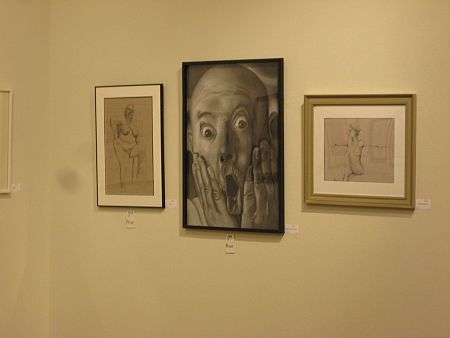 The Gualala Art Center's monthly, revolving exhibit was pencil and charcoal drawings.  The first prize winner is an artist's self-portrait "as Munch"–looking like The Scream.  Aside from the technical brilliance of the piece, I liked the whimsy. Don Hall, this artist, also had a piece called "Machine Gun Alley,"  a colored pencil sketch of an amusement park arcade game, filled with stuffed animals and machine guns.
The second prize winner was more sentimental.  I saw it first, after I walked past a line of many, many female nudes, in a variety of reclining poses.  There were two or three male full-figure nudes, all coyly posed to hide their genitals.  I did wonder if a lot of these artists took the same life drawing class.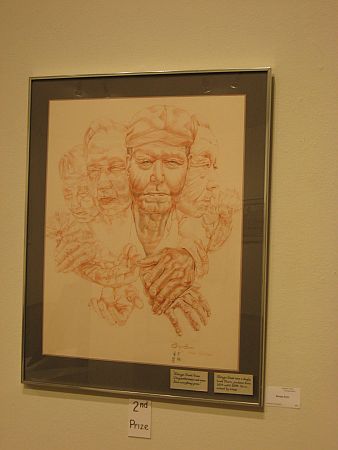 Bruce Jones had two sumi ink sketches I really liked, "The Relic" and "Twisted Eucalyptus."  I thought that was interesting because he also had a black, white and red pencil on brown paper sketch called "Alice and the Queen of Hearts."  It depicted two femal figures, one nude and reclining face up, lounging almost, hand outstretched, one foot (wearing a flip-flop) resting on her opposite knee.  She wears a turban and is looking to the viewer's right.  Behind her, standing, is a short haired woman also looking to the right.  The standing woman is so skinny her head is disproportionate.  It almost looks like her head is on backwards.  I didn't like it at all, but his use of brown paper and white gave the skin of the reclining woman a sheen as if she were perspiring in the sun.  It was technically good except for that head thing–but I didn't care for it.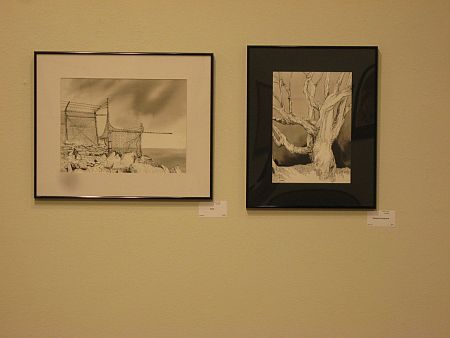 After I left the building I walked down the forest trail.   It's pretty steep in spots.  It goes all the way to the river, but I didn't walk that far.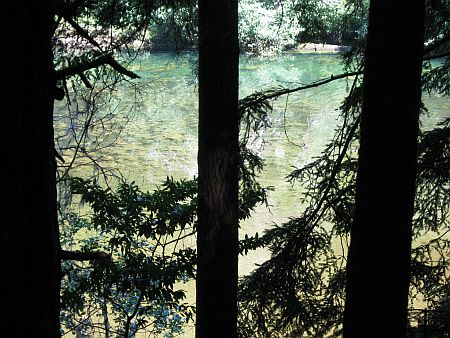 The sunblock I put on made me especially attractive to the mosquitos.  I also saw Mendocino's county animal, the banana slug.  I wish I had gotten a more exciting picture, but frankly, slugs don't really do much that's exciting to mammals, so I included a redwood picture instead.