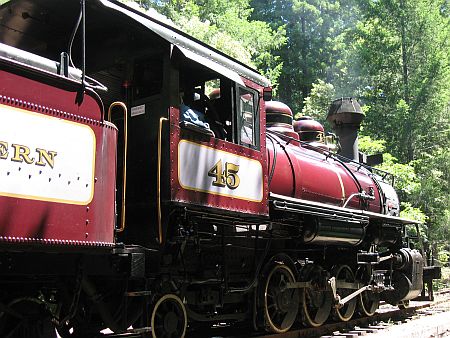 One of Fort Bragg's claims to fame is the Skunk Train, a train ride along the Noyo River canyon through stately redwood trees.  There are three choices of trip; the morning ride which goes to a camp called Northspur, about 21 miles, and back; an afternoon trip to Northspur where they serve you a barbeque tri-tip dinner, and an overnight ride to the town of Willits, about 39 miles. Tri-tip didn't sound that good so I opted for the five-hour 10:00 am ride. 
In Fort Bragg, it was about 60 degrees, so I brought a jacket.  We waited by the three gates while they backed up the gleaming Old 45 engine, diesel-steam, a piece of elegant machinery that fulfilled all my steampunk cravings.  They totally blew the illusion by attaching the Parlor Car next.  The Parlor Car looks like a Grateful Dead T-shirt seller painted it.  It's lovely, it's just very. . . 1970s rather than 1870s. 
They had enough people and dogs to fill three cars.  In between the cars they have an open car; they didn't call it an observation car.  I spent most of the trip out there.  The engine has the long, airy, mournful whistle we remember from our childhoods (or from TV), a clanging bell and a stack that belches stinky steam.  That is part of the reason for the name.  For the overnighter trips they run a full diesel engine, but I wanted that steam experience. 
We had two men in conductor garb; a gray-haired gentleman who was also our docent on the trip, and a younger guy with a magenta streak in his hair who played music and sang.  He had his wife and two-year-old daughter with him.  The train is canine-friendly and there were a number of dogs, all well-behaved, but I do wonder if they were enjoying the trip all that much.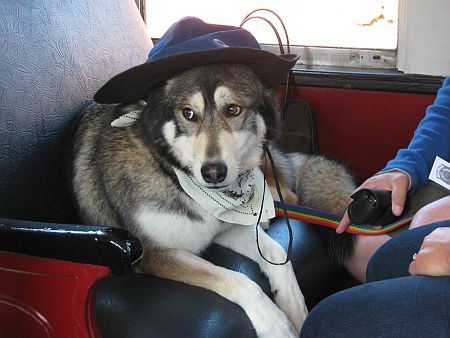 The train pulls out of Bragg and heads north, soon leaving the city behind.  We passed the county cemetery.  For the first leg, we were in new growth oak and bay trees, horsetail ferns, water lilies, and wetlands.  Soon the wetlands sharpen up into a Noyo river, a shallow glassy stream of water tinted shades of green from the shadows and reflections of the trees.  We had to leave the open car and go inside as we went through the tunnel (I'm still not sure why. .  . fumes?) and when we came out, we were in redwoods.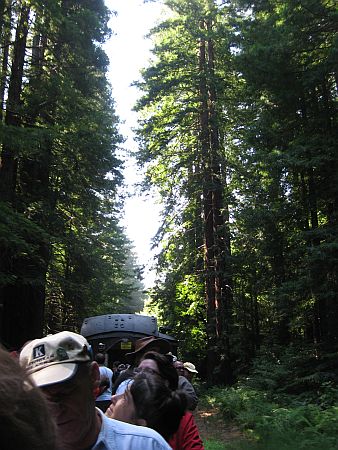 This forest is, for the most part, third or at best second growth.  Trees were cut in the 1860s, largely for the war effort, but they didn't really make much of a dent in the old-growth forest then.  In 1906, an earthquake and fire leveled San Francisco.  The rebuilding cleaned out the redwood trees.  Our conductor told us that if we had taken the train in 1908, we would have passed a six mile stretch without a single redwood tree.  The area was logged heavily again in the 1940s because of World War II.  Since the 40s, the lumber industry has steadily declined, and the closest open mill in this area is in Cloverdale, fifty miles away.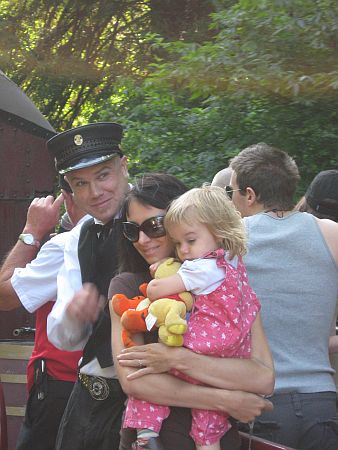 The train started running to and from the lumber camps.  The Skunk Train is still a flag-down train, and the few people who live in cabins along the track can flag town the train on any run.  Most of the residents have 99 year leases on the property (because most people only bought timber rights).  There are also several summer camps along the track. 
Northspur isn't a settlement in any real way.  There are picnic tables, restrooms and three concession stands, two of which sell food.  It is surrounded by young tall sequoias, and it was 90 degrees there, 21 miles away from the coast.  I love our California microclimates.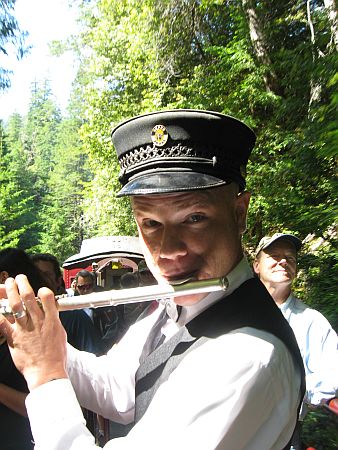 The stop at Northspur lasts about an hour, during which they fill up the boiler and uncouple the engine.  They roll it across another track and bring it around to the back of the train and hitch it to what was the last car, which has now become the first.  The people riding from Willits were on a single car contraption.  We were allowed to mingle with the Willits people.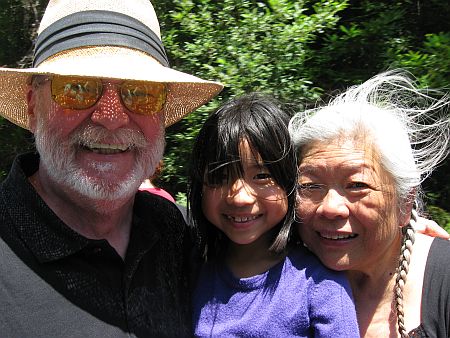 Heading back I got into a delightful conversation with Andrea and David.  I had been watching Andrea because she is so photogenic.  She and her granddaughter were standing behind me on the open car and we got to talking.  She said she was researching local railroads because her Chinese great-grandfather helped build them, including the Transcontinental Railroad.  He floated here from China with eight other men in a Chinese junk.  It took them eight months.  They had planned to work the goldfields but were evicted shortly after arriving.  The railroad was hiring.  David turned around and entered the conversation at this point.  He asked Andrea if she knew the famous quote of Charles Crocker, who built the railroad.  The quote is, of course, "I killed one Chinaman for every mile of track laid."  Andrea had heard it—furthermore, she told us, that statistic is low (even though Crocker was bragging when he said it). 1.7 Chinese men died for every mile of track.  
She said she taught theater arts and had just come back from Alaska where she was studying shamanism.  David said his first novel, Shadow of the Raven, had shamanism in it!  Since he was a writer, I asked him if he was going to attend the writers' conference.  That was the first he had heard of it. 
We talked for about half an hour, exchanged e-mails and did all those good things.  TJ reminded us all that the 1,000 year old redwood tree was coming up, so we stopped talking to look for it.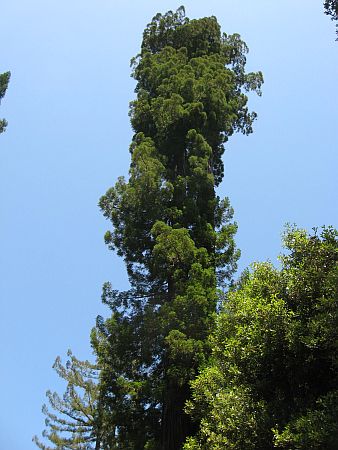 The trip is fun.  Bring water and sun-block. Bring cash, since all the concessions on the train and at Northspur are cash-driven (although it looked like one at Northspur would take checks.)  Sometimes it is better not to ask a question if you think you won't like the answer, so if you are making reservations, I would recommend you not ask if you can bring your own food.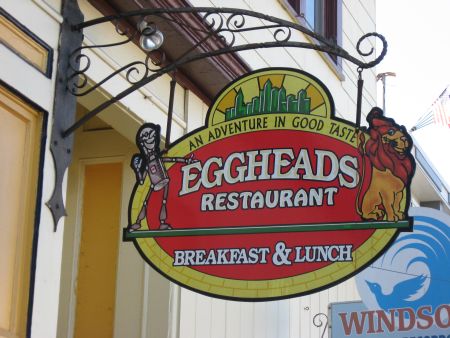 I had breakfast at Egghead's, which bills itself as the Best Breakfast Place in Oz.  The theme of the entire restaurant is Wizard of Oz.  And the food is pretty darn good, too.