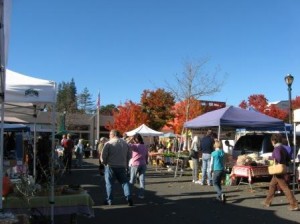 Nancy is out of onions. Her stall is full of winter fare; persimmons, pears and apples, leeks and shallots. Brock of Black Sheep Farms didn't even show up, and neither did Laguna Farms, which is perfect proof that it's the last day of the local farmers' market.
Run Around Brew is still there, and the goat cheese vendor. He does not work the Santa Rosa market but he does go to the ferry building in San Francisco. I've been to that building once in my life, and it wasn't a market day. I say, "See you in April," to Javier.
What the market lacks today in produce it makes up for in crafts. Three wool vendors, spinners and weavers are present. There are dried wreaths and jewelry. A woman demonstrates weaving at a booth selling ikat cloth. The Sisters of Perpetual Indulgence have a table where they sell raffle tickets for a cord of firewood. The proceeds benefit Guerneville schools.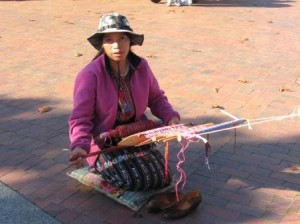 < Nancy also goes to the Santa Rosa market. As she puts it, "It's not the pinnacle of beauty, out there in the parking lot, but it's a job." I will probably see her there a couple of times. It's a glorious day, warm, clear, the plaza surrounded by orange-leaved trees. Despite the sense that the market is winding down, I still get halibut for dinner, fresh bread, and some fuji apples from Nancy. And a coffee drink from Neil. It's a good morning.