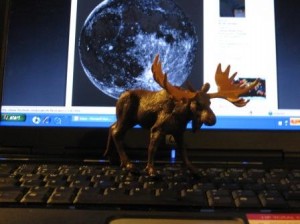 Say hello to Brian, the Mudflats mascot moose.
The Mudflats is the first blog I ever read, really went to and read. AK Muckraker, the creator of The Mudflats, is a good writer and a tireless researcher, with a strong network of interested Alaskans who keep her informed on political goings-on. Periodically, in between sardonic Sarah Palin stories, interesting and educational posts about Alaskan fisheries, the subsistence lifestyle of Alaskan Natives, oil and water, oil and volcanoes, oil and corruption, ethics and corruption, politics and corruption, AKM also shares some of her beautiful nature photographs.
Brian the moose (the real moose) shows up now and then around AKM's house. Brian has a lady-friend named Brenda, I think. AKM has shared pictures of both of them as well as two cute moose calves last spring. Over the months, Brian morphed into the mascot of the site.
At first, AKM had a plastic representation of Brian that got photographed with Alaskan politicians, pundits and celebrities. Brian later went to the Netroots Nation conference with AKM and has posed with people like Bill Clinton and Rachel Maddow. Brian attends local and state events and dinners with AKM and her friends.
Apparently some conservative bloggers are offended by Brian, as if taking a plastic figurine of a moose to events is somehow just not treating them seriously enough. Needless to say, Brian has not yet posed with Newt Gingrich or Dick Cheney, or even Richard Steele.
Like his antlers, Brian has branched out. At least two people managed to surreptitiously slip pictures of Brian (not the actual action figure) into photo-ops with Sarah Palin on her book tour. I'm not sure Sarah Palin knows who Brian is or what he represents.
The Mudflats site has a link that lets you purchase a Brian figure (although I'm not sure the company that sells them knows they're Brian. They think it's just a plastic moose figure). Of course, for Christmas I just had to get one.
Here's Brian, out on the range. The full moon behind him is from the Mudflats website wishing everyone a happy New Year's Eve. Brian now has his own forum on the site and people send in pictures on him on his adventures.
Brian the Mascot Moose—the spirit of adventure, freedom of speech and downright stubbornness, driving the self-important crazy with confusion, one image at a time.