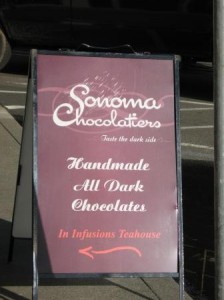 Sonoma Chocolatiers
Infusions tea shop
6988 McKinley
Sebastopol, Ca 95472
If I post twice a week, and there are 52 weeks in a year, then I should do 104 postings a year. In 2010, at least ten of those will be about chocolate. Those two sentences don't count as being about chocolate since they're about arithmetic. Let's see if I can gracefully segue into a chocolate commentary.
For those of us in the west county who have been in mourning since La Dolce V closed, Sonoma Chocolatiers may offer some comfort. This business originally had a shop in Santa Rosa, but that proved too pricey, so they moved to Sebastopol, and purchased Infusions tea shop. They serve tea, coffee, light meals and dark chocolate extravagances. During spring and summer, you can occasionally find them at the Sebastopol farmers market.
Sonoma Chocolatiers only uses dark chocolate. They make a few bars including a nice one with hazel nuts (the warm nutty flavor offsets the bitterness of the chocolate), but their specialty is truffles. When I first discovered them, they were using warm spices and peppers with their chocolate, creating Mayan spice and other spiced truffles. These were good. They expanded into tea-based chocolate candies. They make a number of tea-based truffles, including a citrus Earl Gray truffle that's quite refreshing. Of course they make the old standby as well, a chocolate truffle.
Some of their mixtures are a little too adventurous for me. My palate isn't educated enough to sort out bleu cheese and chocolate truffles. Even lavender truffles, which are becoming more popular and popping up in various places, aren't my favorite. I'm just saying.
For old-fashioned comfort food chocolate decadence, you can't beat a Sonoma Chocolatiers brownie.
Valentine's Day, the national chocolate holiday, is coming up in a month and a half. The Chocolatiers have nice gift boxes and will do an assortment of truffles. Infusions also offers tea—as you might expect—and some light lunch fare. Sometimes they have life music. It's an intentionally rustic, pleasant place to stop for rejuvenation after you've finished shopping Main Street.
You can find the candies other places in town, such as at Adela's Westside Café, at Viansa Winery in Sonoma, or via the internet. The website alludes to milk chocolate, but I have never seen milk chocolate product of theirs.
Viansa Winery
25200 Arnold Dr
Sonoma, CA 95476-9222