I don't think every town hosts a Zombie Shamble around Halloween, but two towns where I live do; Petaluma and Sebastopol. Both shambles (because if you're a zombie, after all, you shouldn't just walk,) are hosted by Copperfield's Books.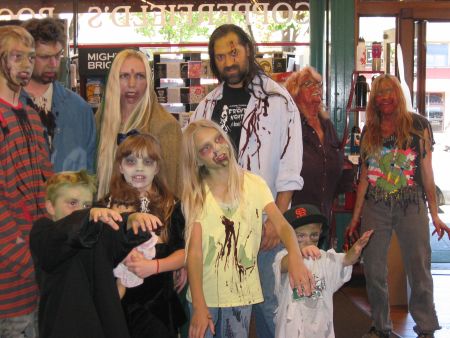 The Sebastopol zombies, I was told, were much more timely than the Petaluma ones. (The Petaluma zombie event was held on Saturday.) Down there, the zombies wandered in ten to fifteen minutes late. Does time matter if you're a zombie?  I don't know. Anyway, zombies at my local store were early.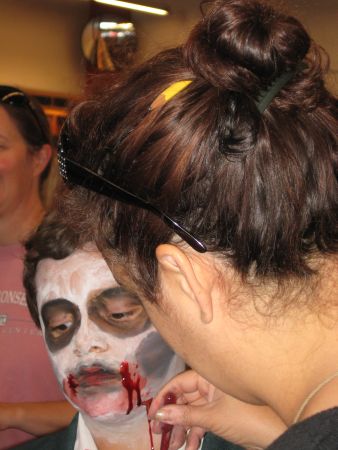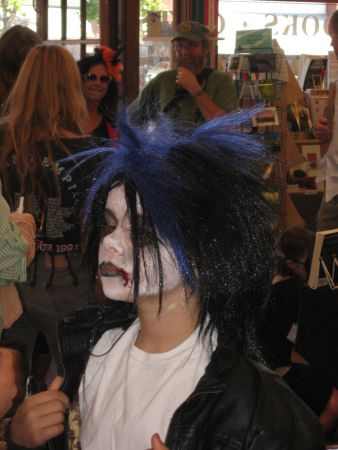 Most zombies came in costume but for those who needed help the store had face paint and fake blood. A lot of fake blood. The staff person who led the charge was still in human form, but she had been bitten from a zombie, so the change was eminent. The goal was to shamble down the center block of Main Street, cross at the light (law-abiding zombies!) lurch menacingly through the farmers' market, go down one more block, and then stagger back to the bookstore where there would be treats and zombie contests. Yes, zombie contests.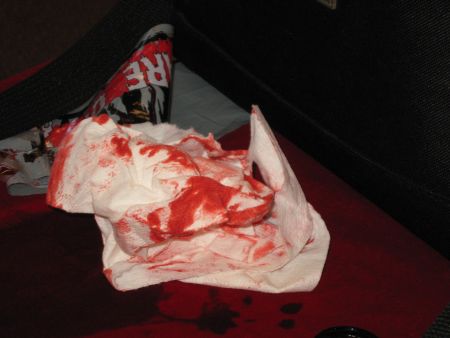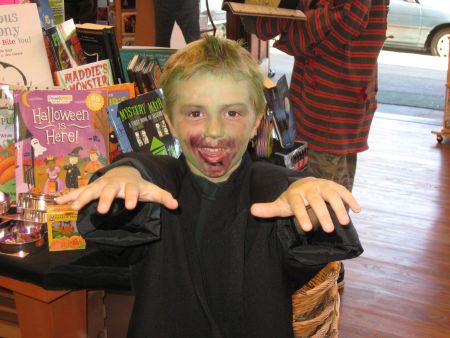 Ground rules for the Zombie Shamble (and these are important):
1) No scaring kids younger than six. The formula for reaching the age of six was quite elaborate. The staffer pointed at the green zombie, who appeared to the be youngest ambulatory zombie (there was a zombie baby in a sling on Mom's back, but she was asleep). "How old are you?" The kid said, "Six."  The staffer said, "No scaring children younger than six."
2) No touching bystanders.
3) No touching cars–no matter how tempting it is to press your zombified face against the side window and moan.
4) Survivors (people not in zombie-drag) at the back.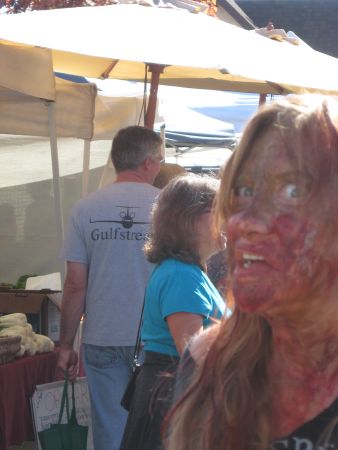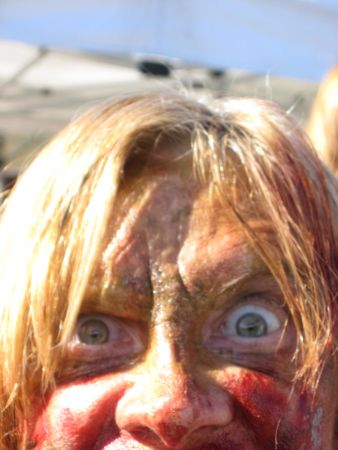 So many of these people embraced their roles so thoroughly I can't do them justice. I walked with the Hungry Farmers' Market zombie (she's at the far right in the first picture) and her friend; they were wonderful! I do think a few small children in strollers were, well, not scared, but concerned. The non-zombies of us assured them that the zombies wouldn't hurt them. A little girl with butterfly wings, watching from her tall dad's shoulders, informed us that the zombies were "silly."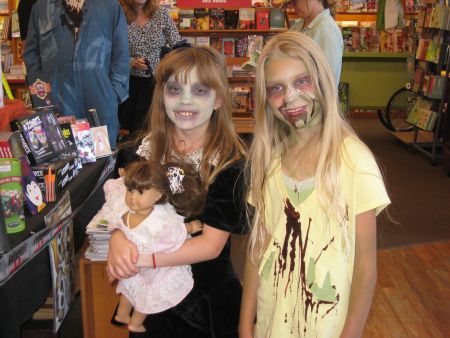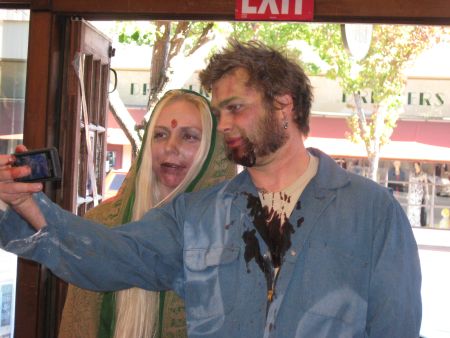 It is probably no coincidence that a life-sized cutout of William Shatner just happened to be next to the door today.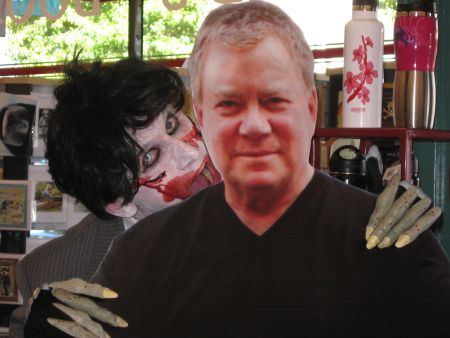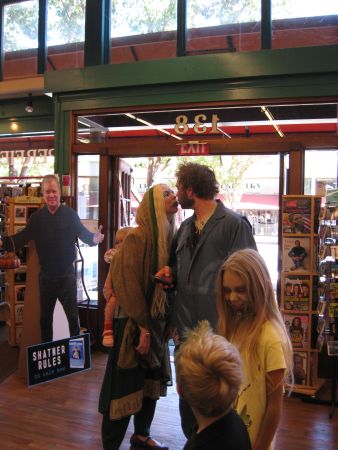 You're wondering what zombie contests are. Well, once we all regrouped there was the lurching contest, and the moaning contest, and then several trivia questions about zombie movies. I had run into two people from work were just at Copperfield's to shop (and I found out one of them is a visual artist who is working on a series of paintings of their dogs in steampuk regalia–how cool is that?) I was talking to them so I didn't hear most of the zombie questions. I did know the answer to one, which raised their eyebrows, although I don't know why.