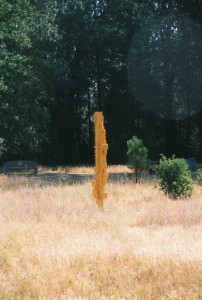 The Lake County EcoArts Sculpture Walk  is installed at the Trailside Park in Middletown.  I've been going to sculpture walk for the last three years, since John Randall Williams, one of the coordinators, who is in my writers' workshop, told me about it. The art works line the walking trail, with a few detours into oak glades. Because this is an eco-arts exhibit, the work often uses recycled or natural materials, and almost every piece has an environmental theme.
In art, my preference runs to the narrative or representational rather than to conceptual, and I'm a sucker for anything with textiles.  There is something for everyone in this show.  I got plenty of art that told a story, but my favorite was a textile installation by Sheila O'Hara and her students called "The Rainforest is Crying."   Long pieces of woven fabric, cut into strips (or perhaps woven in strips, I can't tell) waft back and forth, like layers of silvery rain, among the oak trees, which are draped with Spanish moss.  The cloth is beautifully done in shades of white, brown and black, the fabric is strong with a nubby texture that is surprising since it looks sleek.  Near the top of each panel runs an uneven stretch of black/gray, as if smoke rising off the fires in the rainforests, or the scar left where the trees have been logged. It's a beautiful, thoughtful piece.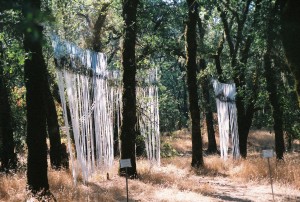 This show has always been inclusive, and this year was no different.  There is art from a third grade class ("It's Up to Us"); one individual eleven year old artist makes a statement about the importance of keeping our water safe; a high school class is included, and Redwood Children's Services contributed a textile piece called  "A Nest of One's Own."  It was easy to read layers of meaning into that title.
The park is flat, a meadow surrounded by oak and fir trees.  By July the grasses are blond and the rattlesnake grass chirrs when you walk through it.  I try to get there by mid-morning, no later than nine, because to me that's when the light is best, but some of these pieces are designed to change as the light hits them throughout the day, so there's no bad time to go.  The day I went, my car thermometer said it was ninety degrees by the time I got back to my car, a little after ten.  I recommend bringing water, wearing sunscreen and carrying a hat if you are sun-sensitive.  Also, while I've never actually seen a rattlesnake, it is their type of terrain so high shoes and long pants are probably not a bad idea. Having said that, I was eager to blunder off the path in order to look at pieces up close, touch them, and see them from different angles, which the placement of the pieces certainly allows you to do.
It seems as if certain artists are drawn to specific areas of the park trail.  I think Don Speed has had his metal sculptures in the big oak tree before, and Zack Pine's porcelain installations always look as if they are in about the same location.  It's a good spot.  This year he did a peace sign, and Don did some different views of the future, ranging from whimsical to apocalyptic.
Christalena Loren's "Druid Dancing", and Kevin Brynes's "Elise" both have perfect placement.  Loren's benefits from a madrone tree nearby that mirrors the rusty-earth color of the dancing figure and the mushroom stems.  The piece does remind me of the Marin Civic Center just because of the colors.  "Yeti or Not. . .I've Got to Go" also benefits from perfect placement.  Please, follow your impulse and the footprints that lead you off the path to irrefutable proof of the existence of the Yeti.  You'll laugh.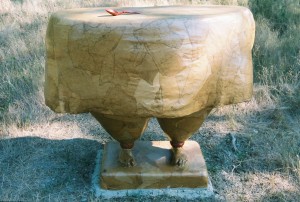 "Re-Life Cycle" is one of the most interesting pieces in the show this year.  "Big MaMa" creates a strange mix of power, humor and comfort. "Flying Reptile. . ." by Larry Williams, and "Buddha" by Rebecca Kaplan, are both beautiful pieces that don't seem specifically tied to this exhibit (they would look beautiful anywhere), except that they both used recycled materials. Despite my statement earlier that I like narrative or textile based work, I was captivated by "A New Species" (Sherry Harris).  These strange flowers assembled out of palm frond, gourds and branches kept drawing me back. 
Karen Turcotte's sculpture, "Process", is near the trailhead.  Karen is the breath and soul of the sculpture walk.  She coordinates the event every year and she and John spear-head the set-up.  They also do remediation when pieces fall victim to weather or vandalism (which, sadly, they do).  Every year I've gone, Karen has also had a piece in the show.  The first year I went, she had placed a bust of Medusa underneath a good-sized manzanita shrub, the spiny red branches recapitulating Medusa's writhing snakes.  For a couple of years she did different things with three tall cut outs of women figures, each painted in a primary color.  One year they were muses.  One year they guided visitors into the park (although if I recall correctly, they had to wear clothes for that gig, even though they are flat cutouts).  While I liked "Process,"(the opening picture in this post) I did miss the muses.  It's that whole representational versus conceptual thing again, although I liked the geometric interest in the piece very much.  It reminded me of the robots in Transformers, in a good way.  Sorry, Karen, that's more a comment about my education that your art!
Ever year my plan is to go, experience the exhibit and then have a late breakfast somewhere in Middletown or Calistoga.  Every year, I fail at this plan.  I have never eaten in Middletown.  A couple of times I've stopped in Calistoga, but it seems more like a lunch town than a breakfast town.  As a fall-back, this trip, I planned to stop at a coffee place at the southern edge of Middletown, in a converted gas station, but it didn't look open.  Since I planned to meet someone in Santa Rosa anyway, I drove back over the mountain and settled for a disappointing breakfast burrito at a taquiera on Fourth Street. 
Good thing there had been art to sustain me.
Pictures:
1) Process
2) The Rainforest is Crying to be Saved
3) Druid Dancing with Mushrooms
4) Big MaMa
5) Relife Cycle