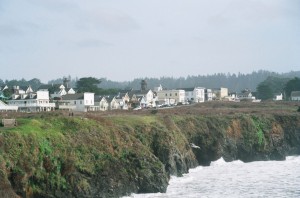 On Valentine's Day I stopped at the Mendocino Chocolate Company shop in the village of Mendocino to pick up a truffle for the Sig-O.  We don't actually observe Valentine's Day, but I said I'd blog more about chocolate, and here was an opportunity.   It was a tough choice of truffles with all the flavors, but I narrowed it down to marzipan enrobed in dark chocolate (the Sig-O likes marzipan) and the Santa Rosa truffle, a classic dark chocolate truffle with a dark chocolate coat and a red icing rose.  I ended up getting him one of each.  
Many of the truffles have local names, like the Fort Bragg or the Santa Rosa, descriptive names like the Seamist, or whimsical names like the Angela, named in honor of Angela Landsbury who used to hang out in Mendocino while it stood in for Cabot Cove, Maine, the fictional location of Murder, She Wrote.  The Angela truffle has a tiny orange icing rose on top, because orange roses are her favorite. 
The Mendocino Chocolate Company also sells creamy fudge, milk chocolate and dark chocolate bars and molded chocolate.  They have two locations.  Their chocolate kitchen, with a storefront, is in Fort Bragg, and they have the small "showroom" here, one block east of Lansing Street on Ukiah Street. 
Their base chocolate is Guittard, made in San Francisco, so they are very much a northern California product.
 I thought I had a nice picture of their Mendocino shop, but I can't find it anywhere. The woman who waited on me on the Saturday before Valentine's Day was not the owner—there's a surprise.  She told me the current owners have had the business about six years.  She said she thought it was mistake that they had moved from a location on Lansing to this address.  They've been east of Lansing since I've known about them, and that's been about four years.  She said tourists don't always find them, since Lansing is the north-south main drag and also hosts the building with the tower and the intriguing statue of Time and The Maiden.  She said they had moved because the owner didn't like "all those homeless people."  I think she was referring to the Mendocino panhandlers, who are numerous and proficient.  I might question just how homeless some of them are, but I also know, from the time I worked in an office in downtown Santa Rosa, how exasperated merchants can get with panhandlers and homeless folks.  Mendocino is smaller but basically no different. 
Anyway, wherever you find them, their chocolate is very creamy and rich. I prefer dark chocolate and their dark truffles have nice layers of flavor.  The Sig-O pronounced each of his a hit, so there you go.