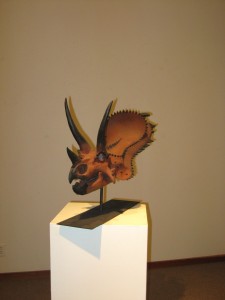 The first thing I noticed when I walked into the side exhibit room at the Gualala Art Center was Saddle Ceratops; a triceratops head with a saddle tree used as the base.  Every piece in the show, "Wine Country Saddle Trees of Middletown" features the armature or "tree" of a saddle. I don't know what inspired Karen Turcotte, who curated this show, to think of it.  Well, maybe I do, because it's in her artist's statement, and clearly, once the girths, stirrups and skirts are stripped away there's something familiar and evocative about the shape of a saddle.  It's like a viola or the sound box of a guitar, or the human female figure, or a landscape. And, certainly horses and humans have a partnership in history that goes back a long, long way.
 Karen invited various artists to interact with the saddle tree, and the resulting show, although small, piques the imagination.   Next to "paleo artist" Larry Williams's Saddle Ceratops, which looks convincingly like a rusted triceratops head, architect David McMillen's "Mask" resembles the helmet and face of a Spanish conquistador.  McMillen also has a stylized piece near the door, called "Nude Reclining," which looks like a naked woman, resting on her elbows, if that shape were reduced to its basic components.  Both of his pieces focus on shape, not function.  His is not the only female nude in the show, although "Blue Lady—Undone #1," by Jeanne Marble Tennison, with its ivory skin tones, soft pinks, and ruffled bits of denim, could not be a more different take on the female form.  Just beyond them, Crystaleen Loren's gryphon-ridden saddle probably moved me the most.  In Karen's statement, she mentioned the discovery of ancient Scythian saddles decorated with gemstones and precious metals.  Loren's "Last Scythian" embraces that, with a resin gryphon dyed to resemble polished bronze, curled over the cantle and seat of the saddle tree.  The rest is studded with polished stones that look like amethyst and smoky quartz.  The piece is intricate yet primitive looking at the same time. The detail of the gryphon alone kept bringing me back to this one.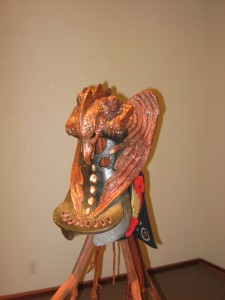 Like "Scythian," Turcotte's own piece springs from the function rather than the form.  I liked the whimsy of "Horse Sense," as a horse takes its ease on the top of the saddle.  Trucotte has festooned the saddle with various leather belts and buckles.  Some are plain, some elaborate; one is gold-colored with a golden buckled etched with a design that suggests a secret society, like the masons, or maybe the rodeo.  The piece made me chuckle, then it made me come back to look at it more closely.
 Like "Undone #1," Glinda Addington's shadowbox "Birth" sees the form as a female one.  She uses the saddle tree, black leather and the vertebra of some large animal against a painted shadowbox to create a piece that's textured and contained.  Julia Regina's "Waterfall" goes in the opposite direction.  The saddle is nearly completely hidden; mounted on a mirror, draped in strands of shimmering beads that represent the falling water.  Here is saddle as landscape.   Reba Burrows's "Pegasus" uses fabric, feathers, glitter and paint to create a lofty and colorful fantasy.
Turcotte's carefully chosen quotations adorning the walls resonate with the pieces.  She uses one of my favorite quotes, from Stephen Lea; "He flung himself onto his horse and rode madly off in all directions."  This show runs madly off in all directions, in the best possible way.
 This exhibit space is small, but even so, I wish the show could have been bigger.  I'm just greedy.  There was so much imagination and variety here that I wanted more.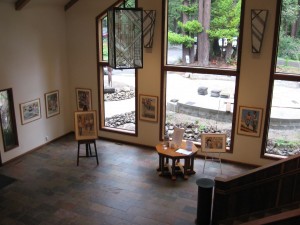 The show is up until February 28.  The Arts Center is open seven days a week, 9:00 to 4:00 pm during the week and noon to 4:00 pm on weekends.
46501 Gualala Road
Gualala, CA 95445
(707) 884-1138