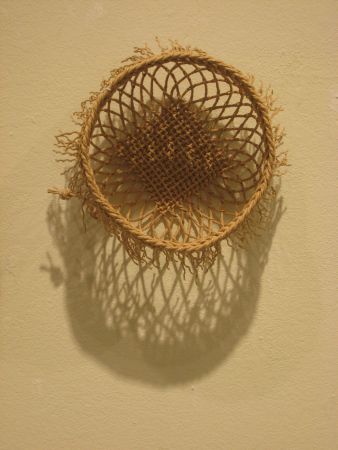 Friday, June 11, 2010
I stopped at the Gualala Arts Center primarily because I needed to use their restroom, but I figured they would have at least one exhibit up.  They had an interactive fabric thing in the lobby.  I don't understand it, but it was pretty.  I heard voices coming from the exhibit room where Karen Turcotte's saddle tree exhibit had shown, so I wandered in there.  There were several people.  There was a lot of activity, a lot of diverse and splendid baskets.  I didn't connect the people-activity to the baskets right away.  This is because I'm slow sometimes.
While I wandered around oohing and aahing, a woman in a blue top spotted me and followed me, looking at me in a puzzled away.  Sensing that she worked there, I said, "How long is this show up for?"
She said, "It isn't actually up yet.  That's what we're doing right now."  I thought this was much more polite than saying, "YOu barged in just as we're putting up the show, you numbskull."
"But since you're here," she said, and shrugged. 
"Can I take pictures?" 
"Sure.  Why not?" 
It is unusual to allow people to take pictures of art shows.  The reason is intellectual properties infringement.  What's to stop me from taking photographs of these wonderful works of art, making cards and posters without attribution, and selling them?  That's ripping off the artist.  (I would never do that.  No, I'd just put them on the blog.)  And,some galleries feel that if you can see pictures, you won't come to their show. Anyway, Gualala Art Center is remarkably generous about this and I thank them for it. 
One of the other curators was grumbling because some artists/helpers hadn't shown up yet.  I said that traffic on Highway One had been very slow.  "Friday," she said, nodding. They did not get to use that excuse, however, because they were supposed to have arrived Thursday night. A minute later she strode past me, a label stuck to her finger, muttering, "Chinese horses, Chinese horses, where are you?"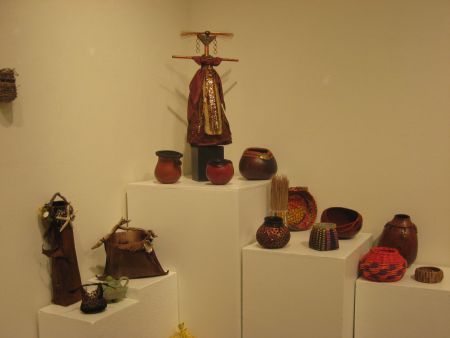 The pieces already there were extraordinary.  Diversity flowed like water from a spring; baskets from reeds, rushes, pine needles, and kelp; baskets from fabric and handmade felted wool; baskets from recycled materials like plastic-coated wire; gourd baskets, and I think a couple of baskets made of metal. Many incorporated natural objects; woven onto branches like birds' nests.  Kelp and seaweed baskets were in a close race with gourds for most-represented.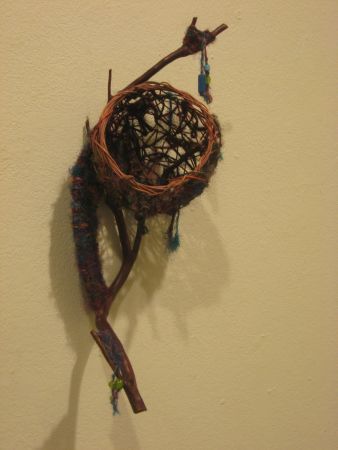 The woman in the blue also pointed out the three doll figures flanked by the Asian baskets.  They are exotic and intriguing.
The show officially opens June 12 and runs through July 4.  If you live in the area and want a nice day trip, I recommend this show.  If you are planning to drive up Highway 1, plan to stop just before Gualala and get a snack at Twofish Baking Company.  Turn on Annapolis Road, go about one-half mile and turn right on Verdant View.  Turn right again into the Ranch Center.  Enjoy the bakery's decadent pastries, and pick up some fresh bread for the ride home.
Twofish Baking Company, 35590 Verdant View Way, Sea Ranch (707) 784-2443
Gualala Art Center, 46501 Gualala Road, Gualala (707) 884-1138