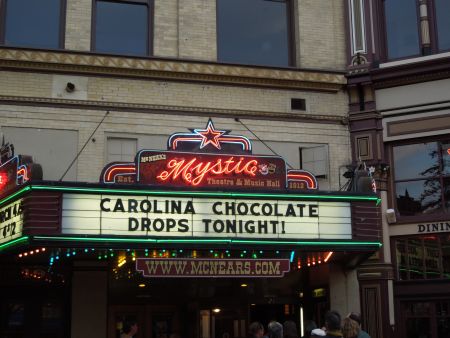 The Carolina Chocolate Drops played at the Mystic Theater on Easter Sunday. The band plays roots music; 1920s black blues, jug band and string band music, jigs, reels, and Scottish airs.  Rhiannon Giddens and Dom Flemons are the founding members. I heard one of their songs on the KRSH last year, and then, when I went to the Shakespeare Festival in Ashland, I missed them by two days apparently. Well! Not this time.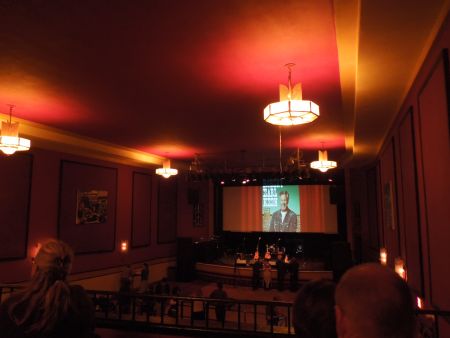 The Mystic is a wonderful music venue; a former movie palace remodeled. On the first floor, most of the seats have been taken out to make room for a dance floor and a bar. There are seats along the sides, though, and about 75 seats in the balcony. Those seats are terrible; one seat had fabric stretched over empty space and no cushioning whatsoever. A row of old-school folding metal chairs had been added down at the very front. I didn't care that the seats were bad. The space is pretty, and the acoustics were limpid.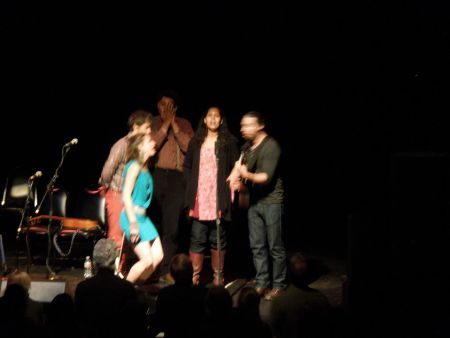 The David Wax Museum Band opened for the Chocolate Drops.  A trio, Dave, Suz and Greg, they had some nice three-part harmonies and wonderful energy. Dave and Suz are the core of that band. Suz plays the fiddle and the jawbone (which, I confess, I didn't know was an actual percussive instrument), and sings. Greg plays guitar, sings, and plays a percussion instrument. David Wax Museum plays historical Mexican and Mexo-American folk music and some original compositions.  They came out and sang a song called" Jalopy Heart." I didn't care for it very much — their harmonies seemed off and the instruments overpowered the voices. David stepped up to the other microphone, while Suz gestured to the sound guy, and suddenly, on the next song, they were much better. They invited Rhiannon and Dom to join them on two songs. Halfway through their forty-five minute set they walked off the stage and wandered through the crowd, playing and singing. David apparently sprinted up the stairs, because he appeared in the balcony, playing the mandolin and singing a lament. Then he rejoined Suz and they segued into a reel.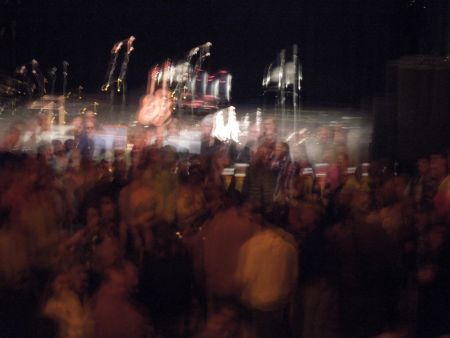 The Chocolate Drops played a much longer set, and I had to leave before the concert was over (work the next day), so I missed "Jelly Roll," and "Hit 'em Up Style." I did get to hear "Trouble on Your Mind," which they opened with, "I am a Country Girl," and an exuberant 1920s Ethel Waters blues song about divorce, called "I'm No Man's Mama." The song is hilarious, and Rhiannon belts it out. She plays fiddle and banjo and probably some other instruments, and she sings; low and melancholy or brassy and belting. Dom plays banjo, guitar and the bones. HubbyJenkins plays guitar, mandolin, banjo, and bones. Leyla McCalla is an exquisite cellist with a lovely voice who helps on back-up vocals. They were relaxed, funny, and completely on.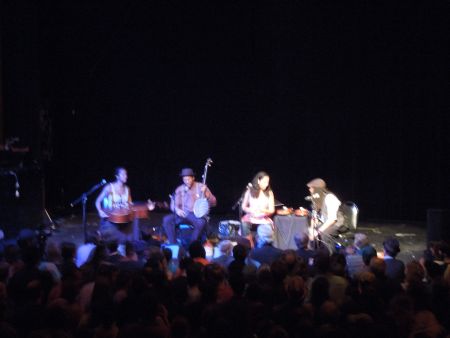 I learned all kinds of interesting things. For instance, I hadn't known that the banjo was inspired by an African instrument. I couldn't figure out why roots bands, especially African American bands, played so many reels and jigs until the Chocolate Drops explained about the crossover between poor Scottish immigrants and children of slaves. There's also just something basic about the music of regular people — folk music.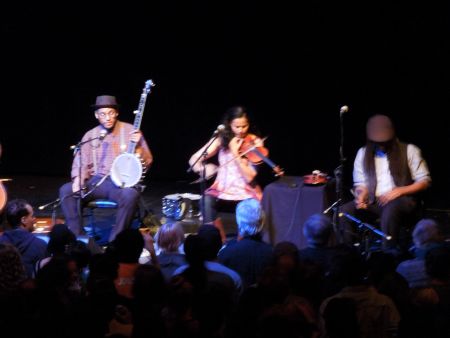 Rhiannon had some trouble with the minstrel banjo. This instrument had a lower tone; she was going to accompany Dom on a song, but she lost the tuning about a third of the way through. So, she just played it like it was a drum, tapping out a rhythm on the soundbox. It was an awesome piece of music, totally extemporaneous.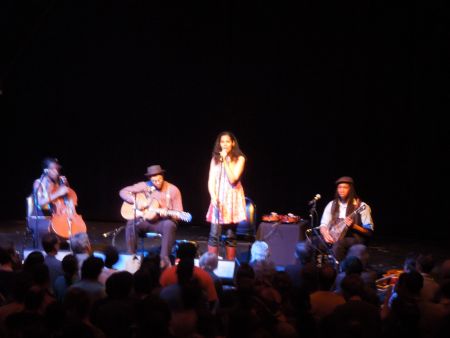 IF you get to see them, do it.