I had plans to go to Sacramento today. I was in my car, just crossing the laguna heading east when my cell phone rang and the person I had plans with told me she had to reschedule. It was a few minutes after 9:00 am.  My one disappointment was that I would miss the farmers' market, and now it looked like I wouldn't. I made a U-turn and headed back.
The market was still setting up (it doesn't open technically until 10:00, but I was practically done shopping by then). Lata was still setting up her booth, as were several others.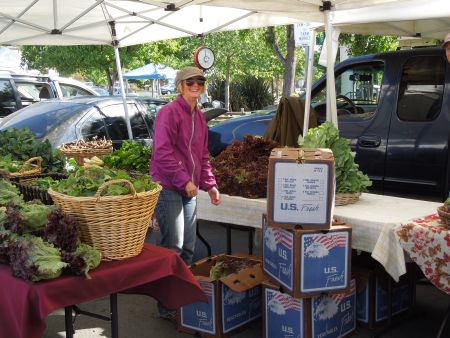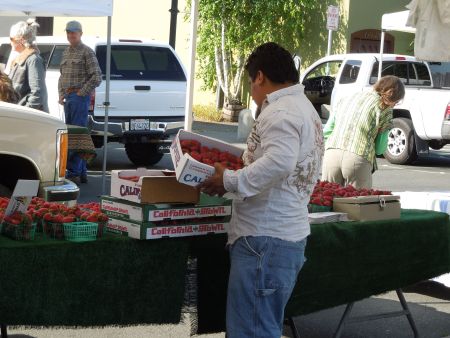 Strawberries are big in the market right now! These are from the central valley. I bought 3 pounds last week, from a local farm stand. They didn't look as pretty as these, and they were varied in size, but they were delicious!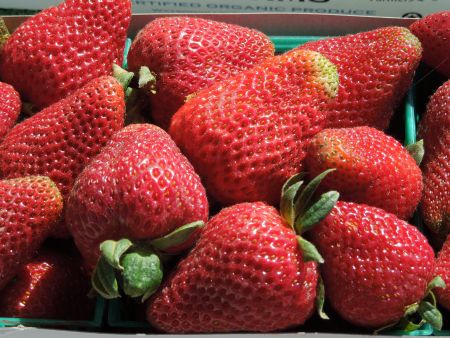 Riverside Park
For many years, Kaiser Sand and Gravel excavated in the Russian River, and they had three quarries outside of Windsor, next to a redwood grove. Kaiser Grove, as it was called, was available to employees for picnics and events. Spouse and I went to a wedding there in the early 1980s. When the company closed down, they gave the land, including the grove, to the county, who turned it into a park. The largest of the quarries, now filled with water and stocked with native fish, is open to the public. The other two smaller ponds are not yet.
The weather was perfect for a walk around the lake; clear, sunny, about eighty degrees. The parking lot was full, and I saw lots of groups on my walk, but it was never crowded and I had lots of time for solitary enjoyment. Many people were out fishing.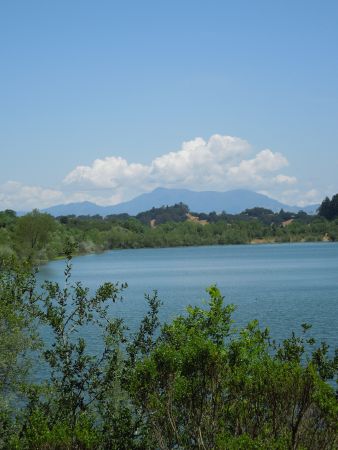 That's Mt Saint Helena out there, haloed with clouds.
The name of the park is Riverside, and here is a view of a scrap of the Russian River, which runs alongside the park.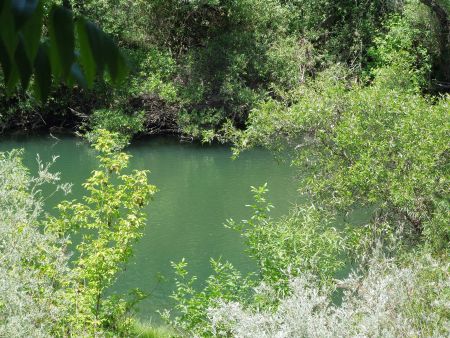 My new digital camera has a special effect called Soft (for soft focus). Here is an example of it. From now on, if anyone takes a photo of me, they must use this feature.