After I walked around the lake at Riverside Park, I drove up to Healdsburg. I forgot that it was the Future Farmers Fair weekend. There was no parking space available within five  blocks of the plaza, and the plaza itself was jammed with booths and people. I could hear live music, but I couldn't see the musicians or even any but the outermost booths because of the hoards of people, many of them clutching their wine glasses from the various tasting rooms. Good news for the town, bad for me. I got back on Old Redwood Highway and went to the Windsor Town Green instead.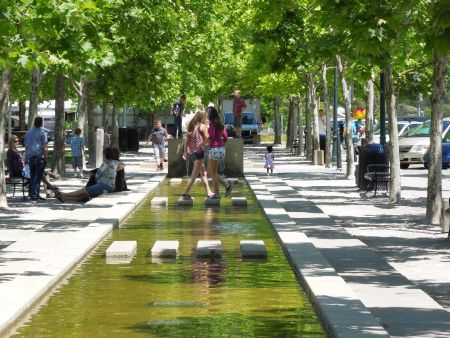 I shop at the Windsor  Green about twice a year. It doesn't really have much for me, but there is a bookstore, a candy shop and the KC Grill.  There's also a water feature and some great old oak trees. Using remarkable self-restraint, I bypassed Powell's Sweet Shop and contented myself with Pages on the Green, buying Horns by Joe Hill.  I stopped at the Windsor Arts Council gallery. Two women sat at a table near the back, watercolor painting. A man came in behind me. He had a high-tenor voice and was complaining to the two women about the salon next door. "I went in to get a haircut," he said, "and she said, 'I don't take walk-ins on Sundays or Mondays, appointments only.' There was no one in there! Can you believe it? 'Appointment only!'" The two women politely murmured that they've never patronized that particular salon.
I bought a piece of art; shades of green with clockfaces and hands, vaguely steam-punk,and some cards from artists who display at the gallery. The space is small but well laid out, with long south facing windows. The art ranges from high-quality and professional to gifted but amateurish, typical for most local art guilds.
Later as I was walking down toward the bookstore he called after me, asking me if I were from England. I said no.  He asked me if I had been to Kenwood. I said yes, but not recently. He said, "You seem familiar." I shrugged and said good-bye and tried to leave gracefully but quickly.
I had a mocha shake at the KC Grill, watching the sparrows outside the window squabble over crumbs. A western bluebird put in a guest appearance.
The Green also has a Himalayan cafe that serves… food from the Himalayas. Not necessarily obvious, I guess.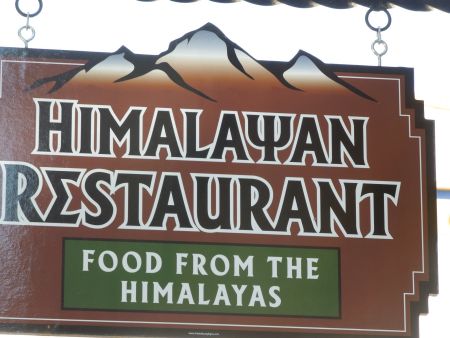 It also has a TARDIS in case you are running late and need to travel through time to get somewhere.