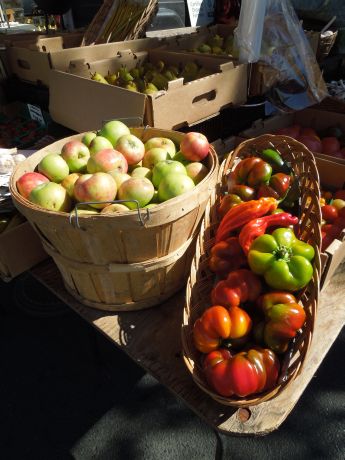 This is my favorite season at the farmers' market. Practically everything is ripe and ready; not just greens and carrots and garlic, but peaches and berries and flowers – although I guess flowers don't actually get "ripe" – peppers, melons and Gravenstein apples.
The Fishmonger
I stopped at Dave's to load up on our usual fish order; salmon and scallops. Dave has been gone the past couple of weeks, fishing, and his son covered the booth. Now he's back with fresh salmon and smoked salmon.
Dave is one heck of an interesting guy. He is a retired deputy sheriff; he takes his boat out and fishes, and he's an aspiring fiction writer. He wants to write a novel that's a series of episodes, inspired by his time as a cop.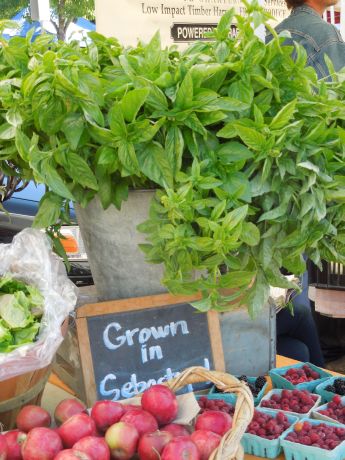 What's New In the Market
Big bouquets of basil! I bought two sprigs (a foot long) for a dollar, because I intended to have pizza for dinner. Then a little later I went back and bought another sprig, because I was going to get someone some flowers and I wanted that distinct, licorice-y, summery scent to be part of it.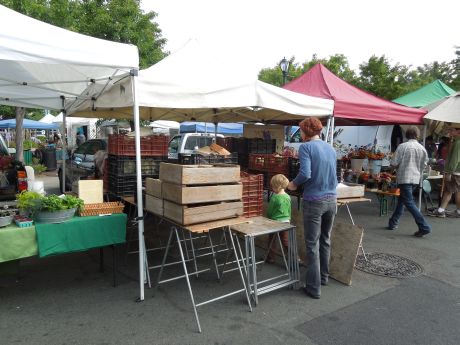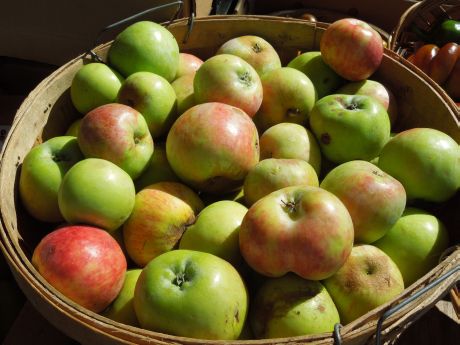 The Light
I got there early enough today that they were still setting up, and the light was having fun playing over Nancy's apples, pears and peppers. I bought a two-weeks' supply of garlic from her.
I had one tiny disappointment. Neither Javier nor Weirauch Farms, both excellent cheese booths, had fresh mozzarella cheese; although Weriauch has a couple of varieties that might make a good substitute. I got basil, heirloom tomatoes from Lazaro's booth The Patch; I got kale, carrots and salad mix from Laguna Farms.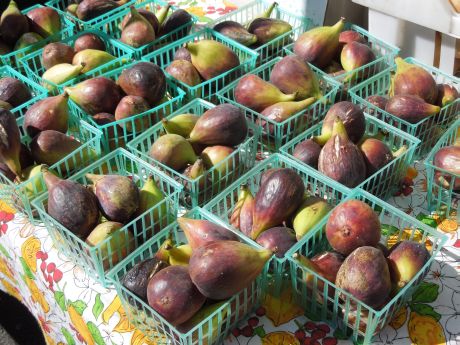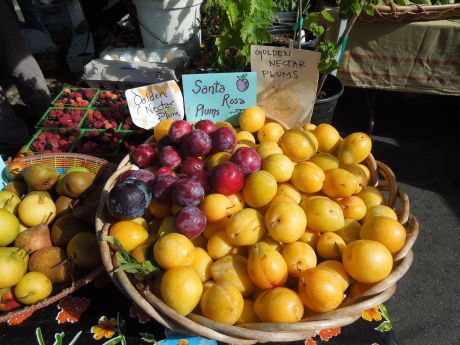 Adventures in Pizza
(I was going to head this, " A Pizza Tale." Then I said it out loud. Never mind.) Inspired by Brian Fies's blog, I decided that dinner would be a pizza Margherita for two, with salmon steaks. The salmon wasn't Dave's; I bought it last week from Andy's Produce and I wanted to use it soon. Brian is obviously quite proficient with dough. I am not. The crust-creation was difficult. I ended up with a crust that smelled wonderful, and ranged in thickness from Deep Dish at the edges to see-through in parts of the middle. I had to add about a half-cup more flour than I started with. Next time I will also be more generous with the olive oil. The fresh mozzarella I bought at the grocery store, sun-ripe heirloom tomatoes and fresh basil were wonderful though. And the crust tasted good.