I had some legal papers that needed review so I spent an hour with our charming lawyer Erica. The only disappointment was the absence of her exuberant Yorkshire terrier Olivia. Olivia was visiting Erica's grandmother on Monday.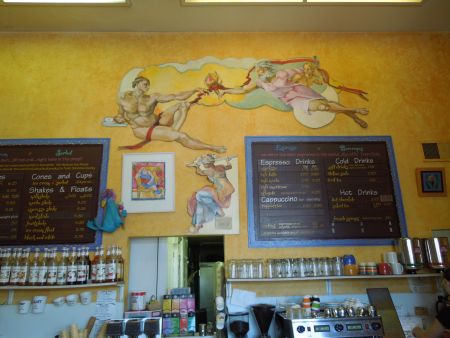 After I was done I stopped at Screamin' Mimi's, Sebastopol's iconic ice cream store, for a milk shake.  The place was packed with kids when I went in. Okay, there were, like, eight. It felt like a pack. I assumed they'd be staying, but once all of them had their ice cream treats, they bailed, leaving me with this colorful airy store all to myself.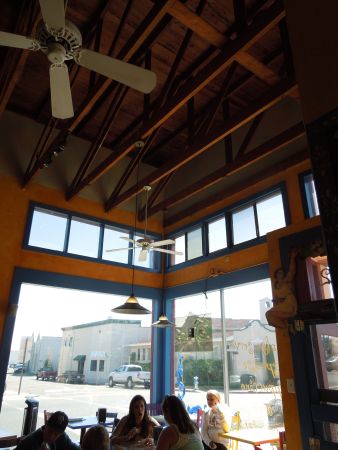 Maraline Olson opened Screamin' Mimi's in 1995. It's one of those places that touts local milk and high-quality ingredients, but the main thing about the ice cream is that it is scrumptious.
The helpful and energetic young woman behind the counter made my mocha shake. She wondered if I wanted a different flavor ice cream than vanilla. I decided on the Cinnimon Coffee Fudge. She thought that would be a good idea and we were both right.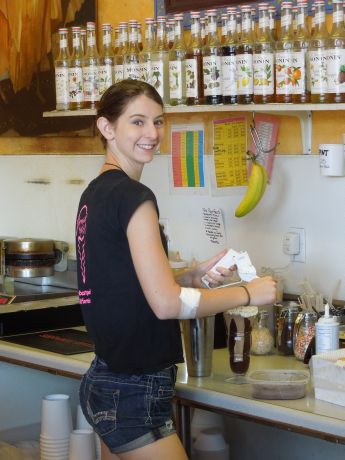 I showed her this picture and said, "You look like a pro."
"I look like a boss," she said.
I love Mimi's mainly for the wonderful names of the ice cream, like Midnight Galaxy, White Tiger and Deep Dark secret. Oh, who am I kidding? I love the ice cream because it's sweet, rich and velvety and the cool names are just a bonus.