The Sonoma County Literary Arts Guild hosts the annual book festival each September. Saturday was the 13th Book Fest. Often it conflicts with my writing group, but not always, and this year it didn't.
They cordon off Mendocino/Santa Rosa Avenue and detour the cars (non-book people are probably less that thrilled at this arrangement). The events flow out from Old Courthouse Square. This year some were held at the Corrick's store, at the Library Annex, a local tequilera and the Share Exchange, on Fifth Street.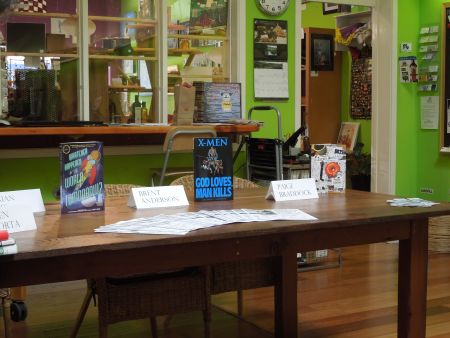 In the Know
Two writers I know were participating in panels; Brian Fies, the award-winning graphic novelist, and Stacey Jay, urban fantasy and young adult writer who currently lives out by the Russian River. I missed Stacey's panel but got a chance to say "Hi," after she finished up.
Old Courthouse Square is filled with book vendors. There were two stages; one for poetry reading and one being used for children's programming, including Alladin of the Lamp performed with marionettes.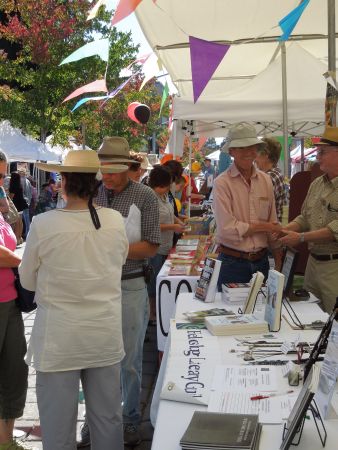 While I was browsing I ran into Arletta Dawdy, who is selling her independently published book Huachuca Woman. Arletta and I worked in the same division over ten years ago (she retired 12 years ago). Even before she retired, she was researching this book, which was inspired by stories about her husband's grandmother. When she did retire, she and her husband took several trips in an RV, heading back to the part of Arizona where the book is set, and resarching. Arletta told me once she loved going to the little towns and listening to people "talk story."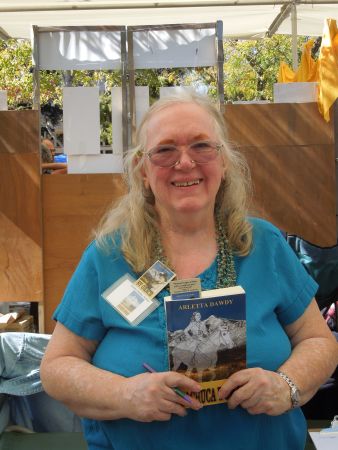 (I love how Arletta flouts convention. Who needs to see the name of her book anyway?)
Kim Richards is a novelist who was selling her serial-killer novel Death Masks at the booth for Eternal Press. Eternal Press had a robust selection of YA, paranormal romance, thrillers, fantasy and romance novels. Based on the sheer volume of YA fantasy, I have to assume the wave has just about crested for this subgenre. I've been wrong before, though.
Kim lived in Ohio and lived across the street from a metro park. She said she wrote a lot of the book in the park. The foliage and density of the trees always made her think that the park would be a great place to hide a body. Where do writers get their ideas?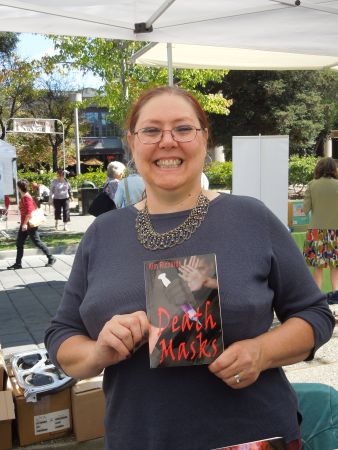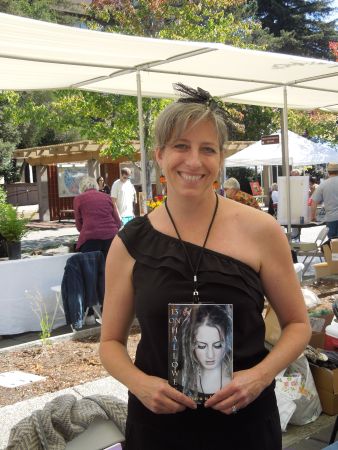 At the Santa Rosa Friends of the Library booth I got 10 children's books for about seventeen dollars.
It's Interactive:
The Charles Schulz Museum is a co-sponsor of the festival and they had a booth. Eventually Snoopy came by. Another local celebrity, Clo, the spokes-bovine for local dairy Clover-Stornetta also showed up.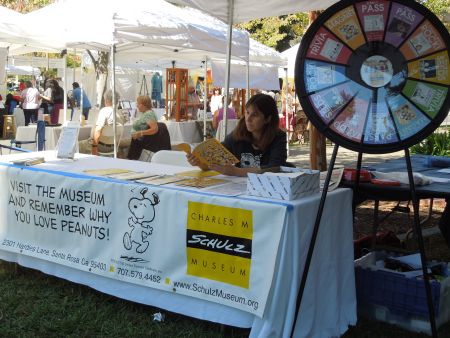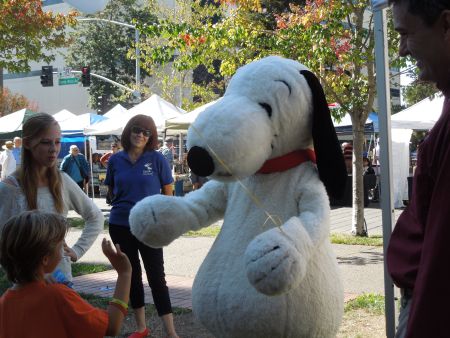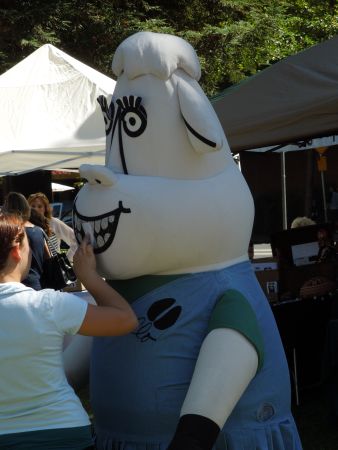 This booth had lots of books by Goosebottom books. I picked up two more, bringing my All Hallows Read total to 30 (Yaaay!). The books are lovely but that isn't the coolest thing. This is: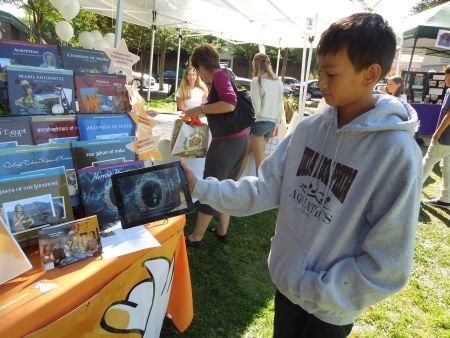 The book is interactive with your tablet. Yes, we've reached that point all ready. This book is a book about hauntings. Hold your tablet over the picture page and suddenly a 3-D ghost-image will pop up on your screen. Turn the tablet and look at it from any direction, it doesn't matter. It's 3-D! The one for the headless horseman also included hoofbeats.
I don't know why this was such a gosh-wow for me, but it was. I mean, it's not that much cooler than pointing your smart phone at the car radio and having it tell you the song title, artist and recording company. But I'm not seeing it at some glitzy 4G trade show in Vegas, but on the grass in Old Courthouse Square.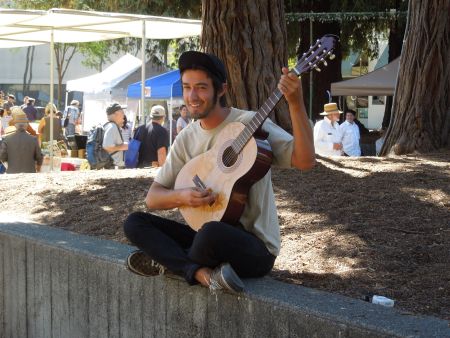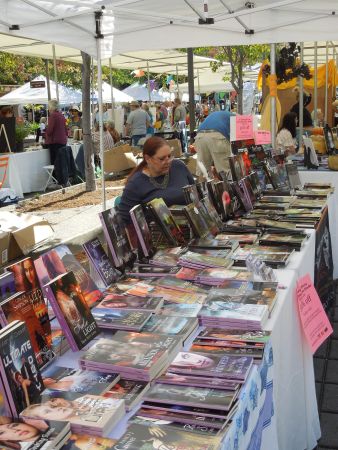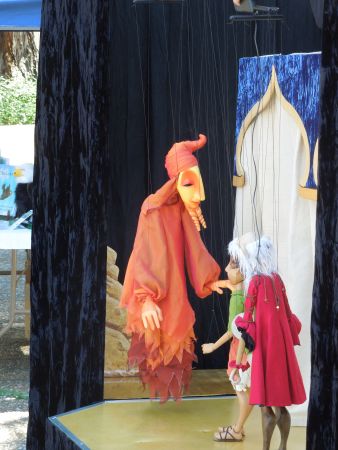 A Novel Panel
I cruised through Corrick's and caught about five minutes of the panel titled "You Have a Manuscript, Now What?" The panelists seemed smart and funny but in five minutes I didn't really hear anything new. I bought a lined notebook, hurried out the back door, turned left and scurried down Fifth Street to the Share Exchange, in time to meet Brian and Karen before the graphic novel panel started. Brian introduced me to a friend of his from his journalism days (North Bay Business Magazine), and a few minutes later to Paige Braddock, author of Jane's World. Paige and I share a haircutter and we met about a month ago.  Brian was crushed by this knowledge but he rebounded manfully.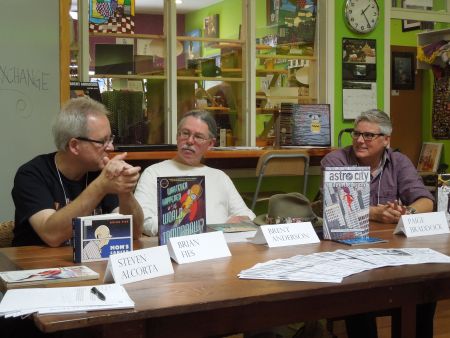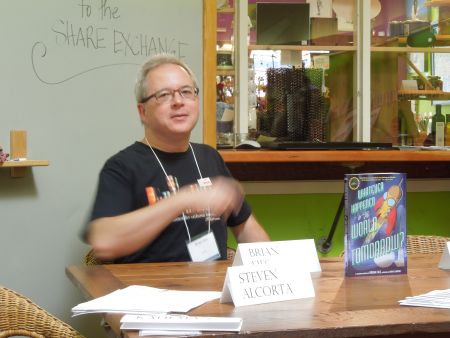 Steve Alcosta, Alcorta who works for the library and is the graphic novelist curator (I guess) introduced the panel of four… er, three novelists. Brent Anderson draws Astro City, and comes out of the superhero tradition. Paige draws Jane's World. Brian has his two novels out; Mom's Cancer, a personal, autobiographical story, and Whatever Happened to the World of Tomorrow?, an allegory about America's love affair, break up, and reconciliation with science, seen through the eyes of a boy and his dad.
I laughed out loud when Paige talked about how spontaneous and contemporary she is about making plot changes in Jane's World. Jane's World is more like a comic strip (complied) than a novel, and she told us about deciding that the newspaper where Jane worked would hire zombies. Because they were dead, corporate headquarters would not have to pay for health care for them.  Brent's observation about how graphic novels resemble movies was also thought-provoking.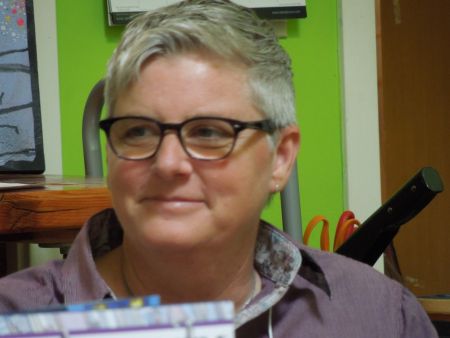 I always like hearing about how people approach the creative process but the best "aha" moment of the panel came from Brian, who said that when drawing his characters he visualizes where their energy center is. This sparked an interesting discussion between Brian and Brent; when Superman flies, he leads with his chest. Ironman's power center is his powerboots. (My metaphor for power centers crashes and burns when I try to imagine Ironman as "well-grounded," but artistically I see the point). Brent has drawn a character who leads with his head, literally. Brian's point is that someone drawing Ironman, Superman and Brent's character Samaritan flying would have to draw them differently. Expanding that to prose novels, determining where your character's energy springs from can be very helpful. Head? Heart? Genitals? Are they powered/drawn by something outside of themselves, ahead of them? Are they held back by a power source behind them? Lots to think about.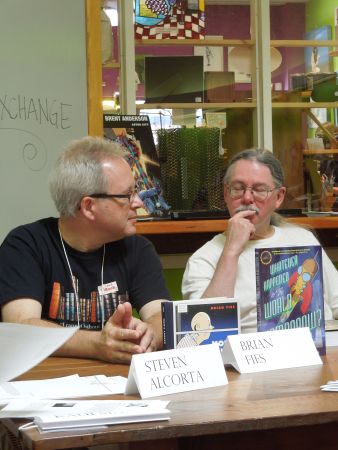 This was panelist Number Four, held hostage by the county's traffic. I think his name is Coro and he got his start as a graffiti artist. I would love to know more about him — but he only got to talk for about ten minutes.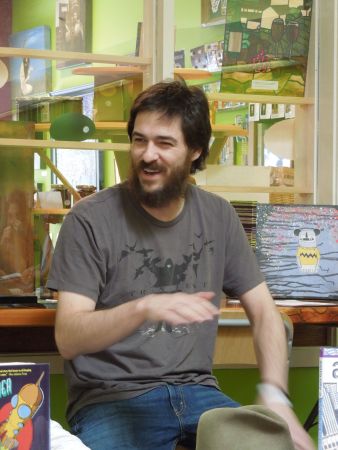 I came home with many books and many ideas — and I started a short story.