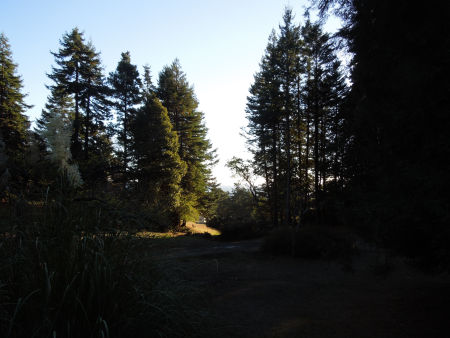 It is a truth universally acknowledged that the best way to inaugurate a retirement is to drive up the coast for a weekend in St Orre's, so that's what we did. It was a less than perfect trip for Spouse, for two reasons. Well, for one reason that spawned the second reason, to be accurate.
Spouse broke his arm in September. It was not a genteel little break across the forearm; no, basically he smithereened the ball of his right humeris. It is healing steadily and well. He starts physical therapy next week, but he is right-handed and drives a truck with a stick-shift, so even though Spouse, who drove that stretch of Highway One twice a week fifty weeks a year for ten years, could probably make the run with his eyes closed (especially if I was looking out for cows), I had to drive. We took my Camry, which is a pretty comfortable ride, but Highway One is not the state's first priority for surface repair, and it was rough, to put it mildly.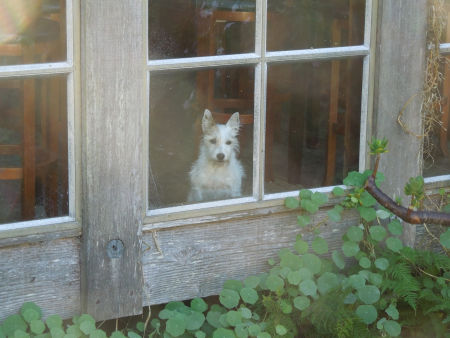 For me, though, the trip was pretty close to perfect. I had wondered if we needed to cancel, but Spouse's healing is progressing to the point that he can sleep lying down, so we risked it.
We rolled two celebrations into this event; my retirement (which begins Tuesday, 10/30) and Spouse's birthday, which is one of those milestone ones. It ends in a zero, and all that. I won't tell you what the first number is, but it rhymes with "mix."
The Magic Treehouse
In addition to the lodge, St Orre's has cottages in the meadow just behind the main building, and some across the creek. These sectors are imaginatively called The Meadows and Creekside. Our cottage, Treehouse, was in the Meadows. I might have called it the Orchard, because a few ancient fruit trees remain in the clearing. We had blue sky, a blue ocean, and temperatures in the mid-seventies.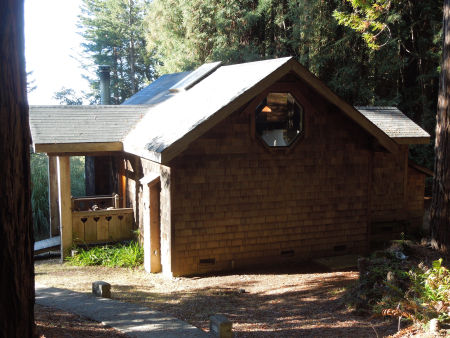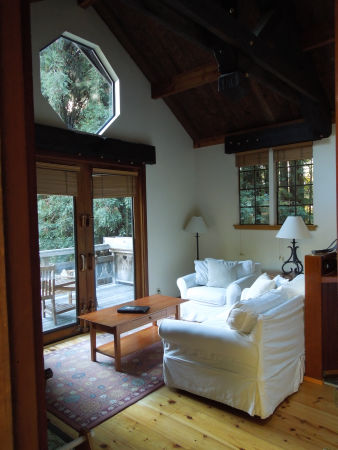 Raising the Bar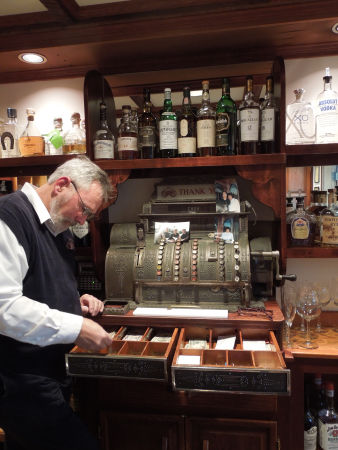 St Orre's has always had premium beer and wine, and supported local (Mendocino and Sonoma) brews and vintages. In June, though, a general liquor license became available and they bought it. Rosemary developed a "small plates" menu that includes some of her brunch specialties (and a couple of burgers). This revitalized the restaurant and they are getting a whole new demographic who come in to sit in the bar and drink, and eat Ro's food. The license has already paid for itself. Ken, the innkeeper, rarely tends bar, but he is so interested he plans to take a bartending class in early December.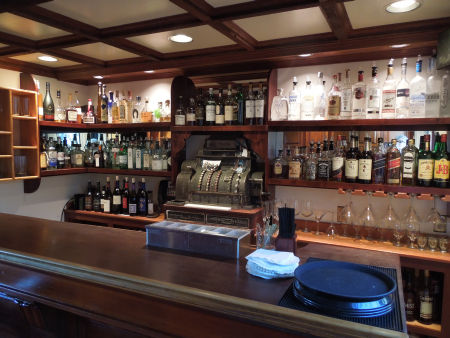 I'm not big on mixed drinks but I thought I'd have one in honor of the bar. When Ken seated us he told us about two special martinis; a celery-mint martini and a chocolate martini. Neither sounded appealing so I went with a cosmopolitan. It was a lovely color, and the taste was… okay.
Friday Dinner
(Here you can tell what an amateur I am as a food writer, because I have no pictures of the food or the drinks.)
The salad on both nights was a sort of a deconstructed insalata caprese; heirloom tomatoes, mozzarella and basil vinaigrette. The warm soup was fennel; the chilled soup plum-ginger. Spouse does not care for fennel. I can take it or leave it, but plum-ginger sounded wonderful so we both ordered that. The soup was pale pink in color, sweet, very plummy with small chunks of ginger. Tasty (I would have liked the ginger flavor to be mixed in more thoroughly, but I still liked it.)
I went carnivore and ordered the beef filet. This thick cut of medium rare beef was so tender I really could saw through it with my fork if I had wanted to. The demi-glace sauce was spicy and sweet at the same time, and pink peppercorns crusted the top. It came with mashed red potatoes and baby vegetables. Spouse went out on a limb and ordered the rack of lamb – yes, that's what the one-armed man ordered. It was also so tender that he had no trouble slicing the meat from the bone.
We split a crème caramel, the place's rich, velvety custard with a piercing vanilla sauce for dessert.
The next day (Saturday) in Spouse's honor, the lodge offered a Halloween Dog Parade. Oh, yes, pictures will follow.