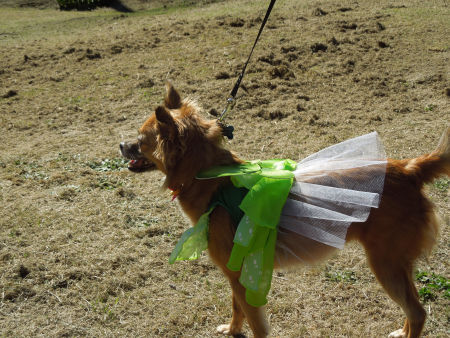 Rosemary has four dogs; Scarlett, the matriarch who is over fifteen years old; Pearl, who is part terrier; Honeybunch and Roxie, two miniature schnauzers. Last year she decided to have a Halloween costume party for the Dogs of Gualala. The event was a big hit.
She repeated it this year. There was bobbing for hot dogs  and a costume contest. There were dog treats on the tables and burgers and dogs for the humans (and a couple of Ro's special human  snacks like forcaccia.)
Nearly 20 dogs and their humans attended.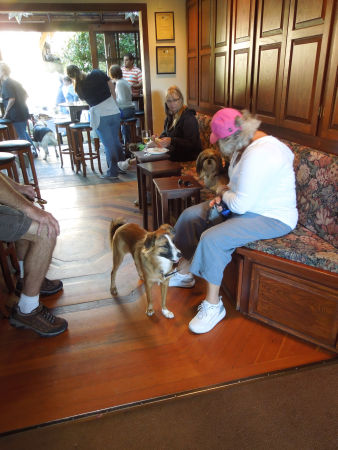 While Scarlett graciously greeted the other dogs who came to her house, she seemed disgruntled. I think she felt the pirate hat collar did not suit her. Pearl was dressed as a caterpillar and spent much of the day time hiding in the lavender. The two tiny-dogs, though, seemed delighted with their costumes, especially Honeybunch in her monarch butterfly costume.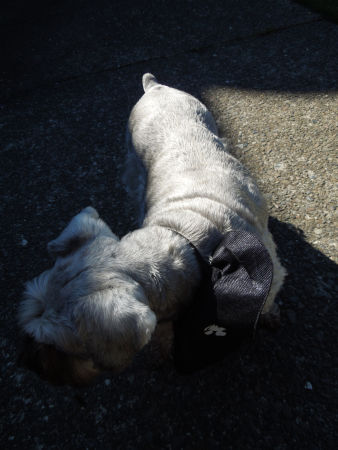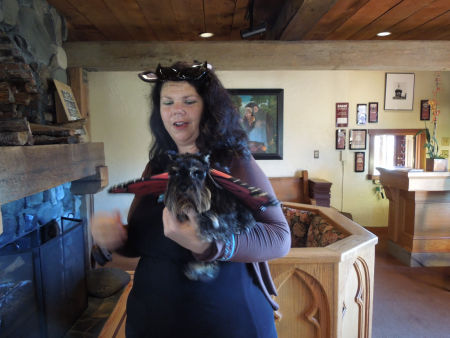 Lucy seemed very relaxed in her full pirate costume. She had the hat with a tiny felt parrot on it, and a felt cutlass. I admire a canine with an eye for detail.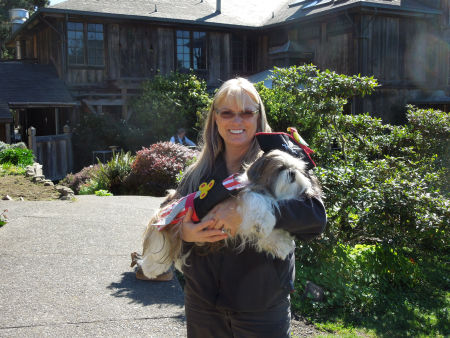 Lucy's human own ARFF, the local feed store.
I really liked the Wonder Woman Chihuahua.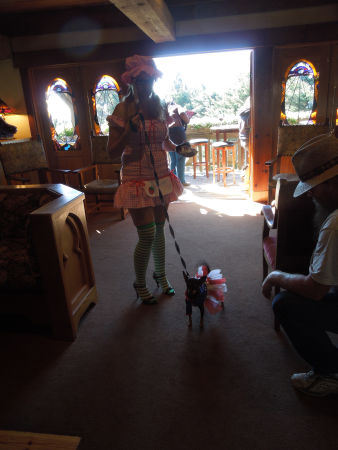 I was not aware they made so many Halloween costumes for dogs. I don't know if this event is delightfully quirky and very Mendocino-county, or as middle-American as giant trucks, funnel cake and deep-fried butter. At least, with Rosemary helming it, it has a distinct St Orre's flavor.
Bob the Labrador didn't have a costume but he arrived with a fine intuitive understanding of the game Bobbing for Hot Dogs. Some of the smaller dogs were confused by the game. Not Bob, and not his friend the blue pit bull.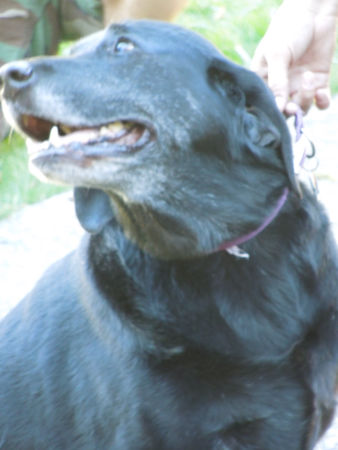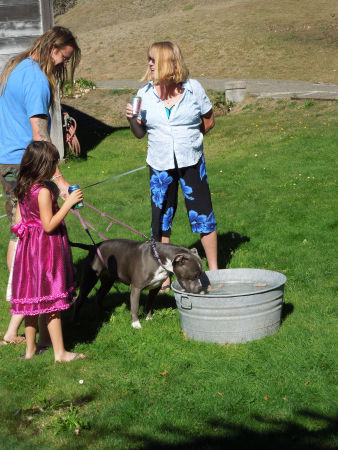 The dogs were quite mellow, with only one or two snarls.  As we were walking back up to our cottage people let the two yellow labs, Rose and Buck, off their leads and they went wild, racing around the meadow, chasing each other, bounding back to cannon-ball into us and then bolt away again. Rose and Buck, we were informed, are boyfriend and girlfriend, who get play-dates now, and they met at last year's event. Quite the love story.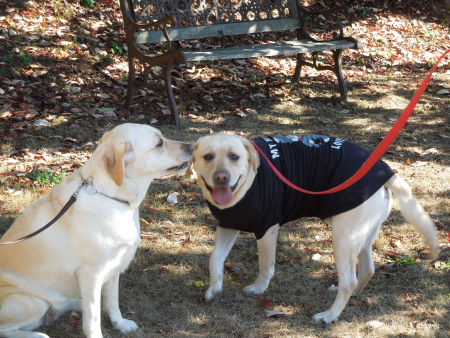 There were two Dracula dogs, but the papillon had the more elan.
Cinnamon, Pearl's daughter, who lives with Eric, came to the party near the end, dressed as a princess. We missed her. We also missed the judging (actually, we slipped out early to avoid being tapped as judges.) I don't know who won, but the little white dog with the devil costume was quite the favorite.