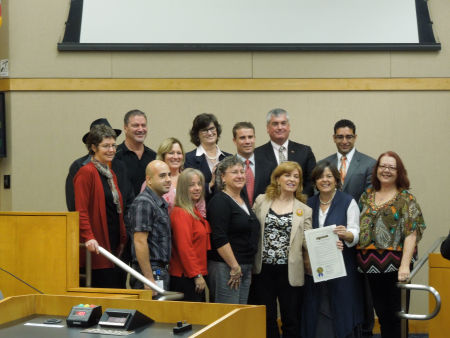 December 1, 2012 is international World AIDS Day, a day set aside to reflect on the impact of HIV and raise awareness of this serious life-threatening virus. Sonoma County's slogan for 2012 is "Let's Find the 500 Together." This is based on  public health projections that there are about 500 people in Sonoma County who are HIV positive and don't know it.
Today the chair of the Sonoma County World AIDS Day Committee accepted a gold resolution from the Board of Supervisors acknowledging December 1, 2012 as World AIDS Day.
If you live in Sonoma County, there will be a candlelight vigil on Saturday the 1st, at 5:00 pm, at the Santa Rosa Junior College, Bertolini Student Center Plaza. Fifth District Supervisor Efren Carrillo will speak and the event will be MCed by Sister Frances A Sissy of the Sisters of Perpetual Indulgence.
Tuesday, November 27, the Rainbow Cattle Company in Guerneville will host "Give Back Tuesday" and a raffle, a fundraiser for the Sisters of Perpetual Indulgence.
Dining Out For Life is on Thursday, November 29. Here is a list of participating restaurants. The donations go to Food for Thought, the AIDS food and nutrient bank in Forestville.
You can also go to a fashion show at Chrome Lotus on the same day, at 9:00 pm. The address is 501 Mendocino Avenue, Santa Rosa.
On Saturday, December 1 and Sunday, December 2, you can see panels from the AIDS quilt at the Guerneville Veterans Building. This presentation is hosted by the Metropolitan Community Church of the Redwood Empire.
HIV disease is now talked about as a chronic illness rather than a fatal one. The point of this is to emphasize the strides we've made in fighting this disease. What gets overlooked is that, like diabetes or heart disease, this is a potentially fatal chronic disease. People living with HIV are on a tightrope every day. Many of them are people you know, strong, capable people who may still need a little help at various times to get through the day.
So, what can you do the rest of the year?
Know your status. Get tested. The Centers for Disease Control and the President's Prevention Strategy both agree that the best way to deal with this disease is to know your status. People who find out they are positive and enter treatment sooner, rather than later, have better outcomes and live longer lives.
This Ms Magazine article strongly implies that HIV testing will now be covered as a prevention service under the Patients' Rights Affordable Care Act. Check with your primary care physician if you aren't sure. If you don't have insurance or for some reason your insurance won't cover it, in Sonoma County the Drug Abuse Alternative Center and Face to Face both offer testing on a donation basis.
Stand up to Stigma. Educate yourself about this disease. The virus is able to spread because people are ignorant about it; and people stay ignorant because they are ashamed. Get the facts and resources and share them with misinformed friends or relatives. Encourage people, particularly young people, Hispanic people and women, to ask questions.
Donate or volunteer. A donation doesn't have to be money. It could be a bag of food at a food drive, or an hour driving someone to a doctor's appointment, or even passing along a gift card you aren't going to use. Face to Face and Food for Thought both have resources for volunteers.
Use Condoms. It isn't rocket science, people. This disease is preventable with simple precautions. Take those precautions.
With testing, treatment and common-sense prevention we can stop this virus in its tracks. Help us do that, on December 1, 2012 and throughout the year.