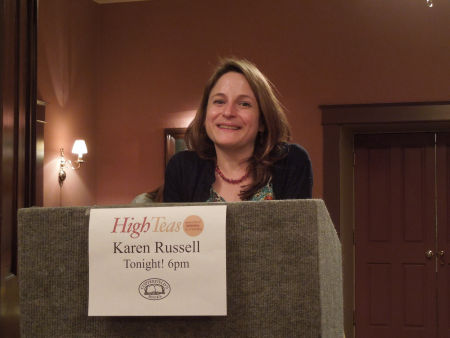 Karen Russell, author of Swamplandia and Vampires in the Lemon Grove
I wasn't dressed for high tea at Hotel La Rose. You might remember the last time I was there I was in Victorian drag, getting ready for the Handcar Regatta. Tonight's event was less fancy-dress; a literary high tea sponsored by Copperfield's Books, with Karen Russell, who wrote Swamplandia, as the writer guest.
Copperfield's has several of these themed food/book events scheduled. I already have tickets for the Jacqueline Winspear event in April, but I'm glad I went to tonight's because I can see that we will need some accommodation for my mother in law who will be my guest. I talked to one of the facility people, she gave me her e-mail and asked me to remind her, and said it wouldn't be a problem to reserve a seat near the door.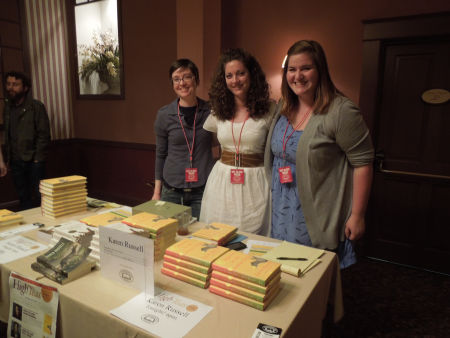 Team Copperfield's
Karen was ensconced at a table when I got there, signing books. She has a huge smile and an engaging manner; asking people what they are reading, joking about the weather, making people feel very special. I ran into my friend Sue, and Sue is friends with the event planner, so I ended up at the first table Karen visited (where she actually got to eat something).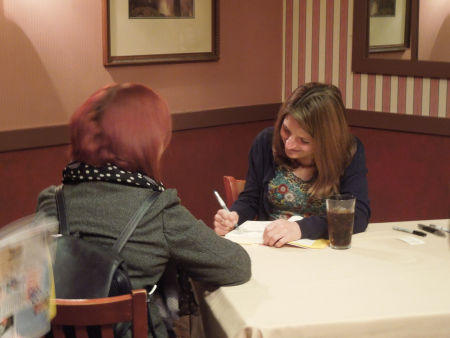 At our table, we discussed the ghosts that allegedly haunt the hotel; what time of day people engage in writing, the merits of Philadelphia and New York City.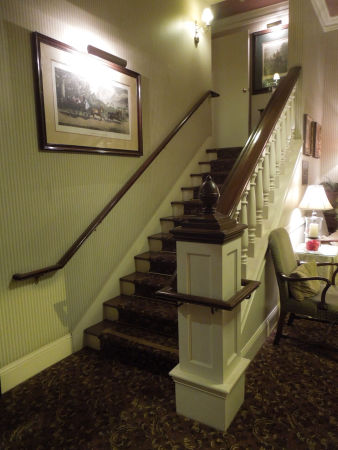 The Haunted Staircase? Actually, there is supposed to be a ghost that rides the elevator.
Karen made the rounds of the tables, then stepped up to the podium. She read a couple of pages from the title story of Vampires in the Lemon Grove. I laughed when she started because she read in the voice of her character; a gentle tenor with a faint Italian accent. No one else laughed. I stopped.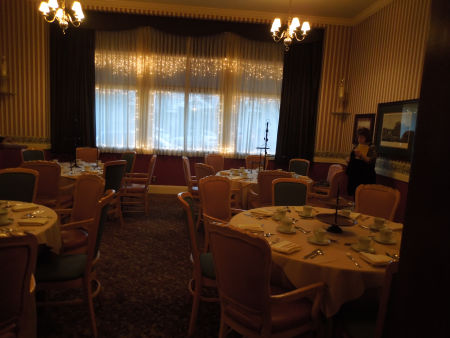 High Tea — the tables are set.
Anticipating the "Where do you get your ideas?" question, she told us the genesis of Vampires; a family cruise with her grandfather to Italy, a stop in Sorrento at the lemon groves. Karen and her brother and sister share a habit of brainstorming wild ideas and shooting them down; she saw an elderly man sitting alone on a bench drinking lemonade and said, "He's a vampire," to her sister. Her sister said, "No, he's not; that's stupid." And the idea was born.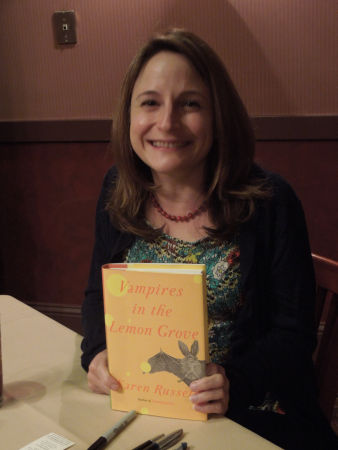 She said she likes bringing in "monsters" and humor, because it allows her to address "really big issues that you can't come at head-on in noon-light." I think that might have been my favorite writing comment from her.
Vicki DeArmon, Director of Marketing and Events, announced that for The Big Read in March, Copperfield's was reading Emily Dickinson! She also teased us with names of several writers that will be visiting the county in the next few months, but most of them I can't mention. Winspear is confirmed, Natalie Goldberg will be coming, and Joyce Carol Oates.
This is an expensive event, but part of the cost is the book, and you are guaranteed a signed copy. If you think of it as a dinner you will be disappointed; the food is lovely and all, but it's not dinner. If you think of it as a period event with a writer you admire, in a lovely location (that's haunted!) you will have a wonderful time.