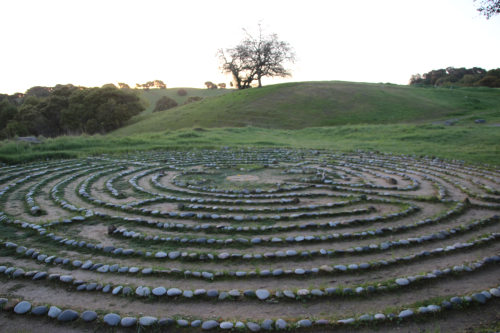 Friday night I walked the labyrinth before I went back to my room and wrote. Saturday morning, I got up shortly before sunrise and walked up to take some pictures at dawn. The center is so quiet that I could hear traffic noise from Highway 101. It was like white noise, not an annoyance. Two crows flapped across the sky and perched in one of the oak trees.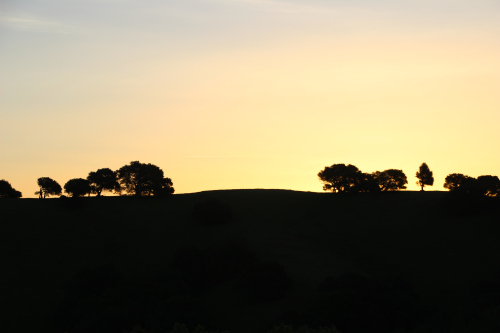 Sunrise at EarthRise
The oak trees are in some distress. Some have succumbed to oak death. Cathy said that there has been a lot of discussion at the center about what to do. They have cut down a lot of the dead oaks and neatly piled the wood, but they are not using it as firewood. In fact, she said, when they had a sweat lodge a couple of weeks ago, they had to buy firewood. There is a lot of discussion about what to do for the trees. Cathy is an administrator and an astrologer, not an arborist, so she felt like some of the conversations had been too technical for her. One theory is that the bay laurel trees, which are also native, somehow contribute to the oak disease and that the bay should be removed. Others think that this might be a natural process and to leave everything alone. this discussion actually goes to the core values of IONS and EarthRise. Do we reflect on the consequences of our actions before we take them? Do we try to live on earth with some humility?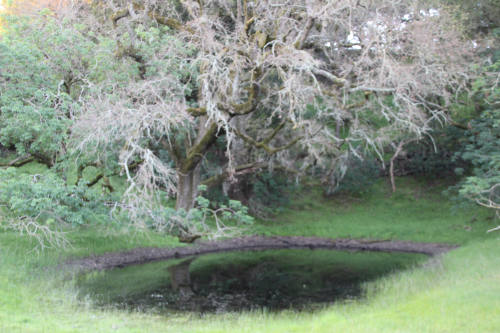 I went up to the labyrinth and took some sunrise pictures. At the labyrinth, the graded road/trail veers left and goes up the hill. The views were breath-taking. A bit farther up I found the trail to Guardian Rock. This trail curves back along the ridge, with green and silver vistas to west and east.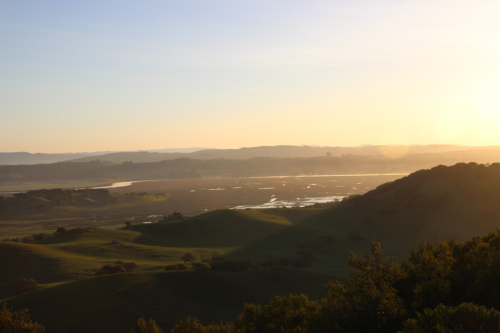 At each meal, there is a table with the "Silent Table" sign. It means what it says; you sit there if you don't want to talk. the people I saw there mostly were reading or writing. After dinner, someone put the sign on the piano. It was too good to resist.