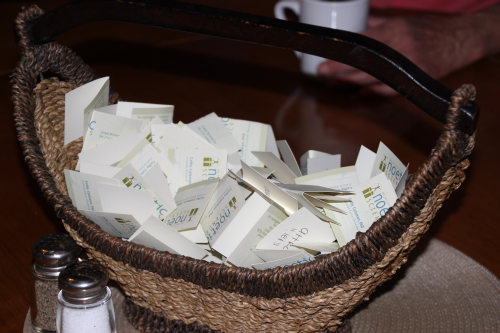 We moved the salt and pepper, so they are out of order.
On Saturday night, after dinner, we gathered briefly and played part of a word game. Cathy gave us each nine pieces of paper. Well, really, she gave us nine business cards. Cathy was without staff support during the weekend, and she was doing triple duty. She is the Executive Director of EarthRise, and she was working as the ED part of the time; she was facilitating our retreat, and Saturday evening she had the on-call phone for the caretakers, who had to go to a memorial service out of town. That she managed all of this is testimony to her ability to focus.
Anyway, nine pieces of paper. Our instructions were to write a word or a phrase that we liked. There was no more direction than that. (And that direction, by the way, got me into some trouble.) We wrote out words and put then in the basket. Cathy mixed them up and then we each drew nine words.
Unfortunately, there the game ended. Cathy suggested that we could let the words inform our writing, if we wanted to. In other retreats, she'd been a bit more directive. Not with us, though.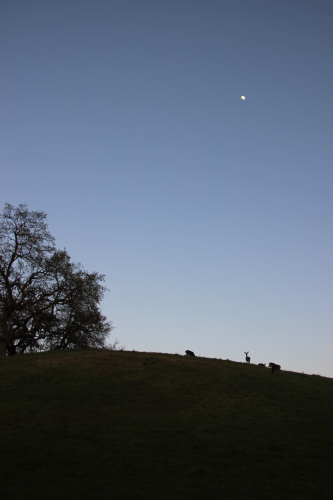 This picture and the following have nothing to do with the post. I just like them.
A bit more did happen with the words when Silvia Nakaach joined us with one of her musical instruments. She played and sang some of our words with us. She tried to get us to sing, with limited success at first, but Silvia is a determined and patient teacher and soon we were singing along.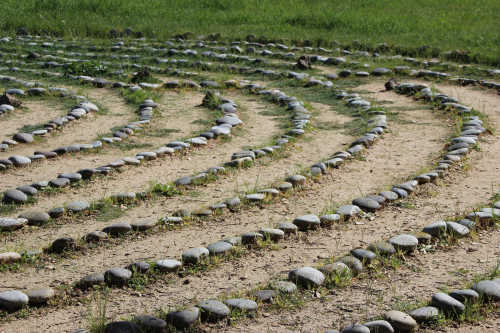 Labyrinth… structure… hmmm.
We did keep our words. Here are my nine:
Surprise
Polliwog
Visionary
Universe
Tangent
Snuggle
Sweetie pie
coordination
lofty
"Universe" and "polliwog" were words that I contributed.
"Snuggle" had already appeared in the rough draft I wrote at the retreat, before we drew words; and a version of "lofty" had too. (I used "loft" as a verb;  "the winds lofted her," or something like that.)
"Tangent" forms a rhyme with a word I contributed, "plangent."
I'm embarrassed to say that I found myself more drawn to the texture of the cards and the things I could build with them than the words themselves. The cards had all been folded in half so that we drew without seeing the words. This meant they would stand up. I built a mini-business-card Stonehenge with mine. I tried to build a house, but it kept falling over. Perhaps that's a metaphor on my need for structure.