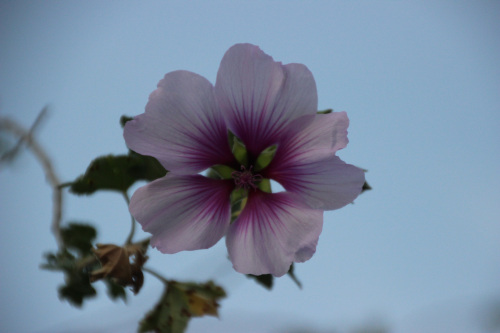 One of the benefits –joys — of a retreat is that you don't have to worry about the details of everyday life. For instance, EarthRise offers three meals a day during a retreat or a workshop. The dining area is part of the Community Center, with meeting rooms, a patio, and a large and airy open place for meeting, eating, or meeting and eating.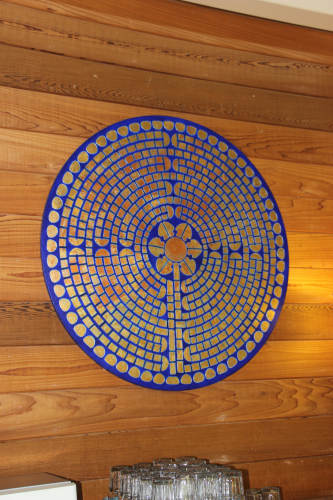 (Did I take pictures of the wonderful food? No, I did not.)
Our retreat group got together at meals and Cathy did some kind of a check-in with us after we finished eating. Other than that, as I said, we were on our own.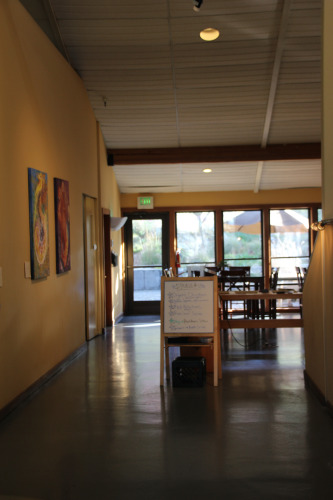 The food line started here.
I was expecting good cafeteria food. Instead, I got great food. I would have been happy with any of these meals if they had been served in a moderately priced Marin County restaurant.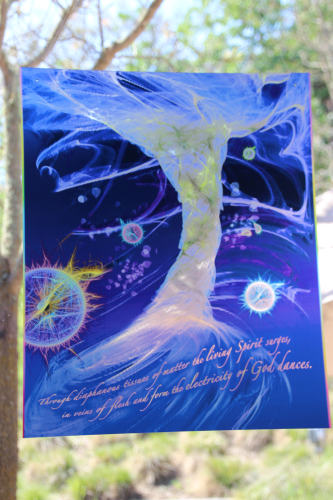 The art exhibits rotate.
Friday night we had salmon. Spouse and I are terribly spoiled about salmon; we either have fish that Spouse caught himself on his fishing vacations, or salmon from Dave the fishmonger at the farmers market.  This salmon was not as good as that; it was still darned good. It was served in a ginger soy sauce (you could get soy-free if you needed it). On the sideboard as well was butternut squash, cooked until just tender, with fresh herbs and dried cranberries. At every meal except breakfast, there was a huge salad of fresh spring mix (local, no doubt), dressed with tasty and light dressings, and bowls of toppings alongside; sheep's milk feta crumbles, sunflower seeds, chopped nuts, raw veggies.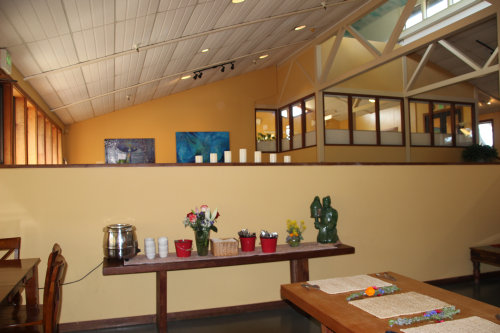 The downstairs area.
Saturday night we had purple and green broccoli and chicken, roasted red potatoes, an aoli sauce for the potatoes that I didn't try, and a big old salad.
The chef came out from the kitchen and stood by the door, answering questions and asking some, each meal. Vegan portions were available,  gluten free was available also.
Desserts were simple and scrumptious. One night dessert was just a selection of home-made cookies; Saturday it was berry and apple crisp; Sunday lunch had baked apples for dessert. All yummy.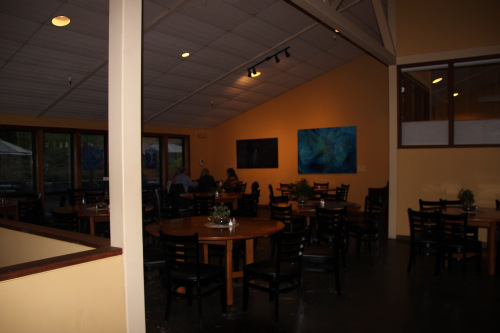 The center is flanked by an organic dairy and Tara Firma Farm, an organic farm about two miles northwest of the center. Marin prides itself on its local organic food (Sonoma County does it better, but don't tell them that), and the center is clearly tapped into those sources.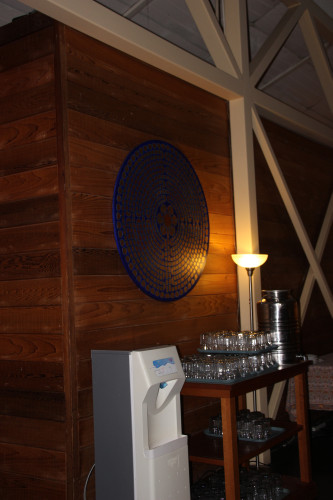 Breakfast included oatmeal, homemade granola, berries and fruit, scrambled eggs with fresh spinach (great way to get those spinach nutrients!). Nothing elaborate; everything fresh, balanced and delicious.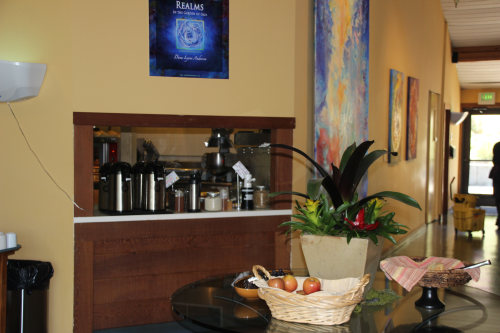 The beverage station.
Coffee, tea and hot water was available all day and all evening (or until it ran out, I guess) at the first window in the dining area. Although there were no promises of snacks, every time I went tin there I found a bowl of fruit or a plate of cookies available the rest of the day.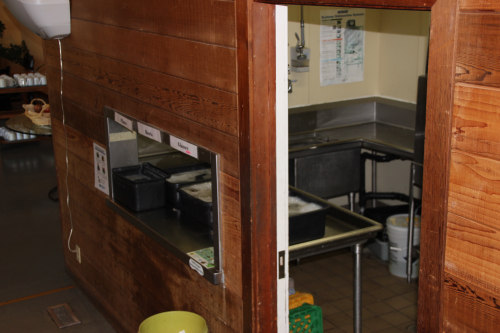 The dish room.
The dining area is also laid out with some real thought to the use of the space. That's pretty rare.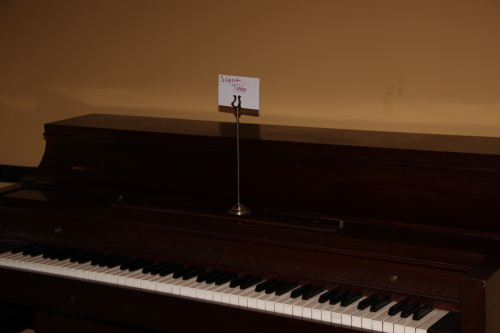 As you already know there is always one (sometimes two) silent tables. People may want to read or journal; some folks are on personal retreats and want to have their meals without interacting with others.
Meals were a vital if subtle part of this overall wonderful experience. Thanks, EarthRise, for your great chef and kitchen staff!