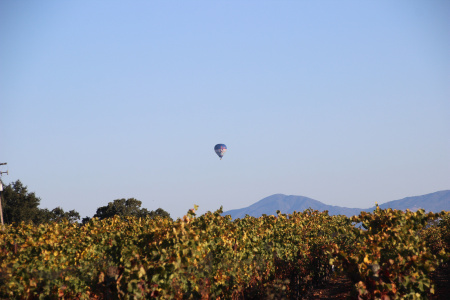 About 20 of us got up at the crack of dawn on Sunday, October 13, to attend a digital photography class at a local winery, Hook&Ladder, in western Santa Rosa. (Okay, it wasn't really the crack of dawn, it was 9:00 a.m., but still.) John Howry, manager of the Santa Rosa Shutterbug Camera Shop, taught the class, with able help from Joshua, who is the manager of the new Novato store.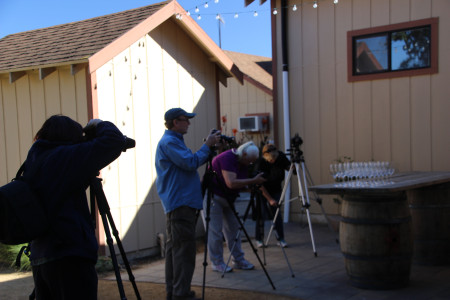 Fellow Photographers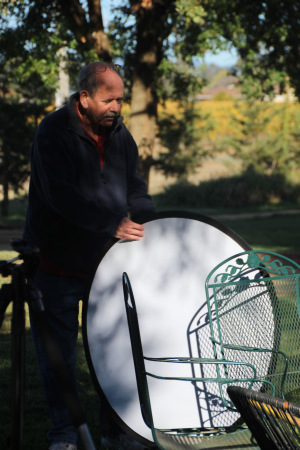 John Howry
The three basic components of a photograph are light, exposure length and aperture size. It was a perfect morning to talk about light; clear, with the rising sun coating the world with pale golden light.
John talked about light balancing, a feature in digital cameras that corrects for too many blues or two many yellows in a picture. He discussed the different kind of picture you'll get in the early morning or just before sunset in the evening, as opposed to the harsh, high-contrast light of midday and afternoon. He demonstrated the use of a polarizing filter to mitigate the effects of harsh lights and reflection.
White-Balancing; the Front Vineyard:
Here's a textbook example of the use of white-balancing. This is how to use it incorrectly. While John was giving us pointers under the shady redwoods in the tasting room's picnic area, I carefully set my white balance for Shady. Then I walked out into the unfiltered, fully sunlit vineyard to take pictures. Later, I figured out that I should have it set for Sunny, so I corrected and went back to reshoot several pictures.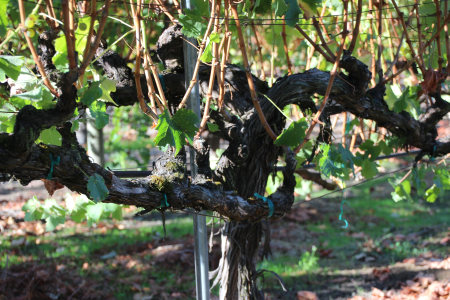 With white balance set for full sun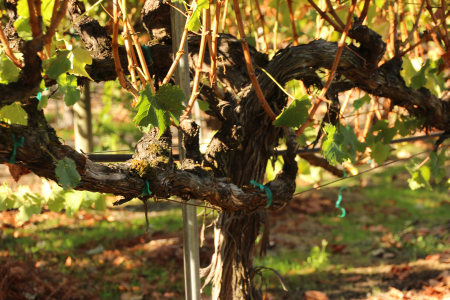 And set for Shady, when you are in full sun.
One of my frustrations with photography is depth of field. This is controlled by the F-stops; basically, it controls how much light gets into the exposure. When you're thinking about depth of field, image the field of focus as a line. The item you are focused on is one-third of the way along that line, so one-third of the things in front of it will be in focus and two-thirds of the things behind it will be in focus. I don't think this is so important with landscape photos but I am curious to see how it works for lug boxes of vegetables at the farmers market.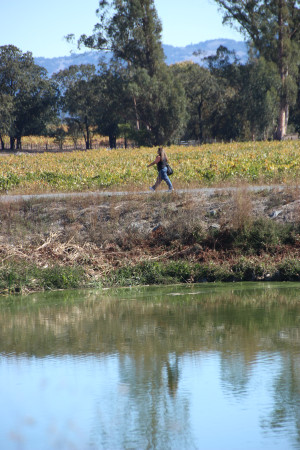 Here's an adequate example of depth of field
Usually, I do okay with composition but my technical skills are weak. On this day, because I was focused on technical aspects, I guess, my composition was very poor.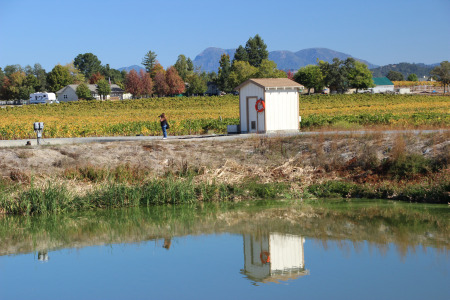 The winery property on Olivet has excellent views of Mt. St. Helena and an artificial pond that is home to ducks and a stopover for Canada geese. A series of slurry ponds flanks the pond, filled with a rich soup made of crushed grape skins, water and air. The cylindrical pumps add the air. This substance is allowed to dry and ultimately used as fertilizer. What could possibly be interesting about a cylindrical pump spewing something that looks like bad grape Kool-Aid? The answer… everything!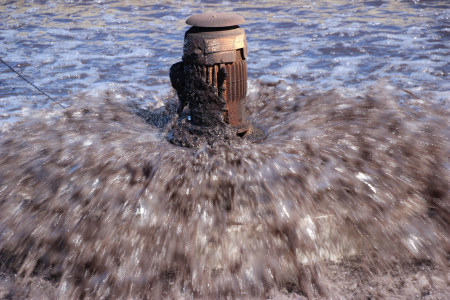 Close Ups and Macro; The Truck
John had to ask the co-owner of Hook&Ladder to leave the old truck he had promised us was available for pictures. They had planned to move it. "But it's ugly!" the co-owner said.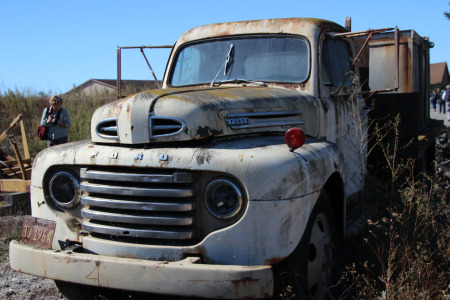 You could consider the truck ugly, or you could consider it incredible cool. Apparently 20 of us voted for "cool."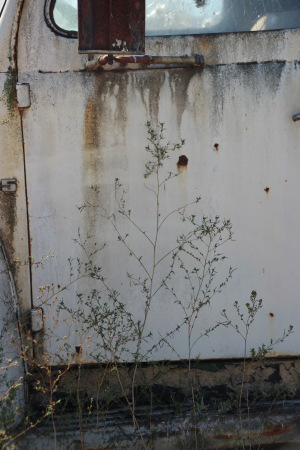 Exposure Length; the Barrel Room
One of the co-owners spent a good part of the time with us. His name is also Josh. His grandfather founded DeLoach Vineyards and planted this vineyard. Josh is crazy about wine. I could say it's his passion, but that might be a little too luke-warm. Josh gave us a tour of the winery and the barrel room, where the winery's red and one of the whites (chardonnay) age. The barrels are made of oak, some from France and most from Hungary. French oak is the most expensive, he said. Why? Not because the wood is inherently special, but because it is rare.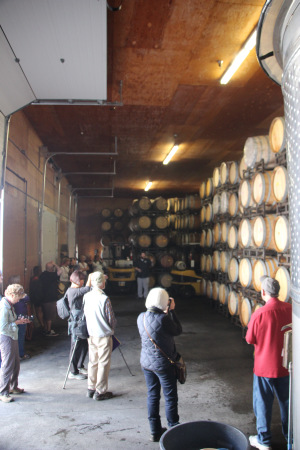 The barrel room was a good place to use a tripod. I wanted to shoot without flash because I thought the light looked richer. The tripod reduces camera shake.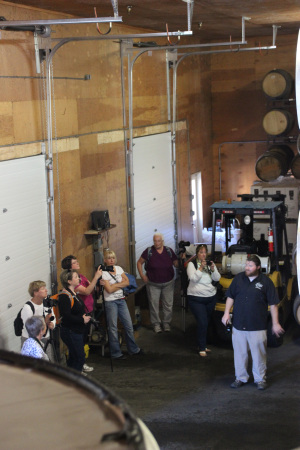 Josh talked about the barrels and their lifespans. They can extend the life of a barrel by sending it to a cooperage that shaves off the inside layer, scraping down to where the oak is no longer wine-infused. That is good, Josh said, but it means the barrel is only half as thick, and that is not so good. I was wandering around the catwalk above the pinot noir tanks while he talked about the barrels, so I didn't really catch how many there were, but it might have been one thousand.
"For each photo opportunity, take five shots."
This is John's advice. Look at shifting your angle, raise or lower the horizon; change your film speed (it isn't really film of course) or your aperture size. Try a different filter. He says the more you look at a situation the more likely you are to find the great photo instead of just a really good photo. (I'm usually happy to get a really good photo.)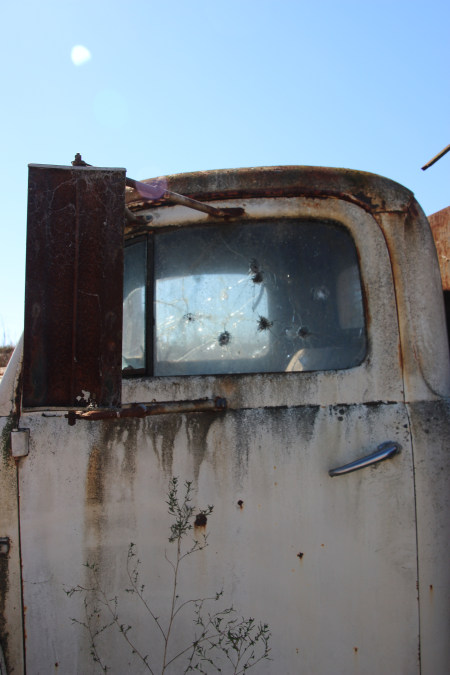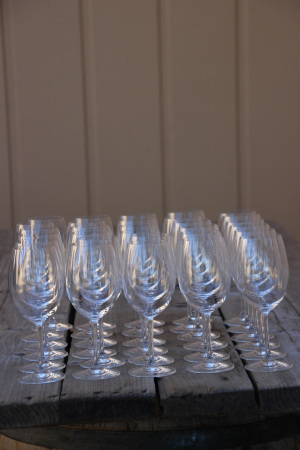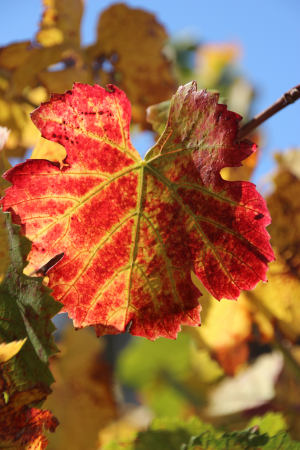 I tried to follow John's advice and the result was 420 photos.