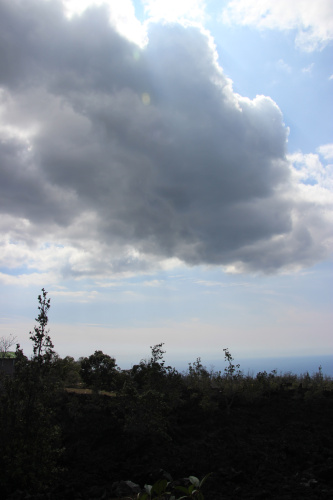 One view from M's house. I really liked the cloud.
We are bucketing up Hula Street in T's newish SUV. A peppery, spicy smell fills the cab, emanating from the leaf M, who is sitting beside me, holds. Linda, who rides shotgun next to T, picked the leaf on T's instructions, just before we set out.
"In the 20 years I've lived here," T says, as we come up on the intersection of Hula and Iolani, "I've seen another car at this intersection once, so…" He blows through the stop sign.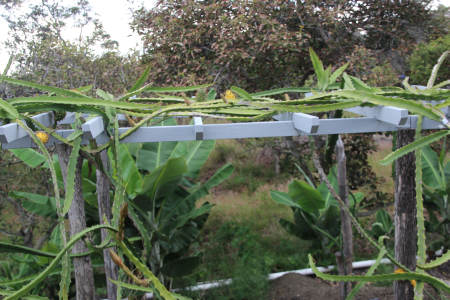 Dragon Fruit and trellis
T is a friend of Linda's from the film-making business. He and his wife J live in a warehouse they have converted to storage and graceful, efficient living space. Their one-acre plot is filled with plants; fragrant orchids, water lilies in large plastic wading pools, dragon fruit twining over trellises. The vegetable garden was somewhat neglected this year, J told us. The leaf M holds is from an allspice tree.
T reminds us that he had to truck in mounds and mounds of fill and organic matter to get a growing surface, since Hawaiian Ocean View Estates sits on a lava flow. The most recent flow from Mauna Loa was in 1917. In volcanic time, that's like… a few weeks ago. People who buy property here know what they're getting into (and it does seem like most of the flows have shifted to the southeast). As J put it, over lunch, "Property values go up and down a bit here, but they're never going to go up much, because we all know a rift could open at any time and spew toxic gas."
Despite this risk, there are about 10,000 lots in Ocean View. M's house sits on one of the flowing skirts of the mountain, overlooking the ocean.  For the first several years, Ocean View was kind of an awkward place to live unless you really liked being off the grid. There were no services; the closest was probably in Captain Cook, which is more of a village than a town. The closest town was Kailua Kona, about forty-five minutes away. Now a village of its own has put down roots; there is a grocery store, a diner, and an Ocean View Community Center.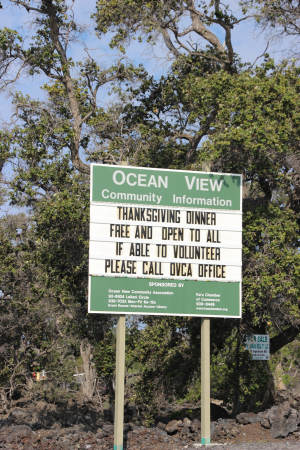 An Ocean View Thanksgiving
There's not a lot of surface water on this side of the island. Most people in Ocean View use catchment systems. M has a cistern next to her house for just that purpose. (You can't see it here, unfortunately.)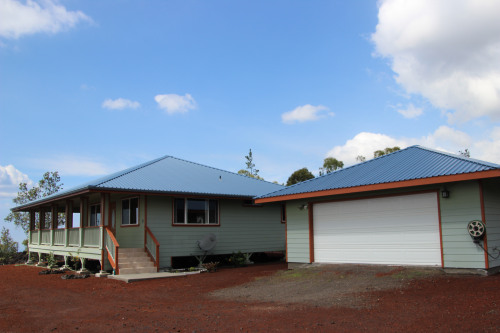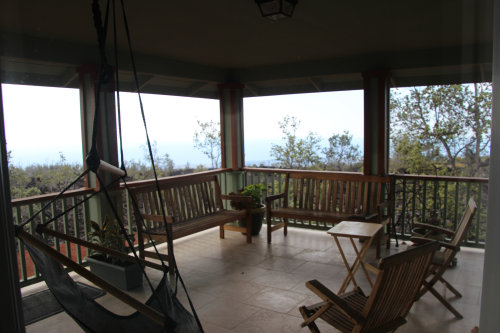 We drop of M at her house, and T takes us on the unofficial scenic tour of Ocean View. The roads climb as we hopscotch through the tract like a knight on a chessboard. The altitude in Ocean View goes from about 1,500 feet above to sea level to 5,000 feet, with the expected changes in habitat. As we climb, we enter an ohi'a forest; another thousand feet up the koa trees take hold. As we climb it grows wetter and colder.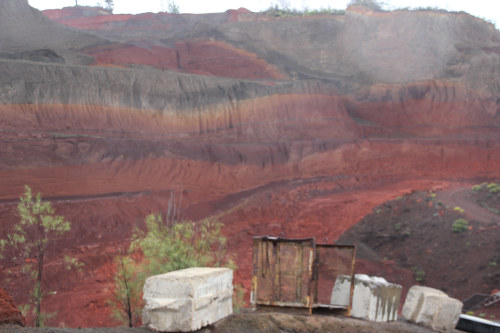 Lava quarry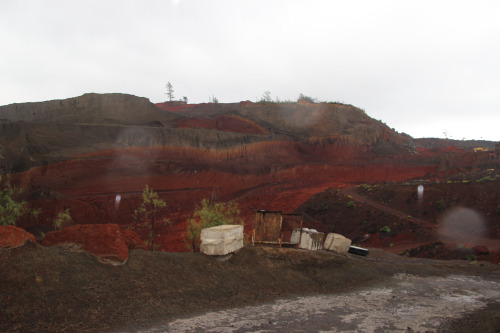 Lava Quarry and raindrops
T stops to show us the lava quarry. He reviews Lava 1A for me; there are two kinds of lava; pahoehoe lava, which is described as smooth and glassy, but to me looks like brownie dough (that's right, I'm always there with a food metaphor); and a'a, which is cindery and sharp; perfectly named for the sound you would make if you tried to walk over it barefoot. I don't know what pahoehoe means, probably something like, "Don't walk out there – it's still hot!"
A'a finds its way into landscaping in light smallish chunks. T points out that the color striations we see are the result of volcanic gases that permeate the lava while it is still liquid.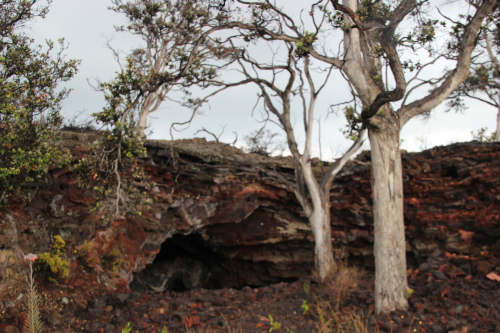 Lava Tube
Ocean View is riddled with collapsed lava tubes. T takes us to one that is semi-intact – although locals have used it as a garbage dump. One of the little joys of Hawaii, especially the big island, is that all those earth-science abstractions come to life right in front of your face. So, hot lava runs out in a stream, right?  At because of the surface area and thermodynamics, the outer layer starts to cool and harden, while the center stays warm and liquid. Then the outer layer hardens, forming a tube, and when the flow slows or stops, the remaining liquid lava drains out. And here's one now.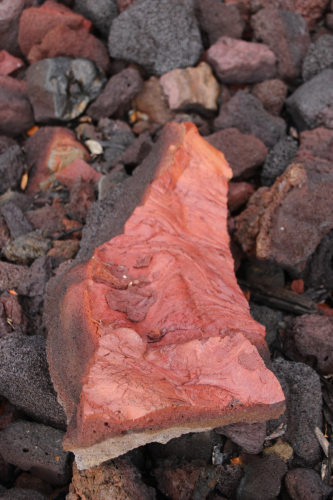 No, it's not a salmon steak or an uncooked rib eye. It's lava.
Ocean View is also filled with… um, let's say "non-standard dwellings." T is building two himself; creating houses out of storage units. He had a long story for us about the genesis of this geodesic dome, which used to be used as a hangar by the owner. I don't remember the details. I remember that it looked surreal; and I wondered for a moment if I had fallen into the movie version of Cloud Atlas and hadn't realized it.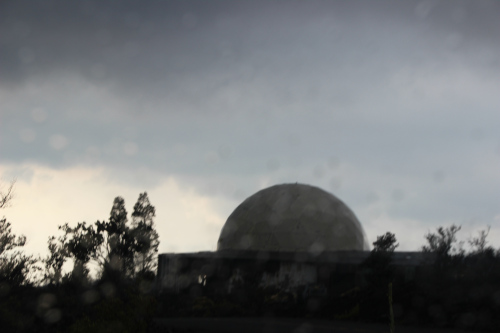 T regaled us with a story of another person who bough a geodesic dome online at an auction — but didn't bid on the bolts that hold the sections together.
He drives us past Meteor Mike's. Meteor Mike lives up pretty high. He poured himself a cement pad in the back. On good meteor nights, he invites the neighbors. Mike is in touch with a radio telescope (I think T said on Oahu) which sends radio waves out into space at regular distances. When a metor passes through the waves, it interrupts the signal, pinpointing itself for the observers below. From the angle and the direction, observers can predict where the meteor will show when it hits the atmosphere, and Mike finds that out and announces it. This sounds pretty cool. There is a drawback, T says; you can't bring anything that generates light. Does this also mean cameras? Because… well, darn.
From up here, across from the POD house (a clever play on words; POD are storage pods, but T says his named Precipice of Death) I had a good, if rainy view of Southpoint.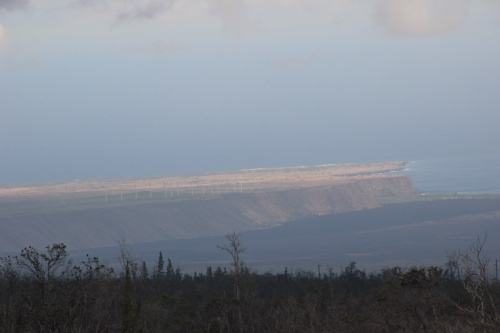 Southpoint, the southernmost point of the US. You can barely see the wind turbines.
We think of Hawaii as white sand beaches and palm trees. It has those things too, but it is diverse. It keeps you guessing.