Ann Leckie's science fiction "space opera" novel ANCILLARY JUSTICE won the 2013 Nebula for Best Novel. I am pleased and not surprised, although I had other favorites on the list. I thought AC might get edged out by THE OCEAN AT THE END OF THE LANE, but it if didn't, it was the likely candidate to win. The book has a certain momentum right now.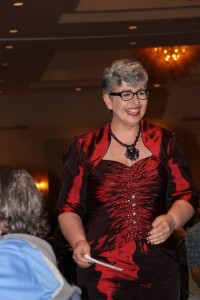 Ann Leckie
Leckie thanked editors, agents, writing friends and family members.
The best novella award went to "The Weight of the Sunrise" by Vylar Kaftan, and Aliette de Bodard's "The Waiting Stars" took home the best novellette award. Rachel Swirsky won for best short story, with "If You Were a Dinosaur, My Love."
Alfonso Cuaron and Jonas Cuaron won the Bradbury Award for the screenplay of Gravity.
Nola Hopkinson took home the award for herYA novel SISTER MINE.
Connie Willis introduced Samuel R Delaney for the Grand Master, with a speech that was smart, funny and heartfelt. Her affection for Delaney was obvious. Delaney himself, who seems acutely sensitive to nuance and tensions, spoke humorously about this time, back in 1966 or 67 (it must have been 67,) when he won a Nebula for the second year in a row. Before the awards were announced, but after the dinner, a leader of the "old guard" at that time stood up to give the key note speech and "expressed his ire"  of the New Wave writers (guess what Delaney was?). Delaney did not know that he had won, but others around the table did, and he said, "I saw them looking at him, then looking at me… looking at him, then looking at me…"  He went up to receive his first award of the evening and moments later was called up again for his second Nebula of the evening.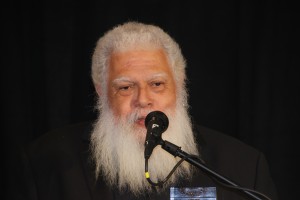 Samuel R. Delaney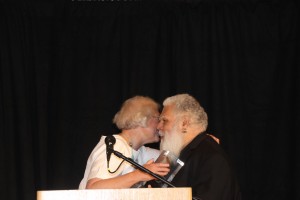 Willis and Delaney
He thanked the group humbly and accepted the Grand Master designation with warmth.
The theme of the night seemed to be about healing, or maybe it was, "We've always been inclusive."  Ellen Klages pointed out that Samuel R Delaney, at 22, a black gay male, won a Nebula the first year of the award's existence. Klage had asked various friends for pictures on themselves in 1966 and had them put into a slide show. The night of the first Nebula awards banquet, she said, she was ten years old, Samuel Delaney was looking smokin' in 60s regalia; Nancy Kress was getting ready to go to prom in a fluffy dress; Andy Duncan was a toddler, and Karen Joy Fowler was looking 60s-badass in a mini skirt and boots. "Karen Joy Fowler was obviously up to no good," Klages said, pointing to the slide. People from different areas of the nation, Klage pointed out, different ages, genders, experiences and economic classes are now under one roof and it is SFF that brought them together. This was a sweet and funny speech but Klages herself completely overshadowed it earlier in the evening. Told to keep the audience occupied while technical difficulties were addressed, she told a hilarious story about a "scary ham;" a ham her father had left hanging in the basement for twenty years. After his death, when she and her sister were cleaning out the house, they had discussions about what to do with the scary ham. Her sister wanted to give it Viking funeral. I'll let your imagination take it from there.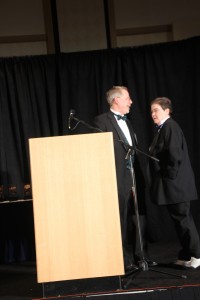 Ellen Klages (r) with SFWA President Seven Gould
Noting that of 32 nominees this year, 10 were male, Klages said, "Good work, guys! Just keep writing… you'll get there!" She suggested that they might want to adopt a female pseudonym in order to assimilate better and recommended Bambi or Ethel as a couple of choices.
SWFA seems to be trying to heal itself after the unpleasantness last year — an unpleasantness that a couple of people tried to fan back into life earlier this month. For all the self-congratulation, though, ("look! All the winners were women!") this extraordinary slate of candidates may be largely coincidental. Good, popular work was done by women and it got nominated. That's great. Let's not get carried away. There was a year when Denzel Washington and Halle Berry both won Oscars, too, and it didn't mean that glass ceiling was obliterated.
Anyway, the discussion continues. The banquet was fun and heartwarming. I got seated at Table 1– Table 1!– and got to talk to Bennett Madison, who wrote THE SEPTEMBER GIRLS, a YA novel on the ballot. I was thrilled to be at the table and kept expecting suited bouncers to shop up at any moment and say, "Ma'am" You need to come with us. You obviously don't belong here."