The Santa Rosa Original Certified Farmers' Market takes place twice during the week; Saturday mornings and Wednesday mornings. The mid-week market is a perfect opportunity for Santa Rosans to replenish salad greens and fruit.
Since I did a poor job of menu planning this week, I made a run to the market even though it isn't quite as convenient for me. It's located in the Wells Fargo Center for the Performing Arts Center parking lot, just north of Santa Rosa. From Northbound 101, take the River Road exit and turn right next to the new, still-under-construction Sutter medical facility and follow the sandwich board signs to the market.
During the winter, this is a much smaller market focused mostly on vegetables. I haven't been to it in several months and I was pleasantly surprised to see our favorite sausage vendor, meat and fish mongers and well as egg vendors in place.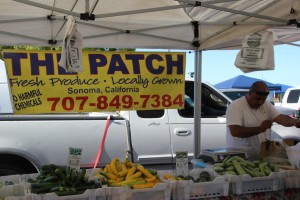 The Patch
The Patch hasn't opened a booth at the Sebastopol market yet. I love their booth for tomatoes and peppers. This time of year Lazaro has huge, juicy onions, many varieties of squash, figs, lemon cucumbers and green beans. Since I had forgotten cucumbers on Sunday, I bought two, as well as green beans to go with the salmon tonight.
Hector had new German butterball potatoes.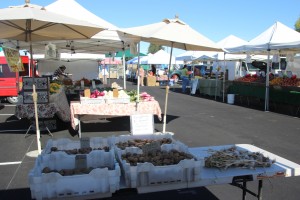 I was pleased to find a new-to-me chocolate vendor, Wine Country Chocolates, and Beach House Candles next to them, in the part of the market some officials call "the carnival," (because those vendors don't sell agricultural goods). Desmond posed with Olivia. Olivia also makes wine bottle candles. Check out her website, here.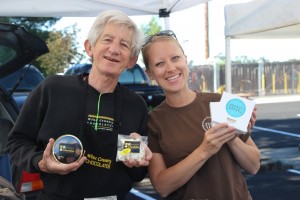 I awarded myself willpower points when the box of chocolate-dipped apricots made it home unopened.
It's berry season and it was nice to see Sebastopol Berry Farm represented.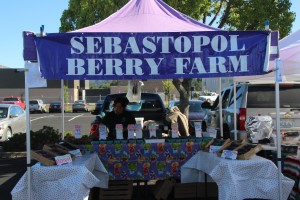 You can buy a fresh pour-over coffee at Gaga Cafe, or the tea vendor will give you a fresh sample.
The market is open from 8:30–12:00 on Wednesdays.