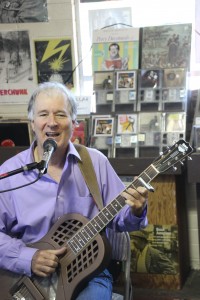 Here is Doug Adamz playing National Steel at The Last Record Store on Saturday, August 16. He is playing from his new CD called… well, you get it.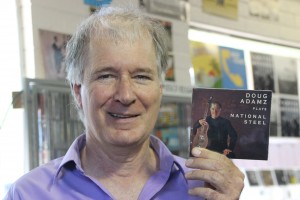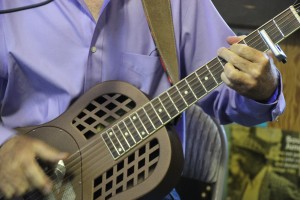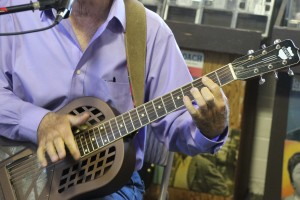 Doug is family friend of my longtime friend Linda Kane who was in town.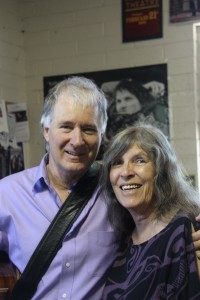 Doug is a great guitarist and a wonderful songwriter, with lyrics that are soulful, sad, clever and often funny.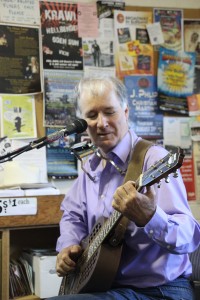 Here is his website.
Here is a page to Light Rain, his American belly dance music group.
Here is a You Tube video.
The Last Record Store is still here, selling vinyl and CDs, new and used. They have rock, hip/hop, pop, soul, blues, world music, soundtracks, reggae and a fine selection of classical. While Doug and Linda were visiting I took the opportunity to feed my Beethoven stash.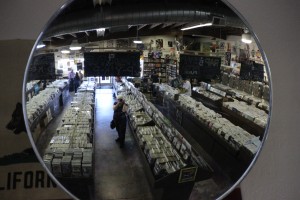 This is Doug (the other Doug) one of the owners.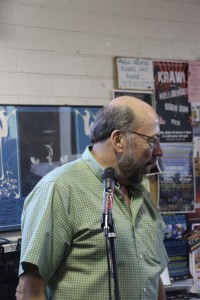 Doug A played for about an hour. He has a rosewood guitar he bought at Sonoma County's Guitar Festival, a luthier gathering, but he didn't have time to play it.
The Last Record Store in on Mendocino Avenue in Santa Rosa, due north of the Santa Rosa Junior College, in the long green building that houses the Community Market, Gaia's Garden and the record store, like a long green time capsule with parking in the back.