Linda and I had a day out on Monday. We ended up going to Benicia (I had been there just the day before). We started with a self-guided tour of the art glass studios. Our first stop was at the end of H Street, near the marina, where Nourot and Smyers studios share space in a building that looks like it used to be an elementary school. Tall windows with a southern exposure are great for glass places, and both of these studios have beautiful work.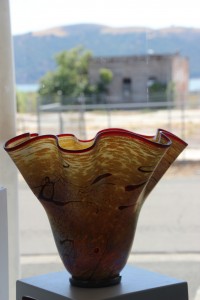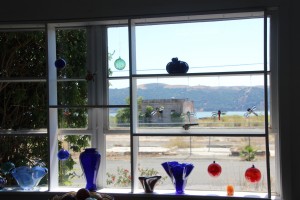 Before we went in, we took some pictures of the two derelict buildings on the waterfront. They both look military, but I wouldn't hazard a guess as to the time period.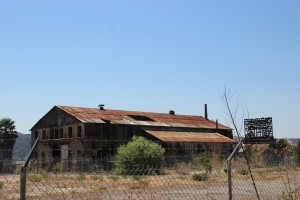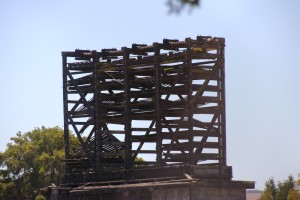 On our way back to First Street we stopped at Lindsay's Art Glass. It's on F Street, about a block off First. The glass here was more in the tradition of Art Nouveau and Louis Comfort Tiffany. The proprietor also has some art apparel, mostly painted silk, and someone with a very good eye has arranged the fabric with the glass, creating layers of shapes and color, enriching the visual experience.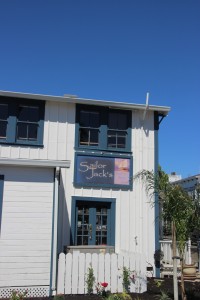 When I'm here with the Benicia Crew, we usually eat at Sailor Jack's, right on the water, but since I was branching out today, we had lunch at First Street Café. It's located at the corner of First and East E Street, a narrow two-storied space with sidewalk tables and a long comfortable-looking bar downstairs. Upstairs is their wine and appetizer bar. We chose an inside table by the window, giving us a first-row view of Benicia life this gorgeous summer day.
Since dessert is the most important part of a meal, I'm going to start by describing those. The Café bakes its own pies, cakes and crisps. Monday's specials included a strawberry bread pudding and a strawberry crisp. In both cases the strawberries had started off fresh, not frozen or preserved. I tried the bread pudding because I was intrigued by the concept. Linda had the crisp. Both came, at our server's suggestion, warm with vanilla ice cream, the cream melting into the crispy topping. Mine had small squares of good bread, possibly sourdough (there was a bit of a tang); sweetened and toasty, not soft. Underneath the bread layer there was a pool of warm strawberry compost, not overly sweetened, with just enough tartness to be a contrast for the silky ice cream. People who like bread pudding as a spongy-sweet custard might not like this, but I thought it was scrumptious. Linda's crisp had oats in the topping; equally delicious, she said.
Because I knew I was ordering dessert, I held back for my entrée and had the house salad; mixed greens, green apple chunks, candied pecans and cukes with a balsamic vinaigrette dressing and bleu cheese crumbles. The greens were crisp, with a few leaves of some slightly bitter lettuce for contrast, the apple was fresh, everything melded together deliciously. Linda had the roast turkey breast sandwich, which comes, not out of a deli pack or off a roll, but from the breast of a whole turkey that is roasted on site. The sandwich had cranberry sauce and came with a handful of mixed greens. She was very pleased with it.
The Café gets its bread from Acme Bakery in Berkeley, and many if not most of the vegetables and meats are locally sourced. That does matter to me, so I mention it. It means, basically, that things are fresh. Our young, competent server was friendly and helpful, and didn't rush us along. I'm sure their coffee is great, but we settled for water. Oh, and their menu is funny!
We shopped the street a bit and Linda bought an elegant top in shades of flame in a pocket boutique.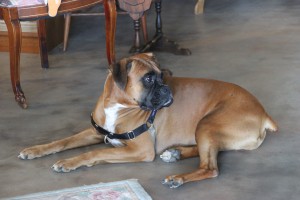 Charlie, host of Charlie's Attic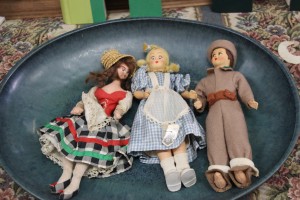 How did we end up here?
While many of the street-side antique shops were closed, Charlie's Attic, in the Tannery, was not. Normally they were closed on Mondays, but they'd come down to get a package ready to ship, and the next thing they knew they had a whole flock of customers. Linda bought a glass paperweight and I found a funny pair of bookends for the store.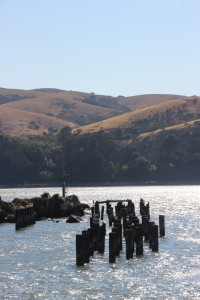 We walked along First Street's waterfront, watching people fishing and trying to stay out of their way as they cast. Linda has lived in Hawaii for ten years, long enough that she is nostalgic for seagulls. (There are none in Hawaii.) She took a few pictures and we got some nice seascape shots. Across the strait, the Amtrak train rolled by, its whistle hooting mournfully.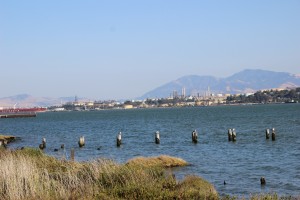 On the way back to the car we stopped at Benicia Bookshop. It was close to closing but he kept it opened while we browsed, about fifteen minutes past closing time. I found a book I've been wanting to read but Linda was frustrated in her attempt to find something for her grandson, who started kindergarten the next day.
We left about six-thirty, which had been part of our plan as a way to avoid commute traffic. The plan was an unqualified success and traffic on the way back was light. It was a lot of driving and I was tired, but it was a fun day.