From where I'm standing, I have a perfect profile shot of John Scalzi as he signs a book. I have the big camera too, the Canon, the one that with the zoom lens that takes crisp, clear pictures. I look through the viewfinder and press the button. Just as I do, Brian, ahead of me in line, shifts his position, moving his aloha-shirt clad arm into my frame. No worries. I shift slightly to the left and aim again. Brian, with an intuitive sense that beggars that of most stage psychics, moves directly into my shot again. Ray, the Copperfields employee who coordinated the Scalzi event, tries hard not to snicker. I contort my body, crawling halfway across the podium to get out of Brian's range, and snap a photo, just as Scalzi gives me this look: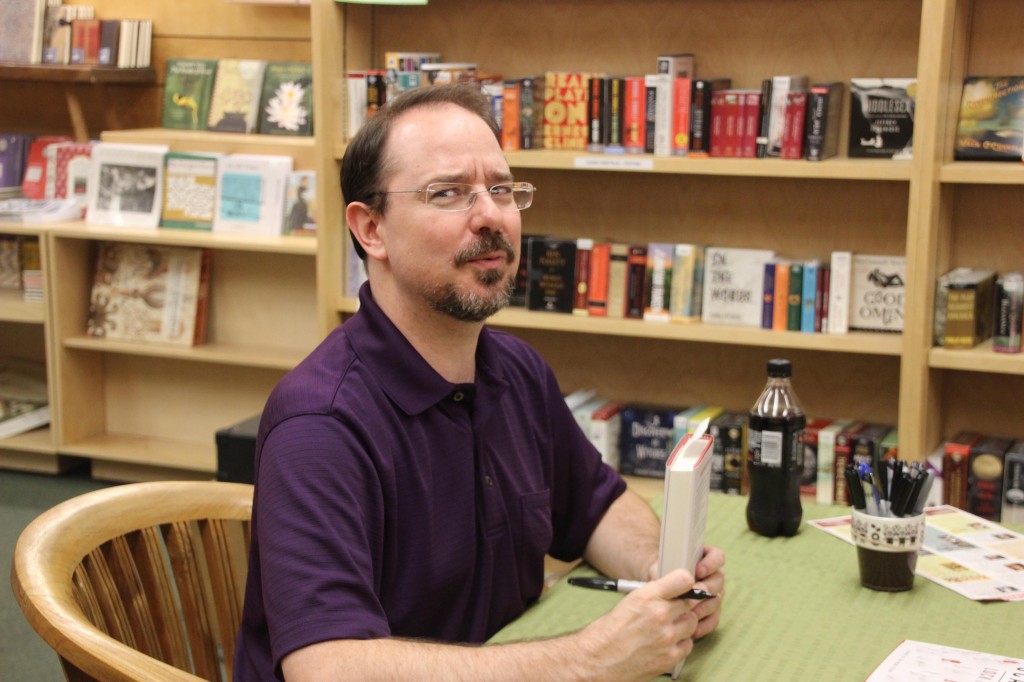 John Scalzi got to the book tour event at Copperfield's in Petaluma on time, which was mildly surprising, as we discovered. He had time to check out Petaluma PIE company, which several people (including me) recommended. He gave it a thumbs-up. John Scalzi has stated online that he enjoys pie; this recommendation is to be cherished.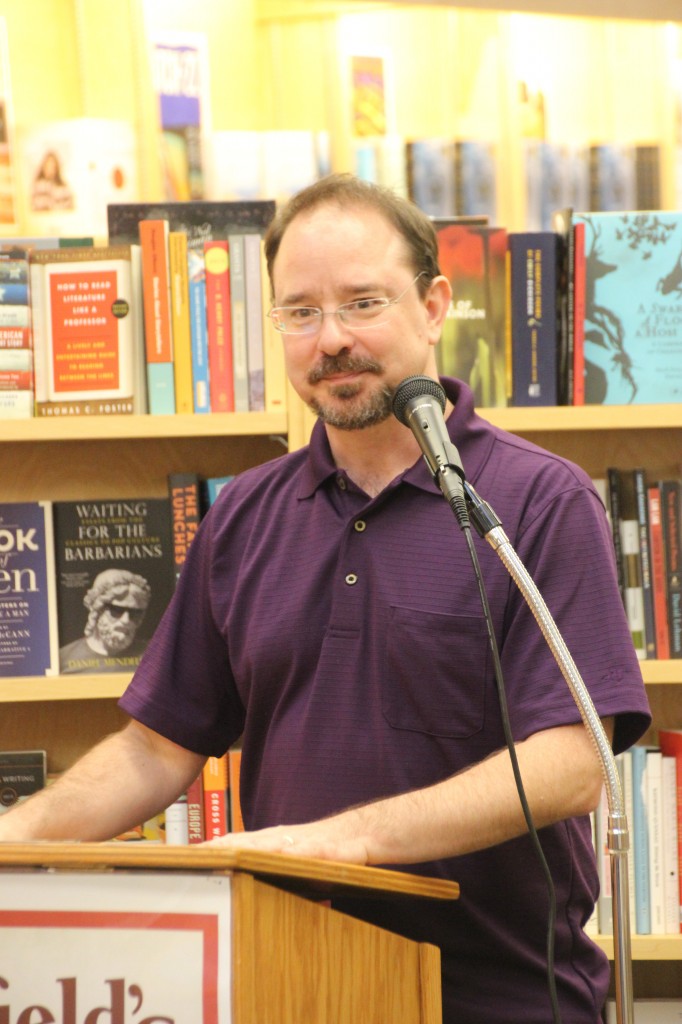 Scalzi did not read from Lock In, the book he was promoting. Instead he read to us from a top-secret project, and shared two columns from a humor column he used to write. He told stories about some of our favorite nerd celebrities; a great Alan Tudyk story and a story that involves Neil Gaiman, John Scalzi, Roller Derby girls and butter-cream frosting. It's hard for me, by any stretch, to consider Neil Gaiman a "nerd," but still, somehow he fits just fine in that grouping.
*
Why is it surprising that Scalzi got to a scheduled event on time? Our first clue came when he said, "Man, you guys, that 580, it's interesting, right?"
Highway 580? We're thinking, "Why could anyone come up 580 from San Francisco, to get to Petaluma?" The town's right on 101.  There's no reason to take  580 unless the Golden Gate Bridge is closed, which it would never be on a Friday night in the summer… except when two deer wander down from the headlands, trot onto the bridge to play tourist, and close down the northbound lanes.
"We took the Richmond San Rafael Bridge!" Scalzi said. "We fought ninjas!"
*
Scalzi is on a four week tour for  Lock In. So far he's been to Texas, North Carolina, Colorado (I think) and the state of Washington. And northern California. He was spending three days in the San Francisco Bay Area. Before Petaluma, he visited Mountain View, where he did a book store event but also visited a little company they have down there. It's called Google, or something. On Friday night he visited Petaluma. Saturday he would be at Borderlands Books in SF. The good thing about his schedule is that his publisher has built in several breaks where he can go home and rest up.
After talking and reading, he answered questions from the audience. Most of them were about the new book, which, by the way, I recommend.
Lock In uses the plot of  a police procedural set in the near future on earth to explore questions of androids, neural nets that augment human brain function, non-physical realities, disabilities and human nature.
*
Before the event started, Brandy and I struck up a conversation with the man in front of us, Sheldon, who had driven over from Sacramento, because there were no central valley stops on the tour. A few minutes later I recognized Brian, from the Atlas Coffee writers group. It turns out he knew Brandy from the old Copperfield's Used Book store she used to manage in Sebastopol.
Scalzi is a delight in person, a professional entertainer who is not only engaging but warm. He makes it very clear that this is The Scalzi Show, but not in a mean way. He is very animated and funny. If you get the chance to see him in person, take it.
He also makes sure he talks up independent bookstores.
*
When I got up to have him sign my book I said, "I'm not going to ask if I can take a picture, I'm just going to take one."
"Yeah, like the one you took from the side? I know about that one," he said.
"Of course you do. You know all," I said.
Scalzi laughed. "I'm writing that in your book!" he said, and he did.