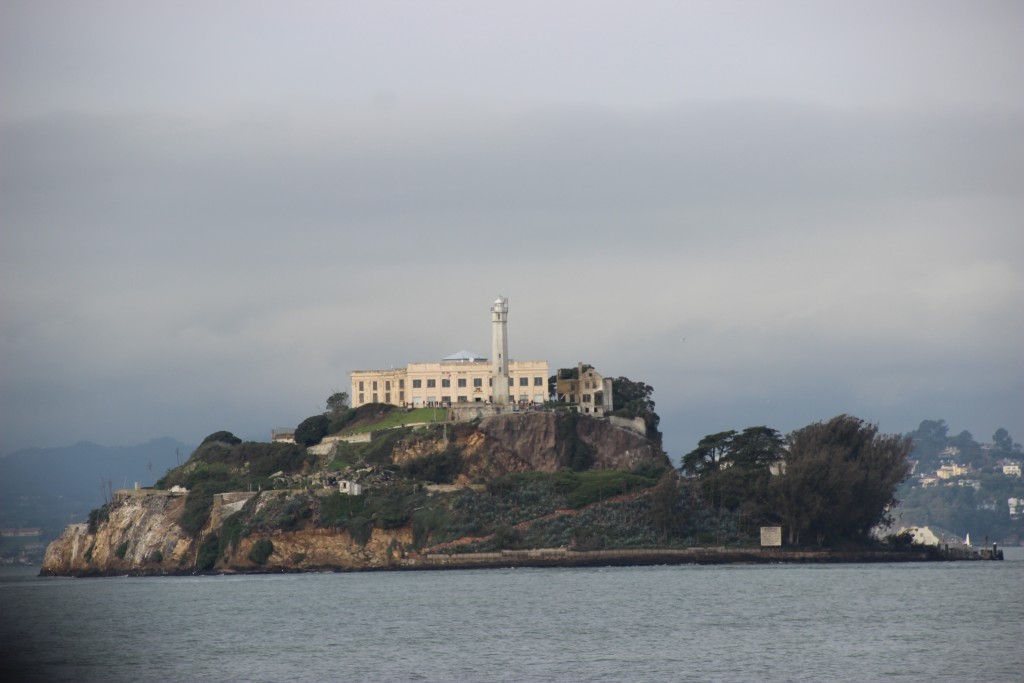 On the ground floor of the Alcatraz cell house, the south-facing wing holds the cell-blocks. They look like every cell-block you've seen in every movie; two story,  tiny cells with barred doors, no privacy at all. @Large set up its final exhibit in Cell Block A, a block at the east end of the space, one that is usually not open to the public. Entering through the unlocked gate, the first thing I encountered was a spiral staircase, one way guards got up to the catwalk on the second story, I guess. I skirted the staircase and took a look at the cells.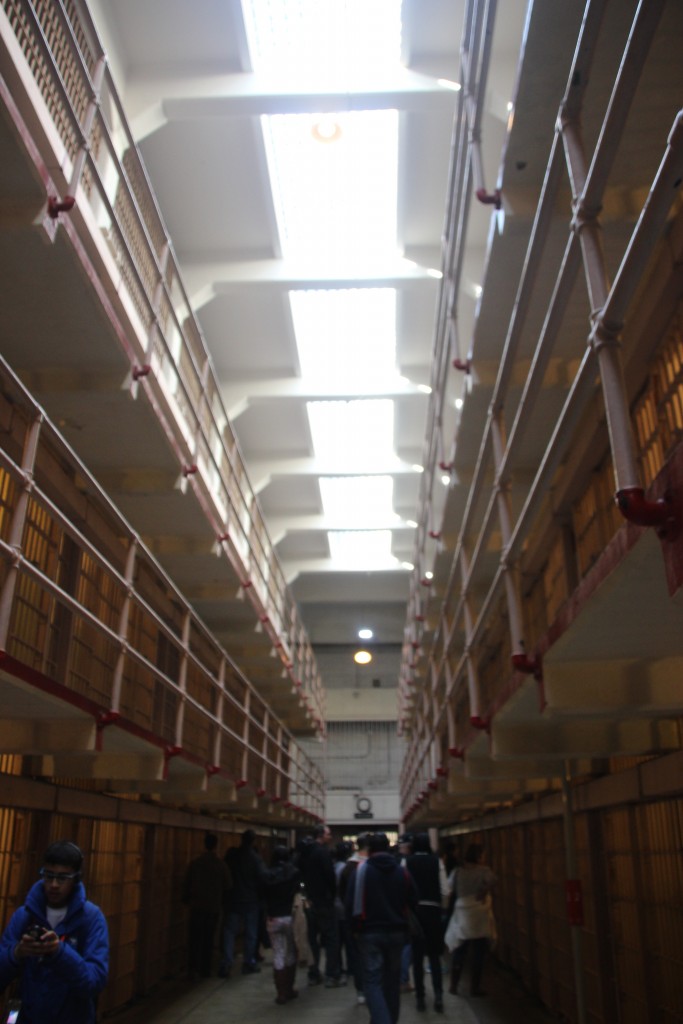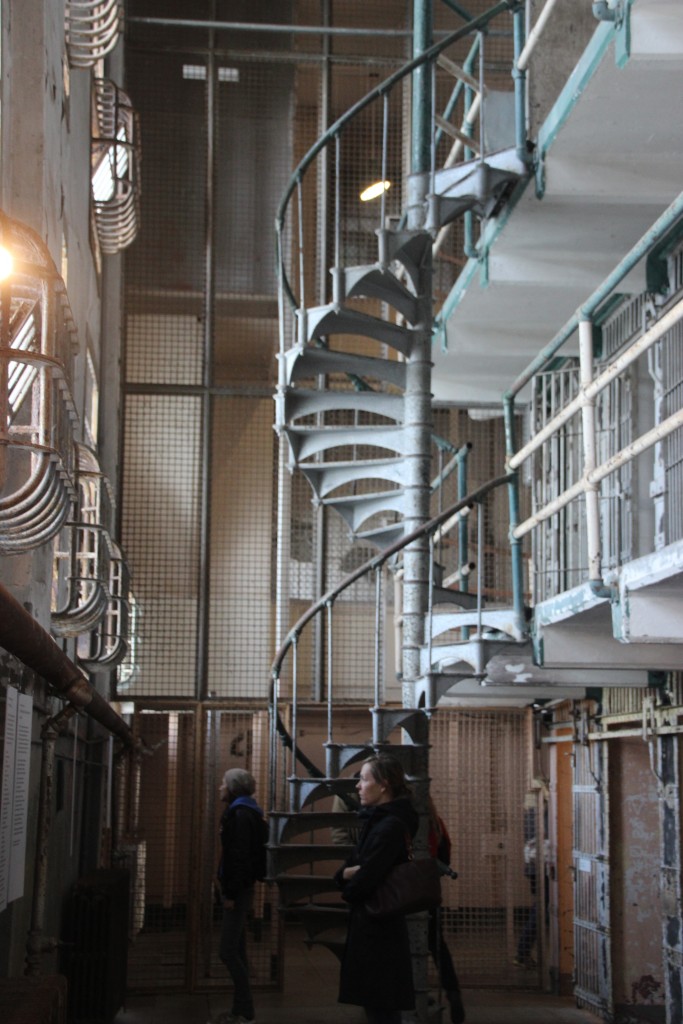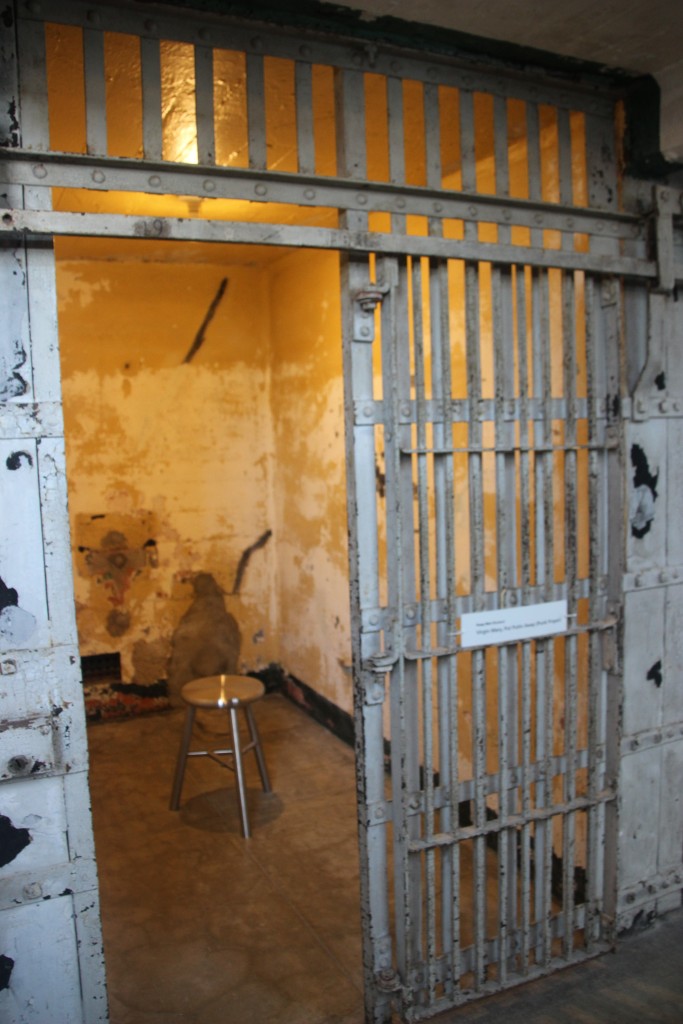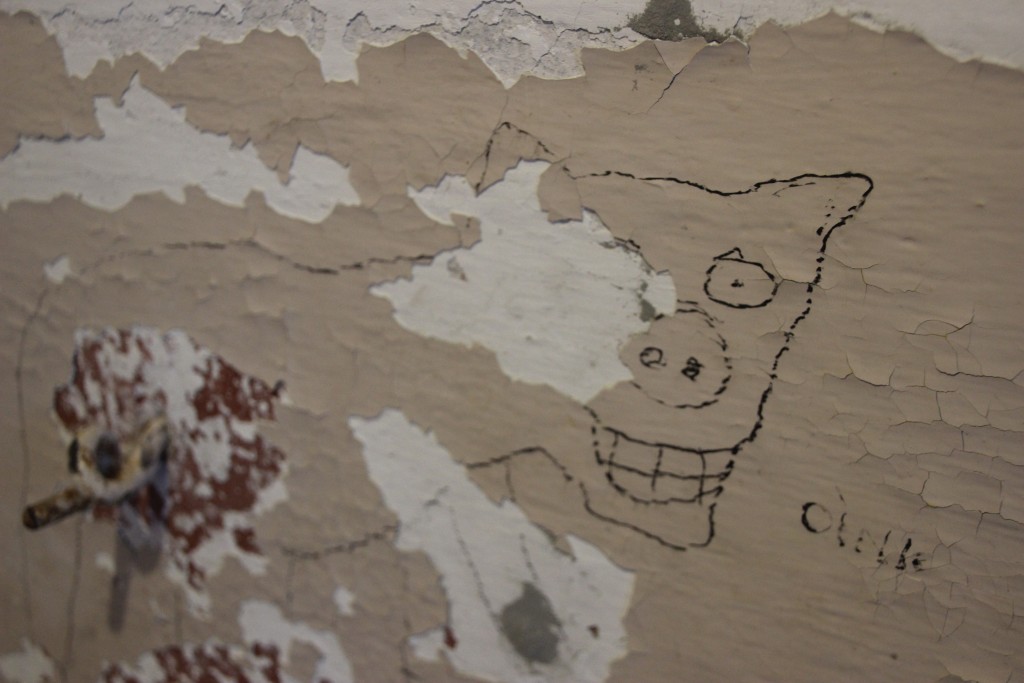 Some cells had a sign on the door, and a small stool inside. In most of the these cells the fixtures – toilets, washbasins, cots – had been removed from these spaces, and paradoxically, that made it obvious how very small they were. There was sound in each cell; music, a song, a poem, a speech, a story. These are the voices of people speaking out for freedom. Some are historic; a Martin Luther King speech is included; there is a symphonic piece from a German composer from the 1940s who was jailed in Germany for questioning the direction of his country's government; a Persian poet who died a few years ago, who was imprisoned for writing poetry critical of the Shah's regime. Others are contemporary. There is a South African protest song, to the tune of "Oh, my Darling Clementine" protesting the treatment of diamond miners; Pussy Riot has the final cell, with their punk-protest song, "Virgin Mary, Put Putin Away."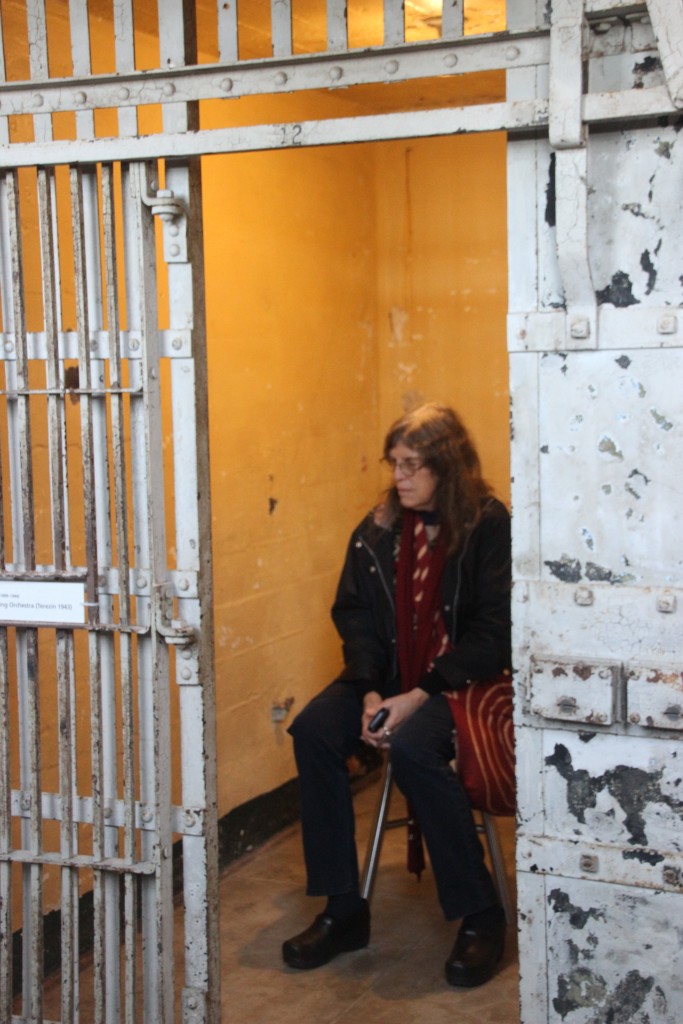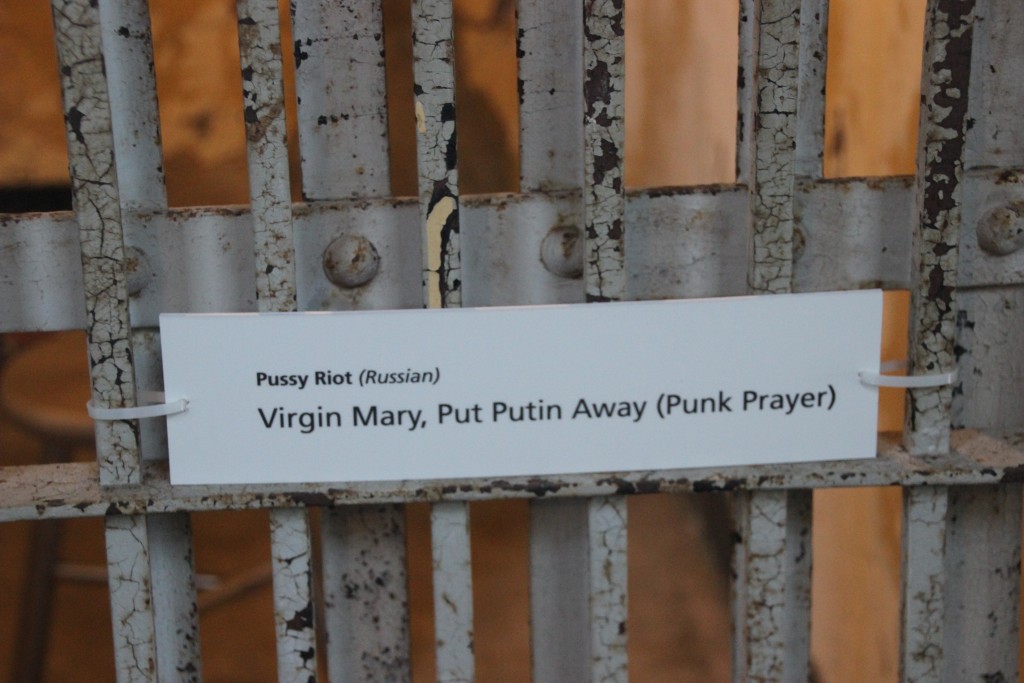 In this area, the sound was confined to each individual cell. Directly across from each cell, on a scroll, was an English translation of the work we were hearing, and a brief biography of the prisoner.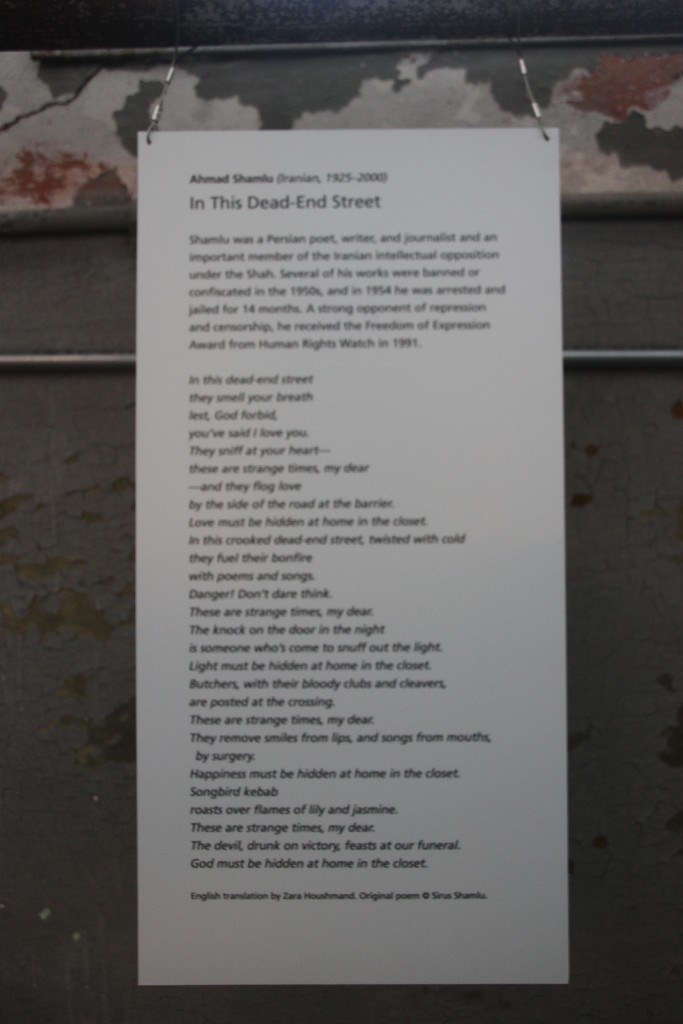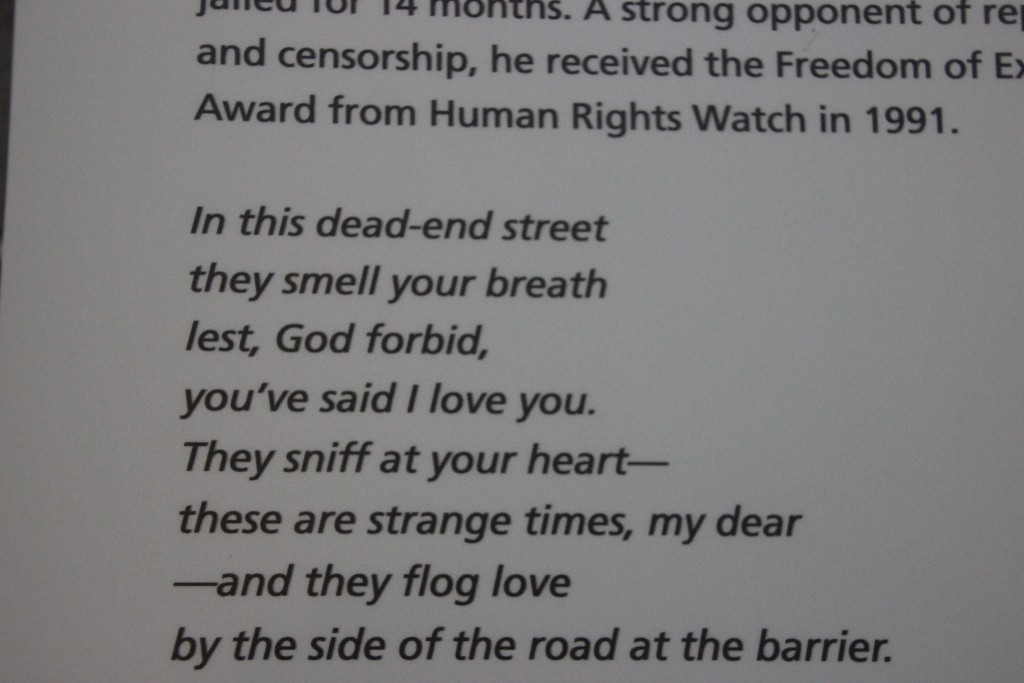 This experience made me imagine, at least for a moment, what it might be like to be deprived of freedom just for your words. I admire the courage of these artists, poets, writers and regular people who stand up and speak the truth. And I feel the cold and damp of Alcatraz and realize what a powerful weapon imprisonment can be.
*
This site gives reservation information about the installation which will be in place until April 26, 2015: http://www.for-site.org/project/ai-weiwei-alcatraz.
The Alcatraz ferry (ferry fees are included in the cost of the ticket) leaves from Pier 33, about a mile north of the San Francisco Ferry Terminal Building on Embarcadero.