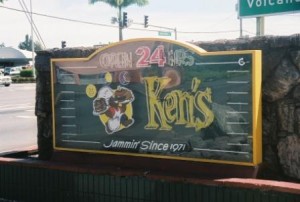 "One of USA Today's 10 Best in the Nation."  That's Ken's House of Pancakes, in Hilo, Hawai'i.  Ken's makes it into the Hawaii guidebooks too.  L has a friend who is a native Hawaiian who says "When I come to the Big Island I always have to stop at Ken's."
            The place doesn't look special.  It's on a corner facing the road that leads to the airport; a one-story building that looks like a Denny's or a Shari's or a Season's except for the deep metal roof  that you see in tropical and sub-tropical areas.  Inside, the booths have yellow naugahyde seats.  You can also sit at the counter.  The booths in the center of the main room have low walls, so that you can rest your arm on them and talk to the people next to you, if you want to.  L and I had a nice chat with the two women sitting across from us. One of them, Melody, makes tagua nut jewelry which she is starting to sell at farmers' markets.  Melody grew up in Mountain View, California.  There's a Mountain View, Hawai'i as well, and she said she frequently has to explain that it's not the one where she grew up.
            What do they serve at Ken's House of Pancakes?  Well. . .you do not need to limit yourself to pancakes for breakfast.  Like most pancake houses, the breakfast menu also provides waffles, omelets, benedicts, and eggs with a variety of meats: steak, ham, sausage, bratwurst, hash and Spam.
            Of course I had pancakes.  I chose the "mac nut" (macadamia nut) pancakes and POG juice, which is passionfruit, orange and grapefruit guava.  The pancakes were delicious; fluffy with a bit of a buttermilk tang that was not overpowering.  Coarsely chopped mac nuts covered the top and added a crunch, a creaminess, and a nutty sweetness that wasn't sugary.  Each table has a pitcher of maple and blueberry syrup, but the server also brings a trio of tropical syrups to your table.  I felt like Goldilocks (something I can honestly say happens to me rarely).  The coconut syrup was—well, I don't like coconut. I had high hopes for the guava syrup but it wasn't the right consistency for syrup and was a little too bland.  I tried the lilikoi—passionfruit—and "it was ju-u-st right!" 
            POG juice was good, but I think it was less a juice than a "juice drink."  Next time I will go with one of the classics, orange or grapefruit.
            The coffee is good, served in old fashioned thick mugs with a Ken's logo on the side.  Your food comes quickly and the servers are bustling.  Buspeople stop by to top off your water or coffee if you need it, and they hit just the right pace so you never seem to be waiting for anything but you don't feel interrupted either.
            Good pancakes, good service and an atmosphere that is relaxed and fun. That's Ken's, the best pancake house in paradise.