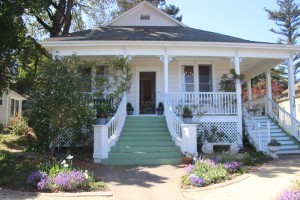 The beautiful yard caught my eye first, and then I looked up at the lovely white Victorian cottage that houses The Muir Tea Room. This building, located at 330 South Main Street, two buildings south of the Post Office, used to be Fork Catering. They have moved farther west now, and the Tea Room opened in December, 2014.
I was delighted by the fragrant wisteria on the porch (mine wasn't blooming yet). The clean, airy interior with its pale floor and sweet china patterns embraced me. There is something civilizing about afternoon tea – or at least, the "afternoon tea" of my imagination, shaped by scores of British murder mysteries and numerous episodes of Downton Abbey.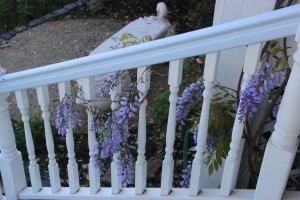 The "plant-based" menu was a surprise, though.
Christine Dzilvelis, who owns the tea room, says she is reluctant to use the term "vegan." She is being scrupulous. She prefers "plant based" because the work required to verify that not a single vendor to them has any process that uses animal product would be onerous for a business of her size. There are no animal products in the food served at the Muir, though. I told her I was surprised. The clotted cream, or I guess I should write "clotted cream," that melted into my scrumptious scone sure tasted like cream. And the cream cheese, on the finger sandwiches? That wasn't cream cheese?
"We did tastings for one year to get the flavors right," Christine said. She has a "sausage" entrée that uses a meat substitute. She doesn't particularly like the "mimicking" of meat herself, she said, but wants to offer the best variety to her customers. She is exploring a vegan cheese from a producer in the Bay Area.
Since the Muir is based on Scottish and English high teas, I asked about plant-based teas in general. Christine said they are becoming a "thing." She suspects there are more offerings around London than Edinburgh, but it is catching on.
Dzilvelis has another business beside the tea room; she manages green car shows in Santa Monica and the East Bay. AltCar is one of the largest alternate fuel vehicle shows around. Her hope is to scale back on the cars and devote more time to the tea room in the future.
Dzivelis moved here six years ago and loved the area, but felt the lack of a plant-based restaurant. "In L.A, I probably had seventy plant-based choices within ten miles," she said. She wanted a local place that captured "the sweet spirit of Sebastopol."
John Muir, the Scottish naturalist and writer who fell in love with California, seems like a suitable icon for the place in a couple of ways. The tea room is a risk, in a way, although it's got a good location with plenty of on-street parking and a public lot two blocks away. Muir was not afraid of risk. Muir's respect for nature ties in nicely with the food theme, and he was Scottish, so there's the tea thing again.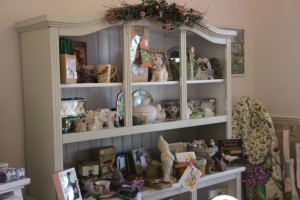 "The response has been so good," Christine said. "We had the Red Hat society here, a couple of British groups that come in. They love our scones; they say they're the most like British scones. Families come in. I have someone who brings in his mother every week. They sit by the fireplace and he reads to her."
I've had two meals at the Muir, and I will definitely go back. About those scones; they are less cake-like and more like American biscuits, with bits of lemon zest sprinkled through them, adding a brightness without being overpowering. The clotted cream mix melted right into them. I've also had the split pea soup and a tomato-pesto sandwich. The soup was thick, tasty and hearty. The sandwich, served on whole-grain bread, was exactly what I wanted.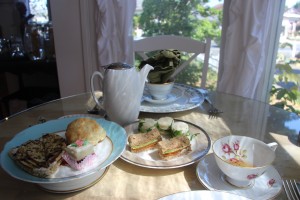 On my second visit I had the Doorway to a New World tea, and I added two finger sandwiches. That meant I had enough to take a sample home to Spouse. By far my favorite finger sandwich is the walnut and pear, served also on a crunchy whole-grain bread, thinly sliced, with slices of ripe pear and walnuts. The whole thing is drizzled with a balsamic vinegar syrup. This combination of sweet, savory and acidic, combined with the soft texture of the pear, the crunchy nuts and the crisp bread, was perfect. I also liked the cucumber sandwiches, mostly for their presentation; they are cut in rounds and the outside rolled in chopped chive.
There was a one-square-inch decorated cake as well, a mini-dessert. My mom would have called it a petit four. It had a tiny pink rose in icing on the top and a layer of fruit preserve in the middle. The cake was vanilla. It was very sweet; I would say "sweet" was the dominant flavor. (I'm not complaining.) Anything larger than one bite might have been cloying, so it was just the right size.
Muir's offers black tea and green tea as well as several herbal infusions. For the New World tea I chose the raspberry torte, a black tea with a slight chocolate-raspberry flavor. After I ordered it, I worried that it would overpower the pastries. I didn't need to fear. I let the tea steep for about five minutes and it was slightly sweet but not overpowering, with a pleasant fruity taste.
I asked Christine about her pastry chef. She said Teka (I'm spelling that phonetically) cooked vegan at home for many years. She is, Christine says, a genius at capturing texture and flavor without resorting to animal products. Some Irish musicians who came in in March, for instance, told her she'd nailed the soda bread. Based on what I've tried Teka is amazing.
Christine has already made connections to the Main Street community, co-hosting a press conference with the West County Museum half a block north of her, to open their "Sebastopol Vogue" 19th and 20th century fashion exhibit. She is planning several themed events; a John Muir birthday celebration on April 25; a fairy tea in May and an event honoring Jane Austen on June 6.
(By the way, I harrrangued Christine into letting me take her picture when she really didn't want to. When I got home and looked at it on a larger screen, I decided it didn't do her justice, so it's not posted here.)
This is the high tea of my imagination; a light airy place, filled with the scent of flowers, friendly staff who are helpful but mostly unobtrusive, delicious food and the bonus of eating lower on the food chain. I will go back, and I will bring my friends.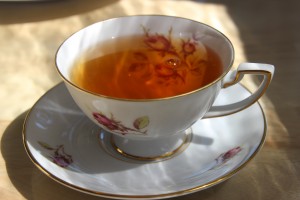 Hours:
Tuesday through Sunday, 11:00 am to 4:00 pm.Reservations are recommended on weekends,
The shop also has a gift shop and offers a frozen nut-based confection called "Genuto," and coffee drinks.
(707)634-6143
MuirsTeaRoom.com and find them on Facebook.