Last Saturday I went to Benicia, mainly just to window shop and walk around. Before I left I checked my e-mail and discovered that Main Street Benicia was offering an Art Scavenger Hunt. This is, simply, a fun, brilliant idea.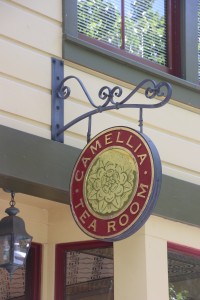 The hunt took place at six Main Street galleries. There were 20 items to find, ranging from the very specific ("find a representation of the famous tower in France") to the subjective ("find an artwork that uses your favorite color"). Some required knowledge of Benicia's history or a willingness to ask questions. The process took me up and down Main Street and meant I discovered a few new places. Dos Gatos Gallery is upstairs at the end of the street away from the water and I would probably never have found it on my own. Downstairs is the Camelia Tea Room and I probably would not have found that either.
The galleries were: Benicia Plein Air Gallery; Dos Gatos Gallery; Gallery 621; Mernie Buchanan Studio and Art Gallery; Once Upon a Canvas; Parsons Gallery.
Those last two are in the Tannery Building, about two blocks from the fishing pier.
As an added bonus, there was a steampunk group in town that day. Obtainium Works is a Vallejo-based steampunk and art car studio. I picked up one of their cards and boy, do they have some interesting sounding events! How about Feast of the Tentacle? (Sadly, I missed it. It was in March.) Or Haul o'Ween in late October? And since the handcar regatta in Santa Rosa has ended, I have to say the Obtainium Cup,in July, looks pretty tempting.
The scavenger hunt was a fun event, running over the lunch hour, which meant that local restaurants and bars should have been happy. It's held in conjunction with the Saturday Artwalk.
And, it turns out, not everyone was happy. At one business establishment I overheard this exchange:
Man 1: Oh, shit. I better get home. It's an Artwalk Saturday, I'll be stuck here all day.
Man 2:  Too late.
You know who were happy? The gallery owners, that's who.
This seems like a simple idea, although it takes some legwork, and since there was an "I (heart) Benicia" shopping bag for everyone who turned in a completed hunt form, and the possibility of a grand prize of a $100 gift card, it would take some work on the back end, but it's got to be worth it, if your goal is to bring tourists to your main street.