[Second Chances Used Books will be open seven days a week; Monday-Saturday 10:30-6:00, Sunday, 10:30-5:00.]
***
I did not buy the first book at Second Chances books.  Emma, Brandy's friend and a former Copperfield's employee, said on Friday that she was going to get over early on Saturday and buy the first book. She had it all picked out. I wasn't going to arm-wrestle Emma for the privilege because I would lose that contest.
In fact, Brandy had random customers walk in first thing, and they made the first purchase at 10:32. Emma, chagrined, made the second purchase.
I said mine was the third but I think I forgot that someone else bought a book after Emma, so my To the Lighthouse purchase was the fourth official sale.
I'm slipping. I did bring cake, though.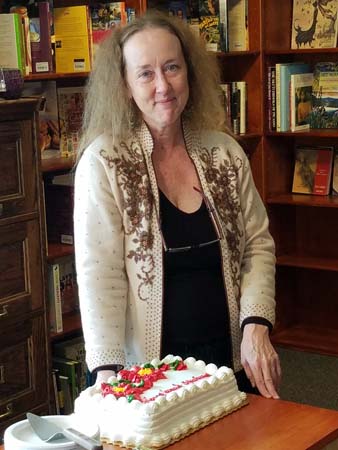 (I parked behind Rite Aid and walked over to Safeway to pick it up. I planned to walk to the store, which I did. As I was halfway across the crosswalk on Main Street, a car making a left turn shot across in front of me. I remember thinking clearly, "If you kill me in the crosswalk before I deliver the cake, driver dude, I will haunt you for the rest of your life. And your children's lives."  I'm serious about cake.)
Many, many people came to the store on Saturday! Some were family, some were friends, some were folks who hadn't known that Mockingbird had moved, but who stayed and shopped and bought books.
I had been baffled about the Mockingbird thing for weeks, but finally the logic of it had percolated through. Several people who came in said they were not local, but they came up a few times a year to visit family and so on. Mockingbird moved to Tracey, California, after their last visit. I'm sure several of them will become Second Chances converts.
The shelves look pretty with so many books faced outward, but Brandy is rushing to get more books listed, cleaned, labeled and on the shelves. A broken thermal ribbon in the labelling process delayed her a couple of days before the soft opening.
Second Chances Used Books is about half the size of Mockingbird, so words like "large" are relative.
Sections to check out:
— Buddhism is already a large section, with some classic works.
–In the case right next to it, Western Religion already shows a good selection.
–History encompasses General History, Military History, Classical, European and US. As the inventory grows Asian and African history will definitely become subcategories. There are some intriguing books in Political History, too.
–California and the West and Native Americans have their own bookcase, near the front of the store. This is a section that will grow, too.
–Cookbooks; she already has some great ones.
–Art; small but mighty.
–The collection of Alternative Health, Bodywork and Diet and Nutrition includes some good yoga books and some other bodywork volumes.
–Biography has some classics, some unusual selections and the promise of more works in the future.
Second Chances is in west Sonoma County, so of course there is a section on Mythology, Metaphysics, Astrology and Self-Help. There will also be a robust LGBTIQ section.
Brandy is intimidatingly well-read and the general fiction section is already chock-full of great writers you would expect. Genre is filling in, though. Take a look at:
–Mystery
–Romance
–Science Fiction
–Horror (tiny and Lovecraftian.)
–Poetry, Essays and Literary Criticism are small but solid sections.
Children's Books and Teen Books already look great.
There were a few technical glitches, but the weekend went great!
On Tuesday, two thirds of the signs arrived. There is Brandy's beautiful sign, capturing exactly the feeling you have when you walk into the store.
Stop by, browse the books, and avail yourself of one of the Three Sisters, the comfy chairs that are not only, well, comfy, but in some way guardian spirits of the shop. They set a tone, they send a message; "This shop is a sanctuary from all the world's craziness. Stop in, sit a spell, read a little, and take a portal to another time or place with you when you go."
UPDATE: Wow, Friday and yesterday were busy days! The space was flooded with people. Adults and kids curled up in the chairs, paging through books, or sat on the floor. Customer after customer said how pleased they were to have a used bookstore back in town!