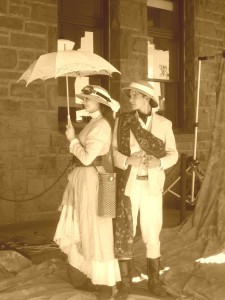 We walked up the railroad tracks to where the handcars were parked.  I said, "Steampunk is fun, but I don't think the Victorians would have liked it.  They had a low tolerance for anarchy." 
"That's the point," Lillian said. 
Sonoma County's Third Annual Handcar Regatta was packed with wonders, and packed with Victorians, alt-history Victorians, belly-dancers, mesmerists and their lovely assistants, women cloaked from crown to toe-tip in diaphanous draperies, dance hall girls, Hindu deities, zombies, and time-travel-refugees from the 1930s, 1950s, 1970s and 2000s.  I'm going to guess that the original handcar regatta energy has been absorbed, colonized if you will, by the steampunk sensibility.  Nothing evokes the sense of a steampunk like people in costumes powering a handcar down a railroad track; railroad, the totem of the industrial revolution, at least in America. 
The space for the event ran from 3rd Street to 6th, and from the railroad tracks to the freeway overpass, which seems like a fitting metaphor.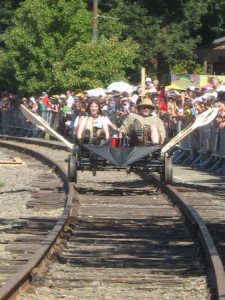 The handcars demonstrated many things; artistic skill and vision, humor, speed, engineering originality and prowess.  I watched the first heat with amazement as these gizmos hurtled—well, some hurtled, some kind of drifted—down the railroad tracks, in Santa Rosa's aptly named Railroad Square. 
I couldn't possibly pick a favorite.  I loved the Tahitian Flyer, the rowing-machine handcar powered by a team of two guys who are on the Berkeley rowing crew, because it was an elegant match of machine with skill.  I loved Jack on the Tracks for its strangeness and the one with wings because it had wings.  I loved the red and black one that bent in the middle like a book, because the motive-power was such a riddle.  I liked "Locust Motive" for the pun and because the kids from CHOPS, the teen center, put it together.  I liked the ones with the bicycles, the treadmill, and the pirate ship, and who doesn't love a handcar made out of an ale-keg?  I really liked the one with the propeller.  Or maybe it wasn't a propeller, just a whirly-thing.  I liked it. I've left some out, only because I can't remember them all. 
 Then there were the costumes.  And the booths.  And the elephant (motorized). And the sectional art contraption that worked like a Victorian party card, only eight feet tall; heads on the top panel, torsos in the middle, legs and feet (or something) on the bottom panel, mounted on a vertical cylinder.  Each set of panels rotated.  Mix 'em up!  Fun for hours.  There were many booths with faux-Victoriana and gorgeously realistic costumes.  You could buy goggles (because if you don't have studs and goggles, is it really steampunk?).  You could buy jewelry made of old watches.  There was a lot of leatherwork, lots of feather hairpieces, not as much original art as I might have expected.  It isn't the Dickens Faire, although I think some of the folks there aired out their Dickens Fair clothes for the occasion.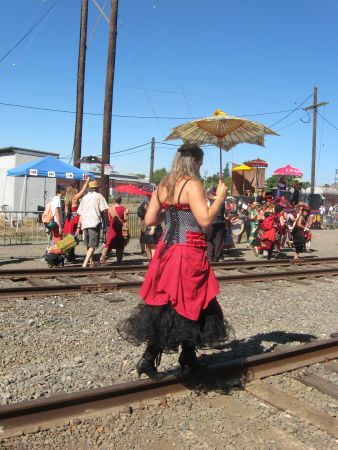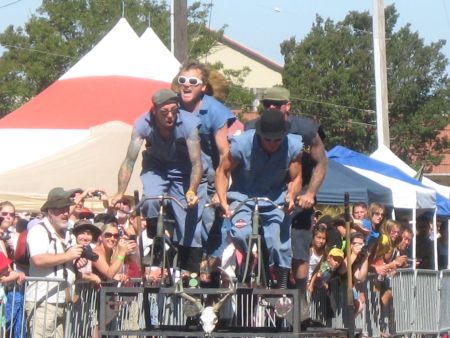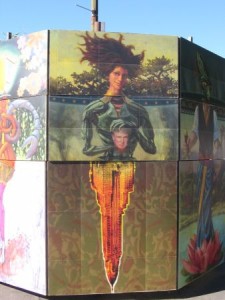 According to various thermometers, it was either 99 degrees or 101 degrees. I stayed hydrated, but even so, I was starting to wilt.  By "wilt" I mean have tingling in my fingers and black and red spots in front of my eyes.  I walked, slowly, in the shade, up to Aroma Roasters, and bought an iced beverage that was called, depending what board you looked at, a Raspberry Splash or a Raspberry Sweet and Sour.  It was quite refreshing until I hit the raspberry-cough-syrup layer at the bottom.  It took much swirling and rattling of ice cubes, and melting of same, to make the final swallows palatable. 
And I lost track of Lillian.  We split up to get pictures of the races from different angles.  About an hour later I realized I didn't have her cell phone number, and we hadn't set a place to meet.  (Apparently she realized this about the same time.)  I stood a couple of places where I thought I might see her, but I had not anticipated the size of the crowds.  Today's paper said over 10,000 attended. I think at any given moment they were all standing between Lillian and me.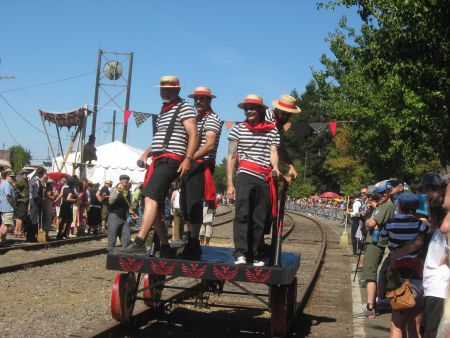 As it turned out, this had a good result, because Lillian got pictures of things I didn't even see, including the wonderful and arcane zucchini races. Between the two of us I think we have a comprehensive photo catalogue of the event. 
Note to self, though; charge cell phone before leaving, get friend's cell phone number when splitting up, and set up a rendezvous.  After all, that's what a savvy steampunk heroine would do.