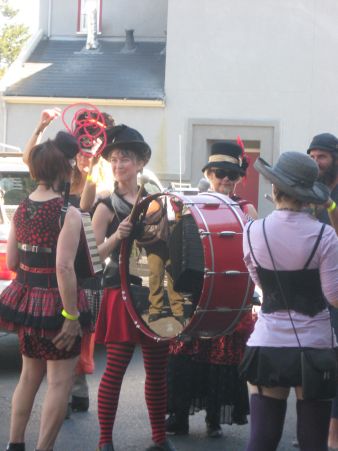 Music!  Lillian and I met at Aroma roasters at a little after 10:30 am, and we saw a group of people, wearing red, carrying musical instruments out in the back parking lot.  We followed our curiosity out there and watched them warm up.  There were five or six originally, and as they played, more poured out of Aroma's. Several more came around the corner as the drums banged, the saxophone warbled, and the sousaphones hooted, wild, strange and klezmer-like. There were more than 20 by the time they finished.  Later they danced over the bridge across the tracks, and played in front of the grandstand, before the races got started.
A rock and roll band played on the 6th Street side of the tracks.  On the Railroad Square side they also had some musical performers but I couldn't get close enough to hear them.  An authentically ragged group of players sat on the corner of Fourth and Davis (?) playing Celtic reels and drinking songs.
* 
Two people my age or a little older stood next to me near the drawbridge over the train tracks, remarking on the costumes.  "It's like the Renaissance Faire," the woman said, "Isn't it?  Only the costumes aren't right.  They're later."
"They're Victorian," the man with her said.
"Then what's steampunk about them?"
"It's Victorian," he said, "but like what HG Wells did it."
"Oh yes," she said.  "Wasn't he a writer?"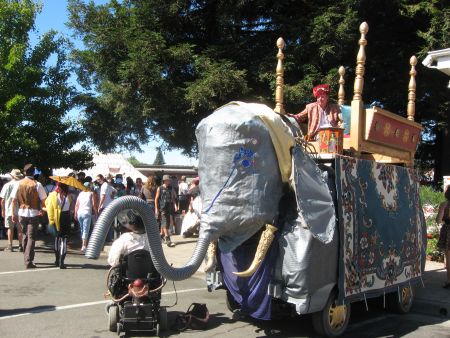 The photo ops that got away:
The Hindu deities, their skin painted blue and green; silky, embroidered costumes, and custom parasols.
The front of "Locust Motive," with its translucent, gleaming green head, wings and carapace.
The guy in full Victorian drag—top hat, waistcoat, tails and gray trousers, talking on his iPhone.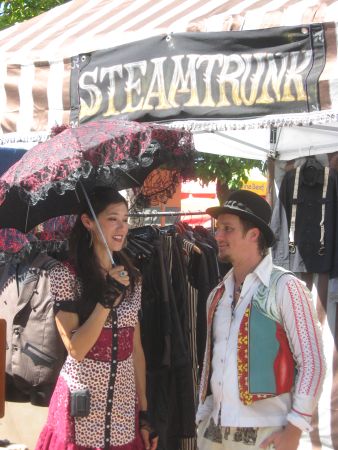 One of the jewelry booths had artistically distressed watch-works mounted as pendants or broaches. They look like the real deal; like maybe the vendor (Somebody's Daughter) hunted down old watches and carefully disassembled them and soldered the pieces into jewelry form. They are beautiful, whimsical pieces. 
I reached out to lift one of the lockets from the cloth stand.  Then I snatched my hand back and blew on my fingertips. 
"Oh, yeah," the vendor said, "they are sitting in direct sunlight."
** 
Saw several young women in brown leather pants, white shirts, brown jackets (mostly tied around their waists) faux rifles slung across their backs, two with brown hair in a braid.  Could be a general "steampunk" costume, but I kept thinking of Briar Wilkes Blue.