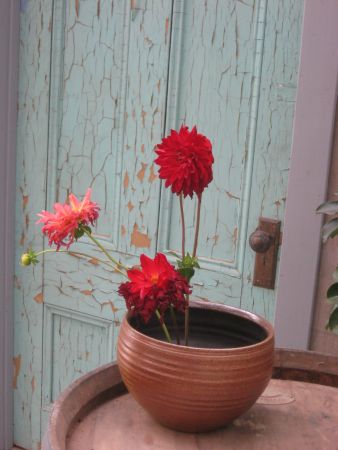 As part of Art Trails I went to John and Sunai's house.  Sunai had a young woman named Mai helping her.  I think she might have been in her first year of college, perhaps a little younger.  She had shoulder-length black hair and a movie-star pretty face.  Sunai added up my purchases. It came to something with thirty-one cents, and I did not have exact change.  Mai had moved the calculator and couldn't find it.  She stared down at the change box, a little confused. 
"Let's try this," I said.   "Let's count it back.  I needed to pay you thirty-one cents, and I gave you a dollar.  Pretend I gave you thirty-one cents. Give me back enough pennies to make thirty-five cents."
 She counted out four pennies. 
"Now give me enough change to add to that and get forty cents."  
That took a second, but she gave me a nickel. 
"Good, now give me enough dimes or quarters to equal a dollar."  
She gave me six dimes.  It worked, but I could see she wasn't quite getting it; just following by rote what I was telling her.  Then I looked at Sunai, and she was staring like she'd never seen such a thing.  "That's so good!" Sunai said.  "I always have to subtract, in my head.  Does it always work?" As if it were a magic trick. 
And I thought, I'm really old.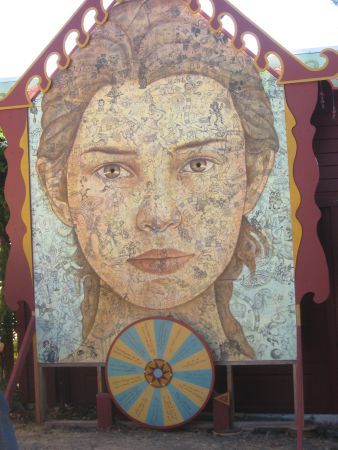 Last weekend I went to the studio of Tony Speirs in Graton, and Atalier One, also in Graton.  Tony and several of his artist friends created the Shrine of Fortuna, most recently seen at the handcar regatta.
Lisa Beerntsen and Tony Speiers used to be a couple, and I guess they still are, but she has moved to Atalier One.  Pretentious name, good use of space for many local artists.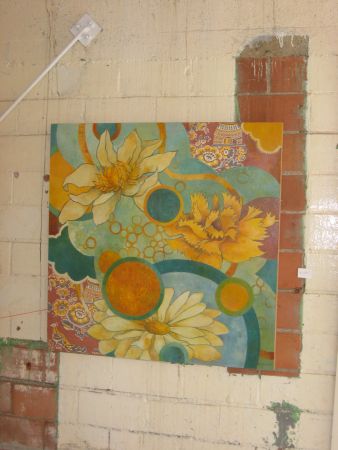 Two artists I always visit; John Chambers and Stella Monday.  Stella is a photographer who has been to half the countries in the world, including the mysterious kingdom of Kansas, of which she has some stunning pictures.   This year some of the new ones included blistered paint on weathered wood.  It doesn't sound like much, but the textures create something magical.  On the other end of the continuum, she has several amazing paintings from China related to the Cultural Revolution; Buddhist paintings, icons and mandalas scraped away to phantoms, or originally painted over and now bleeding through, becoming visible again. 
I never take pictures at Stella's.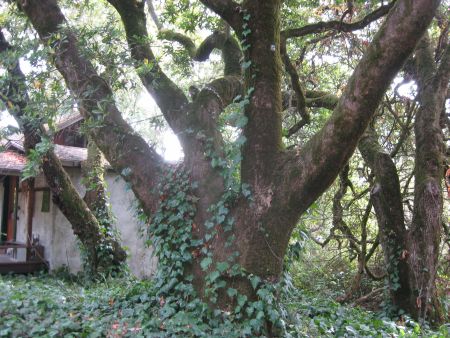 The locals who made choices years ago to live out in the country on these beautiful winding roads must love and hate Art Trails.  Many of them are artists; many of them participate and they need the exposure.  On these weekends at any given time you can see four or five cars trundling along these roads, usually with two people; one driving, one consulting the Art Trails catalogue.  Sometimes the car has one person doing both of these things.
Many people choose to live out in the countryside so that they don't have to deal with people.  These two weekends must just drive those people crazy.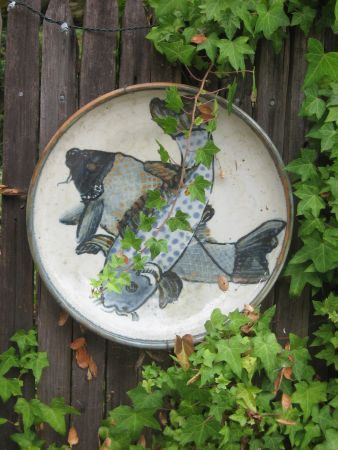 This year I added Barbara Hoffman's pottery studio, west of town on the way to Occidental.  Barbara's significant other used to work with my significant other, but I didn't recognize Gary at first when I saw him.  It's been about twenty years.  He didn't recognize me either.  He is immersed with wood-turning and wood-working, in part, making polished lids for some of Barbara's pots.  He also carved a beautiful wooden pumpkin box that was on display.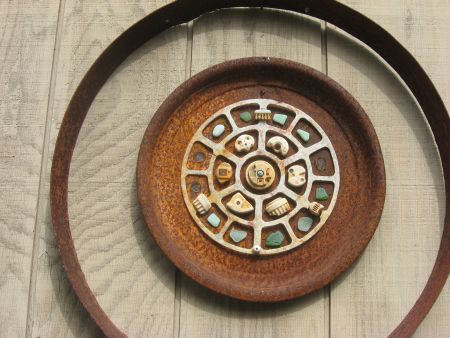 I was pretty selfish this year.  Usually Art Trails is all about Christmas shopping.  I got one birthday gift, and three Christmas gifts.  And a bowl for myself.  And a Barbara Hoffman pitcher for myself.  And some cards.  Those aren't really for me, so that's not selfish, right?  Right?