Anton Chekhov said that if you mention a Canadian goose in the first act, you must show a picture of it by the third act.  Actually, he said that about a gun, and the gun going off.  Here's a picture of the stuffed goose anyway.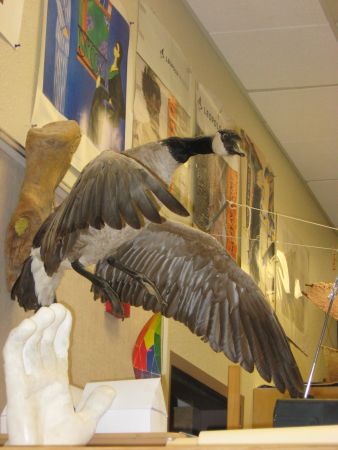 Here's Defresne, explaining plot.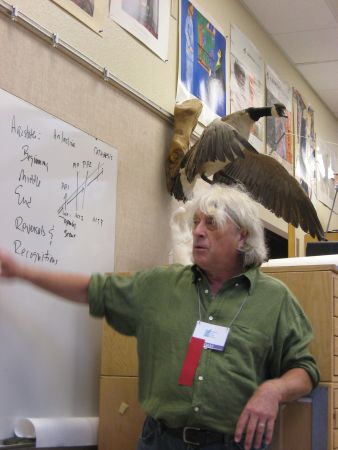 We have eleven manuscripts.  We have three days.  We should complete about four manuscripts a day in order to ensure that everyone gets time.  At the end of Day Two, we have completed four total.
Haven is writing a novel set in 1998, about a young woman who finds out that her parents are not who she thinks they are, and that they spent time at Morningstar Ranch in Sonoma during the 1970s.  Despite the hair, Defresne must be a lot younger than Haven and me, because he did not understand about Morningstar Ranch, or, apparently how easy it was to get fake documents like social security cards or birth certificates in the 1970s.
Teri brought the first ten pages of a lovely novel of a woman and her family going west from Independence, Missouri, on a wagon train.
We haven't reviewed Donna's opening chapter of her gallows comedy about the murder of a Mormon bishop in an affluent suburb of San Francisco.
Riba has written a relationhip novel about loss, grief, and betrayal.
Shannon has the other Antarctica book.  Maybe we will review the Antarctica chapters back to back.
*
The Editors and Publishers Panel was interesting. Three great and interesting speakers, each with a unique point of view.  There was a bit of jostling at the beginning but they rubbed off the edges and got along great.  Here is Jay Schaefer's recipe for success:
1)Write the best book you can write
2)  Have something to say.
3)  Put a vampire in it.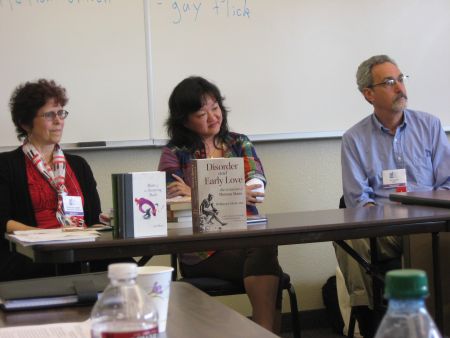 My second consult was with Jay.  It was right after lunch.  He was warm, friendly and funny.   After two decades as an editor for Chronicle Books, among others, he has quit to be a freelance editor.  He liked my chapter, thought it was "ominous," and totally got the magic even though he doesn't read urban fantasy (despite the vampire remark).  I told him April wanted to see it; he thought that was good, and made some recommendations about other ways to find agents, particularly those who represent urba fantasy.