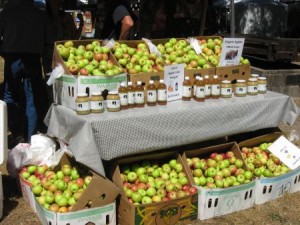 My hometown is in the heart of Gravenstein apple country.  Gravensteins are, hands down, the best baking apple.  They enjoyed a long golden age of popularity until the Granny Smith apple, which traveled better, replaced them.  Many of the local orchards converted to vineyards (what else?) and the last apple cannery closed about eight years ago.  There is good news for the Grav, though; the local food movement has made it a mascot and there is a resurgence in growers and sellers—and buyers.
The town celebrates the history and versatility of this apple with two annual fairs; the Apple Blossom Fair in April and the Gravenstein Fair every August.  Gravensteins ripen earlier than other apples, and by mid-August the harvest is in full swing.
The fair is about half a mile from my house.  To my disappointment, it was pretty expensive to get in–$12 for General Admission. I'm not old enough yet to qualify as a Senior, but they didn't get in cheap either. I thought this was shocking, especially since the vendors pay $500 for a booth for the weekend (even though half is a refundable deposit). Paying $12 for the privilege of spending  more money didn't sit well with me. Apparently I'm not the only one who feels that way, since attendance, at least on Saturday, seemed to be down a bit.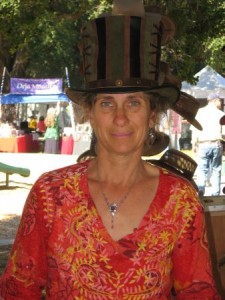 Get Your Steampunk On!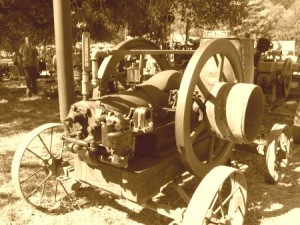 This is, in part, an old-style country fair, and I'm a sucker for the old tractors and mystery machines that show up every year. I came across this beautifully detailed gem, which I thought was some kind of a press, or even a weird baking device, at first. The man staffing this station told me that it is a sewing machine, circa 1868. It was pedal-driven, like the much later model (1888) sitting next to it. I was captivated by artwork. Even a sewing machine could be beautiful.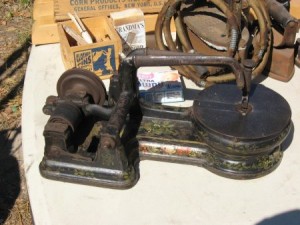 I see why steampunk is such a hit. Who can resist gears and cogs, big spinning wheels, and locomotion you can actually figure out? 
The hat vendor is also a big fan of steampunk, although she didn't know about the Handcar Regatta, coming up in September.
Blast from the Past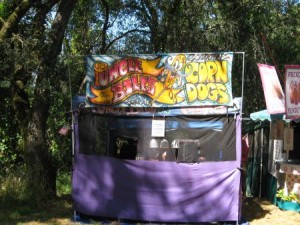 I think I ate my last corndog when I was fourteen—that would be forty years ago.  Spouse and I were having a discussion about this issue and we both remember that I bought a package of corn-dogs once.  We cooked some and each ate about one bite before throwing them, and the rest of the package out, so I don't think that counts.  I broke the long corn-dog fast on Saturday and had one of Uncle Bill's. Since I'm not a huge hot dog fan, and I love cornmeal, the 50:50 ratio of breading to meat was perfect for me. The dog was browned to the color of a cattail. I ate it with some yellow mustard, which, Spouse informs me, is traditional. I would have incurred the wrath of the corndog gods if I had used ketchup, which was one option. Anyway, the whole thing was delicious. Even the hot dog was good. The cornbread had a crunchy crust and the inside was granular and soft, not too sweet. Eating a corndog meant that apple cobbler and apple fritters were not going to be a choice, but I did buy a pie to take home for dessert. The pricing confused me. A whole pie cost $10, but a serving of fritters cost $5. The math seems off.
A Horse is a Horse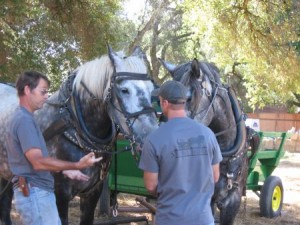 The guy with the show Percherons was there with his dappled gray team, giving wagon rides. He has another set of matched grays that look white to the uninformed, and a pair of black Fresians. The dapples are my favorite. I got there early before the horses had worked too hard. The gelding was curious and friendly and wanted to eat my camera. The mare seemed a little checked out; not unfriendly, just sleepy. I hung out while the guy hooked up their harness. It turns out the mare is the lead horse on the team, once they get working. He had her bred to a Fresian, and she is due in April.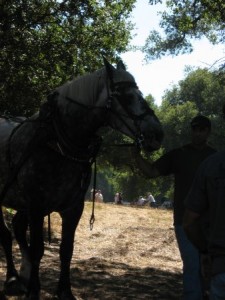 Farm life is nicely represented at the fair with llamas, goats, sheep and this year, strangely, a pygmy camel. The exotic bird folks were there with their macaws and parrots.
Everyone Deserves Music
The fair has two stages and they alternate bands. I listened to the String-rays. I liked them! They opened with a country-ish number called "Made in America."  I couldn't quite figure out the story line; there's a reference to the corporation and the unions but it sounded like the unions "took what the corporations gave . . ." Not sure what the point was. Then they played an old-timey reel and some folk music. Good stuff—a great bassist and awesome fiddle player.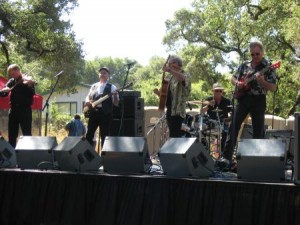 Go for the Cheap Lemonade
I paid two dollars for a glass of lemonade. It had ice. As I was walking home I spotted a lemonade stand in a cul de sac around the corner from my house.  A little boy about three ran toward me, shouting, "I'm the money man! I'm the money man! Gi'me money and I gi'you lemonade!" I could not resist such a stellar marketing ploy, so I walked up to where his folks were staffing the booth. I paid a quarter for a little cup of instant lemonade from a thermos and it was as lemony and tasty as the fair variety. The only thing missing was the ice. Let this be a lesson, folks, buy local. Buy from three year olds if you can.