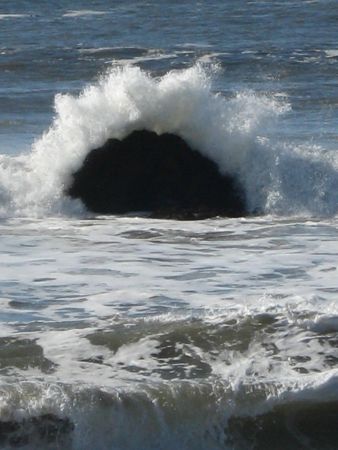 Christmas Eve day we walked on the beach at Schooner Gulch. The sky was ceramic blue, but the ocean was a froth of silver and white. The beach was covered with rolls of sea-foam that looked like soap suds, and piles of kelp. The tide was rushing in. We stood and took in the power of the ocean, then made our way back to the trail. Forty feet up on the headland and we were looking at meadows and trees.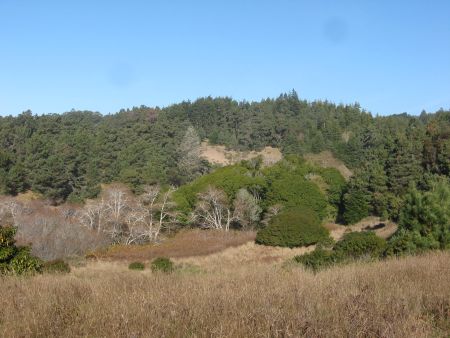 The turkeys, for whom I had made a special trip to a feed store before we left, were complete no-shows, but the stellar jays and a variety of small, colorful woodpecker were very pleased with the cracked corn.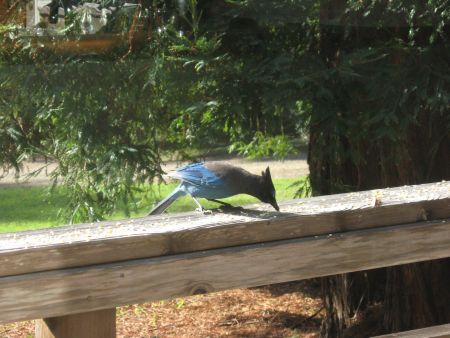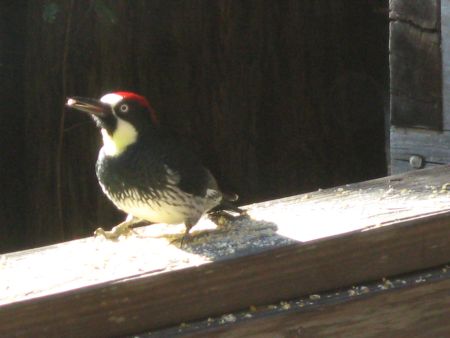 There was one other woodpecker enjoying the last of the apples from the antique orchard that stands in the middle of "The Meadows." You can see its head here in this picture –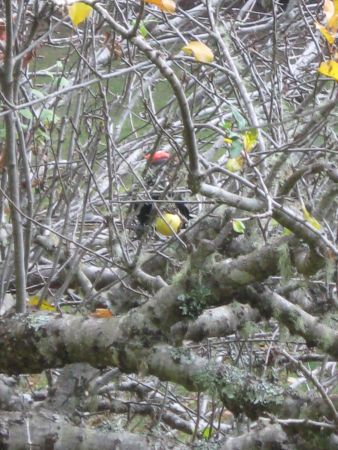 –and here is it from the back. It is easily twice the size of the corn-eating, jay-scaring woodpeckers.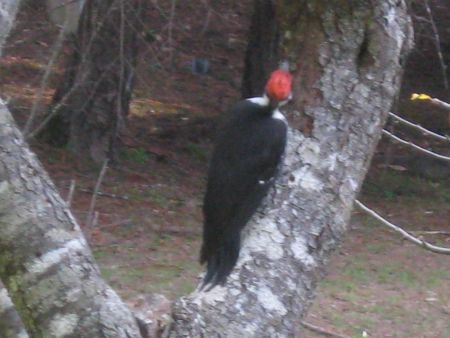 Of course we brought books.
Spouse actually got a book for a solstice present; Three Stations, by Martin Cruz Smith. He finished it Christmas Eve.
I was delighted to finish Haruki Murakami's long literary science fiction novel, IQ84. This book is 900 pages long. In Japan, it was published as three novels, over time (much the way we in America publish trilogies). I was trying to sum up the book in one sentence; not possible. It's a love story, a story about alternate realities; it's about meta-fiction, parents, domestic violence and its impact on a society; the nature of reality. And women's breasts. There is a lot about women's breasts, actually.
I also read Shade's Children, and early Garth Nix novel. This YA science fiction novel is nowhere near as detailed as his outstanding Abhorsen trilogy, but it is fast-paced, with a good premise. It was kind of the reading version of a decent 90-minute B-movie adventure. (Let me be clear, I'm not talking Syfy Original here, but a good B-movie.)